The look of anguish on the face of team boss Alain Prost at the recent Austrian GP said it all. For the second race in succession, his two drivers had found a way to drive into one another, and on this occasion both cars ended their race ignominiously in the gravel trap.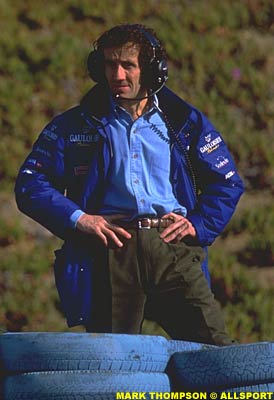 Another race, another dismal result, and no relief in sight.
Now it seems that Alain Prost, the man that as a driver was the epitome of perfection, is planning to walk away from the team that he took over as Ligier, renamed as Prost, and set out to finally put a French team at the forefront of Grand Prix racing.
The cold hard facts of the team's performance under his leadership do not make inspiring reading. In the last year of Ligier's existence, the team scored 16 World Championship points, including a win at Monaco for Olivier Panis, and finished 6th in the Constructors' standings. In '97, with Mugen Honda power, Prost ended the season 6th once again, with 21 points scored.
In 1998, the first year with Peugeot power, they scored just a solitary point and were ninth in the standings. In '99 they managed to register nine points for a ranking of seventh, but after the first ten events of the 2000 season, Prost have yet to manage a single top six finish, and they languish along with Minardi at the foot of the constructors' table.
Now, it seems, Alain Prost has had enough of trying to fit all the pieces together in the manner required to be successful in modern Formula One, and he is determined to sell his team. Nobody seems to know just who the buyer will be, and speculation ranges from General Motors, Peugeot, to various secretive holding companies who see the value of an F1 'franchise' increasing and are keen to get a piece of the action.
Sentimentality has little place in business, even less in the dog-eat-dog environment that is prevalent in Formula One. Nonetheless, it looks certain that the Prost name will join Stewart and Tyrrell as yet another famous motor racing 'name' now to be classified as ex-team owners.
This in itself is not necessarily a bad thing, it just further widens a path that has become well used in recent years. Should the sale proceed, however, it takes the ownership of yet another F1 team from a single owner with a passion for the sport, to a bunch of men in suits to whom racing is just a marketing exercise, or worse still, just an equity play.
Currently, Formula One is awash with money and investors. In this situation the price of everything rises and everyone involved gets richer. Arguably this process has been happening since the early eighties, but it used to happen quietly. Men like Frank Williams and Ron Dennis did not become rich overnight, but only as the value of their teams, Williams and McLaren, grew year by year. Their wealth also grew because their teams were successful, and their teams were successful because they spent most of their waking moments thinking how to win when they weren't, and to keep winning if they were.
In recent years, F1 supremo Bernie Ecclestone has been in on-going negotiations to float his family owned company SLEC on the stock exchange. This is the company that owns the TV and various other commercial rights for Formula One. Although no float has yet been achieved, 50% of SLEC was sold for one billion dollars to two separate companies. These were then later on sold for some $1.8 billion to EM.TV, which had the affect of valuing 100% of SLEC at some $3.6 billion.
One effect of all these transactions have had, has been to highlight just how much money is floating around in the business of F1 racing; now, it gets almost as much attention in the financial pages of the world's press as in the sports sections.
Recent newspaper reports suggest that many of the motor manufacturers currently involved in F1 are looking to purchase the 50% stake of SLEC owned by EM.TV, and that stake is now valued at some $3 Billion. One of the main reasons why these motor manufacturers are interested to purchase a share in the company that owns the rights to F1 is to increase the share the teams receive from the TV income. This currently stands at 47%, whilst Bernie Ecclestone effectively receives nearly all of the rest.
Even if these manufacturers eventually succeed in securing a larger slice of the TV revenues, it's unlikely to hurt Ecclestone much. He has already seen the value of SLEC almost double in just a matter of months. Should the purchase of the shares owned by EM.TV be sold for around three billion dollars, then it will have tripled, making his own holdings also worth some three billion dollars.
To survey the current Formula One scene is to see a sport, expertly run, making money, and growing in popularity in every market that matters. In February, the FIA released TV viewing figures for 1999 showing that the total audience had grown to a mind-boggling figure of over 57 Billion people, with over 68,000 broadcasts in 206 countries.
In September, the circus will return to the USA for the first time in a decade, filling a gap that had previously been holding back F1's claim to be a totally global motor sport series. With so much good news around, it would seem churlish to even suggest that anything could derail this super-sporting juggernaut as it confidently moves into the new decade.
Asset prices do not always go up and up, however, and when values are calculated on the promise of rosy future earnings, the possibility exists for sudden and violent corrections. The NASDAQ index of high-tech stocks in America appeared to defy gravity and all conventional predictions, as it climbed in value higher and higher. Then, a series of confidence shaking incidents brought it crashing back to earth with a bump that many had predicted could never happen. The major recent downturn in Asian economies is another reminder that constant uninterrupted growth has its limits.
The current roller coaster Bull Run of all Formula One assets, both in the value of the rights themselves and the worth of the teams, are dependant on the continued strong growth and interest in F1, neither of which is guaranteed. A serious slowdown in economic activity, or a world recession, would obviously reduce car sales dramatically. It may be easy for boards to approve F1 programmes costing several hundred Millions of dollars per annum when profits are strong, but it would be the first expenditure to be cut back if the car storage lots fill up and the accounting numbers turn red.
In other words, just what would happen if suddenly all the buyers turned sellers? Prices would drop and maybe some empty places on the grid would appear. Where, then, would be the men with the passion?
The F1 business will not have financially crippled Alain Prost. When the wheeling and dealing is finished, and if Prost Grand Prix is eventually sold, Alain's main worry will be how to spend the money he has made and how to find an outlet for his still considerable energies. Images of his drivers Jean Alesi and Nick Heidfeld destroying their cars in Austria will quickly fade away.
Just what the incoming suits will make of Alesi, though, is anybody's guess. Or, more to the point perhaps, just what will Alesi - the last of the truly romantic drivers in Formula one - make of them?