Fastest race lap: 1:41.591 (R.Patrese, Williams, 1992);
Fastest Qualifying Lap: 1:37.960 (N.Mansell, Williams, 1992)

Along with Monza, Hockenheimring is one of the two fastest circuits currently visited by the Formula One teams. Main features are a pair of dauntingly fast straights, now interrupted by chicanes, that hurtle off into dark coniferous forests, as well as the so-called "stadium" section, best described as a large, natural amphitheatre.
Chassis set-up is actually more complicated than at first appears to be the case: the long straights, where cars can reach speeds of up to 350 km/h, dictate a low-downforce chassis set-up, but the second-gear chicanes require good braking and chassis stability, as does the fast, fourth-gear corner that leads into the stadium section.
As a result, the optimum chassis set-up for the latest generation, narrow-track Formula One cars at a circuit like the Hockenheimring is to run them with some downforce. This is at the cost of a slight increase in drag, but on balance, a driver can actually win more time under braking and through the tight corners than he loses through marginally lower maximum speeds on the straights.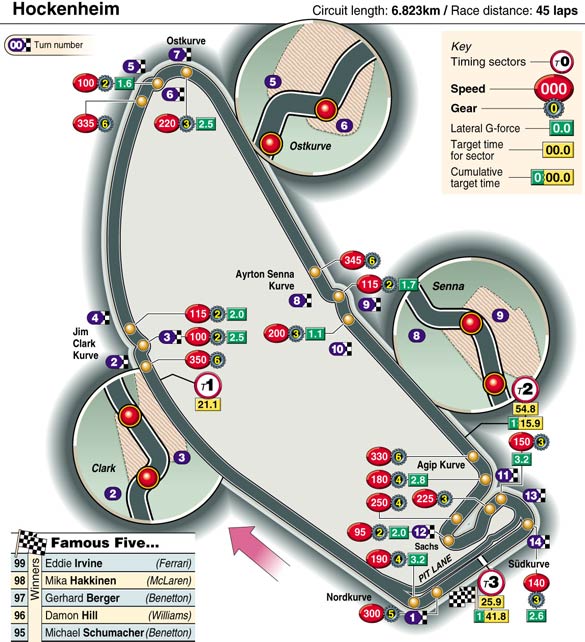 If you want to read the driving instruction while looking at the map, Click here to open the map in a separate window

As the cars pass the start/finish line, they do 290 km/h in sixth before braking to 175 km/h for the Nordkurve right-hander. The drivers then have a few moments to relax, or pass an opponent, before braking heavily for the Jim Clark Kurve.

Approaching at 330 km/h, the cars have to change down four gears and lose 235 km/h before negotiating this tight chicane. Since the teams remove all unnecessary car downforce for the straights, these twisty sections become doubly treacherous and the slightest slide can quickly turn into a bone crunching collision with the armco.

The cars pass along another sixth gear straight, brake for another slow chicane, and continue another straight before entering the fast Ayrton Senna kurve. This is one of the quickest chicanes in Formula One, despite its alterations in recent years, and offers the better drivers a real chance to gain on an opponent before the stadium section.

As the cars come out of the forest and enter the final series of turns, they are greeted by the packed grandstands and their fanatical occupants. This set of corners - a fast right hander, a left hand hairpin and a couple of slow right handers - require all of the driver's skill to hold an ill handling car before he engages another lap of this fast and challenging circuit.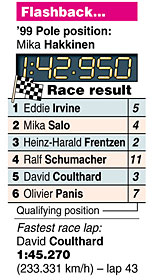 A Lap of Hockenheim with Pedro de la Rosa:
"The first corner is 90 degrees so you have to be very careful not to over-brake it, and you have a very long straight afterwards, where you go up to 6th gear from 3rd at the corner.
"The first chicane is a typical chicane where you have to brake late, use all the kerb you can and then power early on exit because you can get good traction on the way out which is good for the long straight after. Ostkurve is the next chicane, which is nice but bumpy. Again, you have to push for the kerbs, otherwise it is too slow and you have to get as much of a straight line as possible and have a soft line over the kerbs.
"There is another straight before Ayrton Senna chicane, again a typical one, which leads into the entry of the stadium. It's very hard braking but also high speed, so you end up using all the track on the exit and going over the kerb, sometimes onto the grass, then you get to the first hairpin of the stadium, a left hander which is very slow and you're running very little down force so the car can be all over the place.
"You just have to keep the speed slow and relax a little bit or you'll overdrive the car. This takes you to the last 2 corners before the pit straight which are quite slow, 2nd gear, but it's important to keep the rhythm and not overdrive the car. The corners are quite easy but it's also easy to make a mistake."

Facts and Stats about Germany
Forty-seven German Grands Prix, plus five more European (including in 2000) and two Luxembourg Grands Prix means that Germany has been the scene of more Grands Prix than there have been years in the World Championship.

In 2000 it hosts its 48th race and the 24th at Hockenheim. This year, Hockenheim will move ahead of Nurburgring as the location of the German Grand Prix, although Nurburgring has those European and Luxembourg Grands Prix to its credit.
Germany, of course, has become much more of a force to be reckoned with in the last ten years, thanks to the emergence of Michael Schumacher, his brother Ralf and Heinz Harald Frentzen, plus the involvement of Mercedes-Benz and the recent return of BMW. But Germany has a long history in motor racing and Grands Prix. The Nurburgring was built back in the 1920s and was opened in 1927, the first race was won by Mercedes, later to take on Auto Union in massive confrontations around Europe.
In World Championship terms, German drivers have just moved into fourth in the all-time rankings of wins. Wolfgang von Trips was the country's lone winner for many years (two wins in 1961) until Jochen Mass squeezed in with his half-points victory at the Spanish Grand Prix in 1975. Since then, however, Schumacher and Frentzen have taken the tally up to 46 wins and Schumacher, of course, has won two World Championships.
There have been 39 German Grand Prix drivers plus another nine who failed to qualify. Some of these have been virtual unknowns: early German Grands Prix included a class for Formula Two cars and two of them failed to complete a single lap - although that lap was 22kms (13miles)! However, others were pre-war Grand Prix heroes such as Hermann Lange and Hans Stuck Snr.
Hockenheim was first used just before the last war and the famous Tripoli 1.5 litre Mercedes were tested there before a brief, but successful, race in North Africa. The track had to be shortened in 1966 when an autobahn was built and the compensation financed the current massive grandstands.
Nurburgring hosted early World Championship Grands Prix until the end of the fifties when a single race was run on the autobahns of Avus, just outside Berlin. But then the Grand Prix returned to the Nurburgring again. Hockenheim had its first Grand Prix in 1970 and then, after Niki Lauda's accident at the Nurburgring - one of only two German Grand Prix race stoppages, incidentally - the race returned to the circuit by the Rhine in 1977, briefly returning to the new Nurburgring for the 1985 race. All subsequent races have been at Hockenheim.
What is it about the Germans and length? The Nurburgring is often thought to have been the longest Grand Prix circuit in history and its early configuration did make it the longest circuit until 1957, when Pescara ran a single World Championship race. This Adriatic circuit was 25.579kms/15.894 miles long and remains the longest Grand Prix circuit of all time. However, the current Hockenheim is still long, at 6.825 kms (4.240 miles), second only to Spa (6.968 kms/ 4.329 miles) which is the longest circuit in current use.
The first three German Grands Prix were all won by Ferrari from pole position. In 1952, Ferrari filled the first four positions and in 1953, 34 cars started the race, more than in any other Grand Prix - but that included Formula Two cars. Three years later, however, only five cars finished, the second fewest number of finishers of all time. Fangio won, the second of his three consecutive German Grand Prix wins - all from pole position. The finishers included Louis Rosier who was three laps - 66 kms (40 miles) behind!
The 1959 German Grand Prix at the Avus was the only Grand Prix to have been run intentionally as a two part race. Cliff Allison set pole position time but was a reserve driver and had to start at the back. So Tony Brooks won from pole position, flag to flag and set fastest lap. He headed a Ferrari 1-3. There were 22 leadership changes in that race.
Two years later Nurburgring hosted the 100th race in the World Championship while in 1965 Jim Clark clinched his second World Championship title with a flag-to-flag victory at the 'Ring from pole position with fastest lap. It was the seventh race of the year, with three still to go.
In 1968, Jackie Stewart won the first of his three - and two pole positions - at the Nurburgring while his 30secs. win in 1971 over 12 laps was the shortest in terms of laps, even if they were each 22 kms (13.6 miles) long. Jackie Ickx headed one of Ferrari's four one-two finishes in 1972 when he started from pole, led every lap and also set fastest lap. Jacques Laffite scored Williams's first ever Formula One rostrum placing with second in 1975. Williams has won seven times, with two one-two finishes.
Nelson Piquet won the first of his three German Grand Prix victories in 1981. Four years later, Patrick Tambay and Derek Warwick were joined by Francois Hesnault in the Renault team, the last time a team ran three cars in a Grand Prix. None finished.
In 1988, Ayrton Senna won the first of his three successive German Grand Prix victories, all of which he started from pole for McLaren. The team has won six times in Germany, four times with the drivers in first and second places. Less successful was Mika Hakkinen in 1994 when he triggered a first lap accident which not only caused the race to be stopped but eliminated 10 cars, the most retirements ever on the first lap.
A year later, Michael Schumacher won his home race, the first time for a German driver. However, now with Ferrari, he will be hoping to contribute to the team's remarkable record in Germany. Ferrari has won the race 15 times, twice as many as any other team, and has scored four one-two finishes.