Only one year ago, Mika Salo was on the crest of a wave, finishing second at the German Grand Prix, after leading. Today, Salo must be wondering if he will ever experience those feelings again. David Cushnan looks back at Salo's racing career, and wonders whether he will reach such heights again
This time last year, Mika Salo was on the verge of joining the Formula One elite. After Michael Schumacher's injury, sustained at Silverstone, Salo was snapped up to help Ferrari clinch the Constructors' championship, and Eddie Irvine the Drivers' title. One year on, he is still a Formula One driver. However, he is currently driving in the relative anonymity of the Sauber team. While his namesake and compatriot Mika Hakkinen struggles to stay out of the headlines, Salo is desperately seeking any attention that he can get.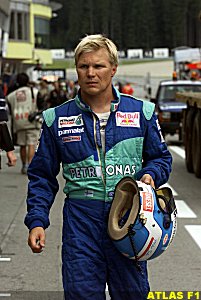 There are still Ferrari connections, as Sauber use Ferrari's 1999 engine (rebadged as a Petronas), but there is a feeling that Salo may never again get the chance to challenge for Grand Prix wins.
So what do we know about Formula One's other Mika? Mika Salo was born in Helsinki on November 30th 1966. His first racing experience came through karting. After progressing through the ranks he took part in his first single-seater season in 1987. It was 1988, however, when his talent began to shine through. In his first full season of Formula Ford 1600, Salo was dominant. In fourteen races he scored ten poles and fourteen wins. He also set a lap record at every circuit he raced on.
The natural progression would have been to his national Formula Three championship, but instead Salo chose to come to race in Britain where the competition was much tougher. In his first year of Formula Three in 1989, his best result was fifth, but in 1990 he was ready to challenge for the title. It was here that he encountered another young Finnish prospect, by the name of Mika Hakkinen.
The battle was fierce but it was Hakkinen, two years younger than Salo, who emerged victorious. Despite this, Salo took six victories. He was also a creditable second in the prestigious Macau Formula Three race.
Whilst Hakkinen was rewarded with a Formula One drive at Lotus, Salo turned his attentions to the Far East and the Japanese F3000 championship. The three years that followed might have ended his ambition to reach Formula One. The best result was a fourth place in 1992. Hakkinen, meanwhile, finished fourth twice for Lotus in Formula One. Salo's career was hanging by a thread just as Hakkinen's was becoming ever more promising - Hakkinen had signed to drive for McLaren in 1993.
However, there was to be a silver lining for Salo. During 1994, the Lotus team found themselves in great financial difficulty, and Salo was given his Formula One debut at the Japanese Grand Prix in 1994. The race will always be remembered for the titanic battle between Damon Hill and Michael Schumacher, but Salo managed to bring the Lotus home in an excellent tenth place, despite the horrendous conditions.
The following season, Salo was signed by Ken Tyrrell, scoring two excellent results during his first full season, finishing fifth at both Monza and Adelaide. However, Tyrrell weren't capable of consistently challenging for points, and so the next two seasons at Tyrrell were largely unproductive. A move to Arrows in 1998, as Damon Hill's replacement, looked promising, but once again produced little in the way of results. There was only one helping of points, with a great drive to fourth place in Monte Carlo. To increase Salo's frustration, his old rival Hakkinen claimed his first world championship title in 1998.
The 1999 season started with him losing his drive with Arrows only one week before the first race. However, it ended as his most successful season to date after British American Racing, and then Ferrari called on his services. When Ricardo Zonta was injured in practice for the Brazilian Grand Prix, Salo was signed up to deputise for him for the next three races. In fact, Salo is the man credited with BAR's first ever finish - at Imola. When Zonta returned to the cockpit, though, Salo returned to the sidelines.
Then came Schumacher's crash at Silverstone. Despite Ferrari test driver Luca Badoer's experience of the car, the Ferrari management decided that Salo was the man to replace Schumacher, to help Irvine. In Austria, he made an inauspicious start, finishing out of the points after an early incident, while teammate Irvine won, but he was the star of the race in Germany, handing victory to Irvine after a superb drive. However, inconsistency appeared in his results. For instance, he only started 18th on the grid in Hungary, but he finished on the podium in third place in Italy - in front of Ferrari's wild Tifosi. When Schumacher made his comeback at the Malaysian Grand Prix, Salo moved back into the shadows.
During these drives, he had impressed people sufficiently to secure a drive for the Swiss Sauber team in 2000. Indeed, he had a fairly high-profile start to this season. He was disqualified from sixth place in Australia and his car was withdrawn from the Brazilian race, due to a rear wing defect on the Sauber cars. Since then, he scored two points in Monaco, where he finished ahead of an ailing Hakkinen. At the last race in Austria, he added a third point with sixth place. Despite that, he had been running third following the chaos at the start. It threatens to be Salo's highest placing of his season, because more often than not, he is stuck in the midfield. Salo still believes that he can win races and championships, particularly after his time at Ferrari, but time is running out.
As Mika Hakkinen wonders how he can challenge for his third successive title, Salo must be pondering his entire career. Is this just another case of unfulfilled promise? It looks like it probably will be.