This week's Grapevine brings you
information fresh from the paddock on:

Diniz in Hot Water
Barrichello Reflects on Winning
Silly Season Update
Picked from the Bunch
Diniz in Hot Water
Following yet another incident including Pedro Diniz, calls for the Brazilian driver to be reprimanded have sounded around the paddock.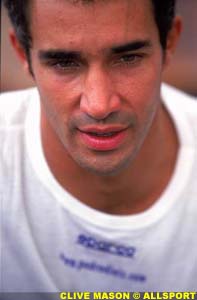 In the latest Grand Prix, Alesi moved to pass Diniz on the outside, only to find the Brazilian moved across into him: "I could see that Jean Alesi was close behind me, but when I started braking for the chicane he must have put two wheels on the grass and ran into me. Suddenly it started raining wheels! That's all I know."
Jean Alesi's view was different, and appears to be on the same lines as general consensus in the paddock: he says "On lap 29, as I was struggling at the back, I was overtaking Pedro Diniz before a chicane and he suddenly changed line. It has been probably one of the worse accidents in my life." Whilst Alesi is known for having always having his own view on the incidents which end his races, it does appear to concur with the pictures available on screen to the FIA...
This year, Diniz has been involved in more incidents than at any other time. These include punting Giancarlo Fisichella's Benetton off in Austria, and numerous cases of driving wide to take "his racing line," where it involves forcing an opponent on to the grass.
In his defence, a lot of the incidents would simply be considered "hard driving" if one of the leading lights of Formula One were the culprit instead. Being "only a Sauber driver" has drawbacks, and coming from the pay-driver background, few others on the track expect Diniz to play hard-ball. No-one expects Schumacher of Villeneuve to yield an inch, so incidents involving them are generally accepted as a by-product of racing.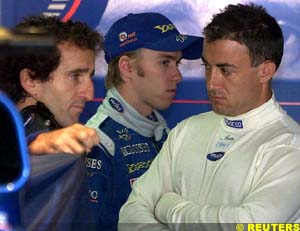 Nevertheless, it is getting to the point where his peers are considering Diniz a danger to everyone on the track, and there is a call for his censure at future races. Not only that, but his chances of finding another seat in 2001 are being slimmed down, as the Brazilian continues to write off chassis at a rate that would strike fear into any self-respecting back marker.
Barrichello Reflects on Winning
There was absolutely no doubt what Formula One thought about Rubens Barrichello's maiden Grand Prix victory in Sunday's German Grand Prix. The outpouring of the driver's emotion was matched by the effusive congratulations he received from everyone in the paddock. They were all pleased that finally Rubens had scored his first win, confounding the critics.
Small wonder, therefore, that having experienced the feeling of winning a Grand Prix and, in part, emulating the achievement of his idol, friend and mentor, the late Ayrton Senna, Rubens was overcome with emotion on the Hockenheim podium.
Brazilians are hugely patriotic. They love their country, their compatriots, and all they can achieve. The national anthem, played 41 times for Ayrton, was last heard when the great Brazilian won the Australian Grand Prix in 1993. Since then, it has been silent. It was that anthem that heralded a flood of tears from the 28-year old Barrichello on Sunday. He buried his head in a Brazilian flag and wept openly.
"This win has been a long time coming." Rubens admitted. Since his Formula One debut in 1993, he has experienced the highs and lows of Grand Prix racing but never that ultimate accolade: victory. Even the day before had been, he had said: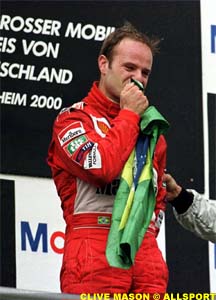 "The worst day this year." A catalogue of problems meant that he had qualified only 18th on the grid. That, some said, was payback time. Rubens's two previous poles, prior to this year, had both been in wet/dry sessions which had gone his way. This time, it had not.
After the race, Rubens was in reflective mood. "I want to dedicate this race to a guy up there, Ayrton. Since 1984 he changed my life. Ever since that time, I was definitely going to be a racing driver. I followed him a lot. He helped me quite a lot and today is a good day to dedicate the race to him."
They were obviously close. On that fateful weekend in spring, 1994, the first accident in that awful series at Imola befell Rubens. Coming through the Variante Bassa on Friday afternoon, he lost control of his Jordan-Hart, it slid sideways, was launched by the kerb and slammed into the barriers several feet above ground level. Although badly shaken and suffering a bruised nose and right arm, Rubens was otherwise unhurt. One of the first people to visit him in the medical centre, to ensure that he was OK, was Ayrton. Two days later, he would be lost.
That was a huge, emotional shock. Rubens had lost not only a friend and colleague, but the man who had inspired and guided him, whom he respected and, maybe still, idolises.
It left a void in his life, but also in the lives of his compatriots. Rubens became the natural successor and it was not something that he carried easily. "A lot of people just put me into his place. A lot of people liked to do that, but a lot of people did not, so I was in a confused situation." For a year and a half, he was in such a difficult position that it probably affected his race-driving. "I just want to say thank you to the people who supported me." he said.
Steadily, Rubens has emerged from that and, in a way, he has become to other young Brazilians what Ayrton was to him: a guiding hand, mentor, friend and guardian. Rubens has lived in a house in Cambridge, England with his wife Silvana and several other Brazilian racing drivers for some years. It is a little piece of Brazil in a corner of far away England. You can be sure it was buzzing on Sunday night.
In his early GP career, he had never quite been able to confirm his promise with consistent points-scoring results, although one could scarcely say that a Jordan was the perfect machine in which to do that. In the race before that fateful San Marino Grand Prix, he had been on the rostrum, at Aida in third place. And, later that year came his first pole position in changeable conditions at Spa, Belgium.
But after four years at Jordan, he cut his losses and accepted a drive with the new Stewart team in 1997. There was no doubt that the friendly Stewart family atmosphere would suit Rubens and he rewarded them in the launch year with a first rostrum at Monaco. He led his home Grand Prix last year - an emotional experience in itself - and then secured Stewart's first pole in similar conditions in France, 1999.
In theory, it should have been he who scored Stewart's first Grand Prix win at Nurburgring, 1999, instead of his perenially unlucky teammate Johnny Herbert. But Rubens open-heartedly joined in the congratulations and accepted, with good grace, that his day would come.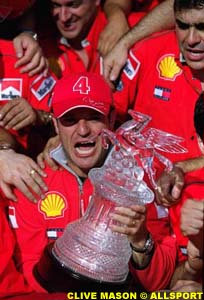 By then, however, he had already announced that he would be leaving Stewart, which was about to become Jaguar, and would be moving to Scuderia Ferrari Marlboro. Some questioned whether this would be a good move for Rubens - particularly as he could read Italian newspapers!
He, however, was firmly of the opinion that it had to be the best move he could make. He believed that if he was the quickest, with the best chance in the championship, that he would become the team's focus. It was up to him to ensure that he earned that status.
After Sunday's win, though, that had little importance. "It is great to work with Ferrari," enthused Rubens. "Everyone talks about number one and number two. It does not matter. They give me a car and it worked perfectly."
Teammate Michael Schumacher was among the first to congratulate him. He was relieved that Rubens had ensured that the McLaren pair hadn't scored maximum points. They were pleased for Rubens too, perhaps they were relieved that it was not Michael who had scored 10 points!
Later, there were congratulations from Luciano Burti, one of the Cambridge group, and Rubens's former manager Geraldo Rodriguez. But there was no one from the family present. "They will come later." he explained.
So he has two weeks to enjoy his win, probably less with testing and a visit to the Marlboro Masters at Zandvoort, this weekend. In his 123rd Grand Prix, coincidentally he has also scored 123 World championship points, Rubens becomes the ninth winner in the current Grand Prix field. And in winning, he is now 10 points off the championship leader and at the top of his form. He is a true championship contender. He gets the congratulations now from the trio ahead of him, but they might not be so generous from now on.
Silly Season Update
Jenson Button is currently being linked strongest with Benetton, as Briatore has expressed a strong interest in the youngster. However, their first priority is re-signing Fisichella, and their second is keeping their second driver's salary well down...
Ricardo Zonta's little accident in Germany has seriously damaged his chances of finding a seat in Formula One next season. BAR were still considering the youngster, who has had a lot of misfortune with equipment failure, and has recently shown good form to qualify close to Villeneuve. His latest incident has cost him dearly in the eyes of his teammate, and that is not good news.
Jacques Villeneuve is believed to have a letter of intent from Ferrari, indicating that should Schumacher leave by 2003, contract negotiations should begin for his move to the team. This is thought to be Ferrari covering all eventualities, rather than expecting the German ace to leave.
Mika Salo has again mentioned his interest in remaining at Sauber for another year, despite a hugely lucrative offer from Toyota to join the fledgling outfit as test driver in 2001.
Jarno Trulli might not be going to Benetton in 2002, according to speculation in Germany. Rumours that his contract has a performance clause - permitting him to remain with any team that out-performs the Benetton outfit (which will actually be Renault at that time), could provide Eddie Jordan with a means to keep the driver. No source for this rumour has been established, however, and Briatore is known to be a pretty sharp cookie regarding driver deals.
Nick Heidfeld's role at Prost might not come up for review, as the team is struggling to make progress with next year's car. Until an engine package and design team have been established, Prost does not have a package to offer prospective drivers, so he is not expected to make a final decision on the driver line-up for some time - particularly as an engine deal could come with a driver placement.
Tora Takagi has been mentioned in connection with the second seat at BAR - the theory being that even if he is not the class of the field, at least it would help the budget. Ironically, rumours that he could be a test driver for Toyota surfaced around the same time, though little credence is given to it at this time.
Olivier Panis has been linked to BAR, Jaguar and to Benetton - the latter makes some sense as a French driver would be good for Renault, but flies in the wind of rumours that Button will sign with the outfit.
Picked from the Bunch
Schumacher's apparent ire at Fisichella has been blown out of proportion by the press - at least, Schumacher himself accepted that it was "a racing incident" on reviewing the video.
Rumours of Barrichello being unhappy at Ferrari are close to the mark: he hates the way the media distorts the truth around him. However, regarding the team, the car and driving, he has never been happier... Few will be surprised to learn that winning in Hockenheim has left him stating "even the lies from the press is worth it."
Arrows 2001 engine, based on this year's Peugeot unit, could benefit from Honda technology - it is thought that a 1997 Mugen-Honda unit intended for Audi has made its way back to Japan, and into the hands of the arch rivals.
Antonio Pizzonia continues to hit headlines, as rumours he will replace Wurz for the Hungarian Grand Prix circulate. It is unknown if this was a threat issued as a hurry up to Wurz, or pure speculation from his detractors. Ironically, rumours that Panis could fit the role also circulated, but his contract prevents him from taking a seat with Benetton unless McLaren are compensated - hugely - for the loss of his testing services.
Mauricio Gugelmin, Champ car driver, has been testing the HANS safety device, due to be introduced into Formula One, and says: "With the testing that Mercedes has done, the HANS has proven to be a benefit to us. Just looking at the videotape of the tests will show you. I think it could be the same step forward in safety as when we switched from wearing leather helmets to the ones we have now."