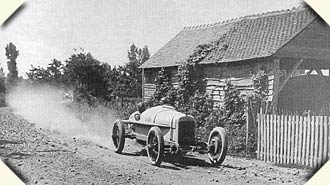 1921 Jimmy Murphy aboard a Duesenberg on his way to becoming the first American to win a European Grand Prix. The circuit was at Le Mans, using some of the roads of the modern circuit, although it wouldn't be until 1929 that the circuit would start to appear much like the modern day layout.

Rudolf Carraciola aboard the Mercedes W25 at Montlhery. It was less than a month since the first Mercedes W25 had appeared, and not much longer since the Auto Union A Type but the writing was already on the wall for Alfa Romeo and Maserati. This day however would be won by the Alfa Romeo of Louis Chiron.



1953 Juan Manuel Fangio (Maserati A6GCM) being pursued by Mike Hawthorn (Ferrari 500) in the dramatic 1953 event at Reims. After Froilan Gonzalez (Maserati A6GCM) lead early on half fuel load a breathtaking dice for second between the Ferrari 500s of Alberto Ascari, Giuseppe Farina, Mike Hawthorn & Luigi Villoresi, and the Maserati A6GCM's of Juan Manuel Fangio and Onofre Marimon. After his pitstop Gonzalez was gobbled into the baying pack. Hawthorn became the first British driver to win a Grand Prix, and by the smallest of margins over Fangio and Gonzalez with just over minute covering the top six.
Juan Manuel Fangio and Karl Kling guide their Mercedes W196 streamliners across the line at Reims on the return race of the Silver Arrows to Formula One for a formation finish 1-2 result. The Mercs lapped the field including third placed Ferrari 625 of Robert Manzon.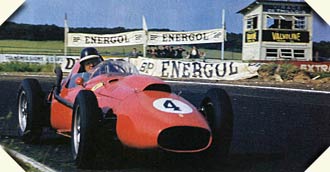 1958 Returning to the scene of his first triumph, Mike Hawthorn in the Ferrari Dino 246 would win and put his championship aspirations back on track. It was a dominant performance by Hawthorn on a day Formula One would remember for the loss of the colourful Luigi Musso.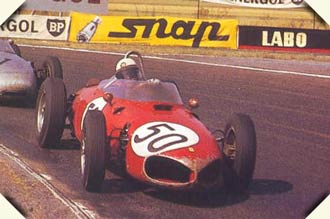 1961 After problems struck the Scuderia, prematurely ending the runs of Wolfgang von Trips, Phil Hill and Richie Ginther it seemed likely the factory Porsche squad of Dan Gurney or Jo Bonnier would claim the win. Aboard a privately entered but factory prepared Ferrari 156 'sharknose' in his very first world championship Grand Prix, Giancarlo Baghetti took the win from under the noses of the Porsches and created a statistical blip likely never to be equalled.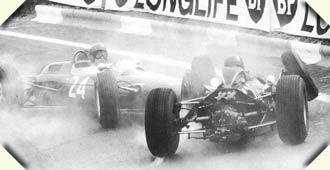 1965 The Clermont-Ferrand circuit was notorious for its twists, crests and plunges. This lap three clash spelt the end of Jochen Rindt's race, his Cooper T77 Climax front right suspension obviously too mangled to continue. The other car involved, the Lotus 25 BRM of the mercurial young New Zealander Chris Amon would continue 17 laps before fuel injection dramas claimed the car.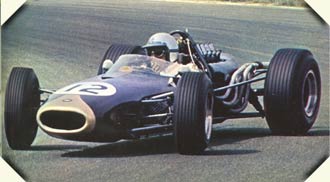 1966 In the early part of 1966 it was became obvious only one team was really ready for the new 3.0 litre regualtions. Ferrari were overweight and underpowered, Lotus, Cooper and the rest were caught out with down on power engines and relics from the 1.5 litre era. But Motor Racing Developments, alias Repco-Brabham, were ready. Here Jack Brabham winds on opposite lock on his Brabham BT19 Repco at Reims - his first win of the season, a season that would make him the only World Champion in a car bearing his name.
Against the back drop of the huge Le Mans grand stands, Jim Clark stands ready to climb aboard his Lotus 49 Ford-Cosworth. In 1967 Formula One visited the great circuit but used the much smaller Bugatti version of the circuit which turns right before the Esses and doubles back on itself before rejoining the 24 Hour circuit at the Ford Curve. Clark would lose a crown wheel and retire in the races early stages.
Twelve months after giving the Tyrrell 003 chassis a victory on debut, Jackie Stewart again took his Tyrrell to win the French Grand Prix on a circuit more different than 1971's Paul Ricard than it is possible to imagine, Clermont-Ferrand.
Clay Regazzoni uses all the road in his Ferrari 312B3 at Dijon-Prenois trying to hold on to the final podium position while being challenged in the background by the Tyrrell 007 Ford-Cosworth of Jody Scheckter. Regga would claim third and Scheckter fourth.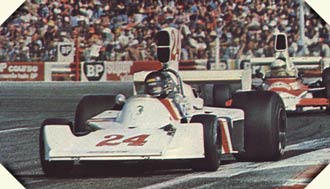 1975 James Hunt on his way to yet another remarkable result in the Hesketh 308 Cosworth. It was his performances in the small team of gentleman racers run by Lord Hesketh that would make the F1 pit sit up and take notice before being snapped up by McLaren in 1976. This day at Paul Ricard, Hunt would be second to eventual WC, Niki Lauda. Here Hunt is being persued by the McLaren M23 of Jochen Mass.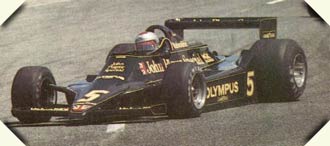 1978 The great American Mario Andretti aboard the pioneer of ground effects, the Lotus 79 Cosworth. This was yet another race in 1978 that fell to Lotus and the ability of Mario Andretti and Ronnie Peterson. Peterson would be second, making a very happy day for Colin Chapman and the team.
1979 A 1.5 litre engine, powered by an example of marine engine technology that was only allowed because a loophole designed for use in 1966 was never closed, win a GP? It would take ten years and a change in engine regulations before turbocharged cars stopped winning in Formula One but this was the first as Jean-Pierre Jabouille and the Renault RS10 won at Dijon-Prenois. Not far behind folklore was being spun as Gilles Villeneuve (Ferrari 312T4) and Rene Arnoux (Renault RS10) staged one of Formula One's most desparate battles. After bashing wheels many times Villeneuve claimed secoond.
The great Brazilian, Nelson Piquet, ponders which way his Brabham BT52 BMW should be pointed as Manfred Winkelhock in the ATS D6 BMW powers past. Piquet would go on to finish second behind Alain Prost's Renault, while Winkelhock had an engine failure after 36 laps.
Paul Ricard has always been a power circuit, with the long Mistral Straight and the high speed Signes Corner. In 1987 Honda was power. Here the two Williams FW11B Hondas of Nigel Mansell and Nelson Piquet, pursued by the McLaren MP4/3 TAG Porsche of Alain Prost negotiate the wiggles which cut the Paul Ricard circuit in half. This was done in 1986 to slow speeds after Elio de Angelis was killed in testing in his Brabham BT56. Mansell and Piquet would score a 1-2 for Williams this day with Prost the only other car to finish on the same lap.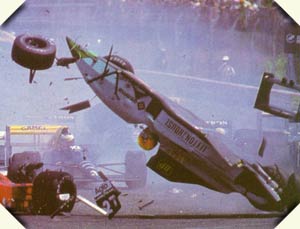 1989 This very spectacular accident started when Mauricio Gugelmin (March CG891 Judd) locked a brake, breaking to enter the Verrerie section that connectes the La Bretelle and Mistral Straights. Gugelmin then clipped another car, rode up and rolled, damaging several other cars as he went. No-one was injured. He wasn't the only driver to make a big impression on the field. In his first race, substitute Tyrrell driver Jean Alesi scored a magnificent fourth place. A world champion of the future?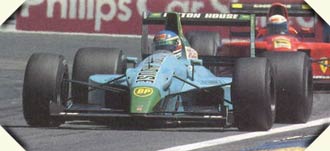 1990 Driving an underpowered Leyton House March CG901 Judd, Ivan Capelli came within an ace of stealing the 1990 French Grand Prix from the more fancied teams. A smart pit strategy choice saw Capelli and team mate Gugelmin run 1-2 for a lot of the race and Capelli did in the end beat home all bar the Ferrari 641 of Alain Prost. At the previous race Capelli had failed to qualify. Here Capelli's time is almost up as Prost closes in late in the race.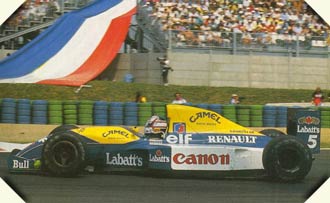 1991 Another new venue for the most travelled of Grands Prix. Here at Magny-Cours Nigel Mansell (Williams FW14 Renault) scored the first of a trifecta of wins which also included Silverstone and Hockenheim. It got Mansell back into championship contention after some unfortunate results at the start of the season.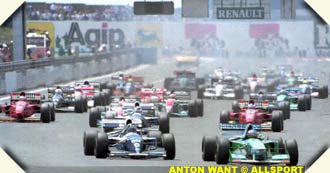 1994 Into the first corner and Michael Schumacher (Benetton B194 Ford) leads Damon Hill (Williams FW16B Renault), stand in driver Nigel Mansell (Williams FW16B Renault), Jean Alesi (Ferrari 412T1B), Eddie Irvine (Jordan 194 Hart) and Gerhard Berger (Ferrari 412T1B). Schumacher would go on to win this race from Hill and Berger.
Michael Schumacher claims the win in his Ferrari F310B in front of the huge French crowd. It was a vitally important win for Schumacher and his ultimately futile chase of Jacques Villeneuve to the 1997 World Championship in front of a dark sky as rain began to fall in the dying minutes of the race.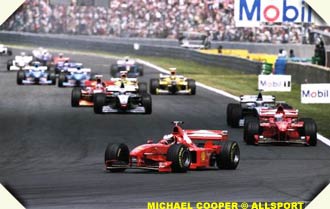 1998 Michael Schumacher turns into the Adelaide Hairpin first leading team mate Eddie Irvine, the McLaren-Mercedes of David Coulthard & Mika Hakkinen and the Williams-Mecachrome of Jacques Villeneuve with the two Jordans of Damon Hill and Ralf Schumacher ranging up the outside. Schumacher and Irvine would stage a 1-2 win for the Scuderia ahead of Hakkinen and Villeneuve. Coulthard would be caught in sixth, a wretched run put Ralf Schumacher 3 laps down and Hill had hydraulic failure.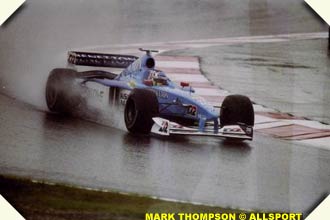 1999 Alexander Wurz (Benetton B199 Supertec) demonstrates just how wet it got during the 1999 race. That race saw one of the best races of the year with Rubens Barrichello (Stewart SF3 Ford) leading for much of the race before being taken over by Heinz-Harald Frentzen (Jordan 199 Mugen-Honda). Barrichello clung to second after being passed by Mika Hakkinen (McLaren MP4/14 Mercedes). Wurz though would spin off at one third distance.