The Formula One 'silly season' is now in full swing and Jacques Villeneuve is at the center of most speculation as to which team he will drive for next year.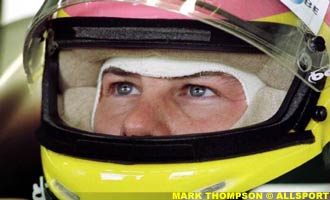 Traditionally, it is the best driver that controls the stage in the annual game of musical chairs, and it is a reflection on his current status that many of the other driver moves must await his decision. With Michael Schumacher firmly ensconced at Ferrari and both McLaren drivers looking certain to stay for yet another year with their team, then Villeneuve is the next in line to choose his preferred seat.
Villeneuve has always been unconventional, and certainly his graduation into the senior ranks of single-seater racing was very different from most of his contemporaries. Bypassing the karting scene, he cut his racing teeth in Italian F3, where he spent three years in one of Europe's weakest championships without a win. It was not until he moved to Japan that his fortunes changed, not only scoring his first ever race win, but hiring his former teacher Craig Pollock as his manager, who would then move his career into overdrive - courtesy of a move to Canada and money from tobacco giant Players.
Had he hung up his helmet at the end of the '97 season his resume would have looked like something out of a 'Boys Own' fairy tale. Race winner and Rookie of the Year in 1994 in the North American CART series, CART champion and Indy 500 winner in 1995. Four wins and runner up in his debut year in Formula One in 1996, and World Champion the next.
Currently, unless you are driving for either Ferrari or McLaren, you are not going to be a regular winner in F1, so the question facing Villeneuve is, which team in the next few years will be good enough to match these established winners?
Most of the smart money has the Canadian moving to the Benetton team, now owned by Renault. The return of ex team boss Flavio Briatore has injected new life into a team that looked to be in terminal decline. But any new F1 programme, even one run with all the experience of Benetton and Renault, is unlikely to be an instant winner, and Villeneuve may be subjected to yet more of the frustrations he has endured over the past year and a half at BAR.
Benetton are at least an established F1 team with personnel who know what it takes to win and are keen to do it again. The recruitment of Mike Gascoyne as technical director from Jordan, due to take up his duties in time to pen the team's 2002 challenger, can only strengthen them further.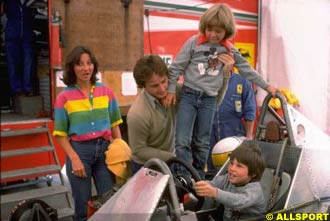 In short, Benetton have everything that Villeneuve's current team BAR - his other main option - lacks. Experienced Formula One people working with an impressive infrastructure with a history of success. In the '99 season, his first with BAR, Jacques Villenueve became the only Formula One world champion to drive for the whole year and not score a championship point.
This season started off with two points-scoring finishes in the first three events, but recent races have followed a similar pattern as Villeneuve himself recently observed: "Most of the races the starts have been going pretty well. I'm very happy about that and that's how we managed to get points this year with good starts and then running low downforce and keeping everybody stuck behind. We were never quick enough to be fairly in the points, it was only that way that we managed to get the points which was great. The only time that we were very quick in the race was in Nurburgring."
So no problem with the Honda engine's ability to keep the others behind then, but the BAR chassis is chronically short of downforce, and without it, Villeneuve's chances of scoring podiums, let alone wins, are slim indeed. With on-going rumours of the break up of the team, or its sale to Honda, it seems unlikely that BAR will be able to satisfy Villeneuve's criteria of winning races soon. Indeed paddock gossip has it that Villeneuve has already decided to quit the team, but is delaying the announcement to assist his friend and current team boss Craig Pollock fend off the Jordan team's claim to share the use of the Honda works engines.
Villeneuve is the main asset for the BAR side of the BAR-Honda partnership. Without him, or another front line driver, BAR does not bring that much to the party. If Villeneuve does jump ship then Honda are thought likely to want to involve another team in their engine programme, indeed it is being strongly rumoured that Jordan tested the latest version of the Japanese engine manufacturer's product at last week's Magny Cours test.
Jacques Villeneuve has brought a breath of fresh air to the Formula One paddock, and many observers admire his unconventional ways together with his plain talking. He has proved to be his own man, and unusually immune to many of the demands that are part of the life of a modern Grand Prix racer. He admitted recently that his refusal to undertake the off track work load expected of a current McLaren driver led to the break down of talks with that team. "No doubt the McLaren is great car," Villeneuve was quoted as saying, "but there are other things to weigh up. I wouldn't go to all their sponsorship dinners so I don't think the union can work."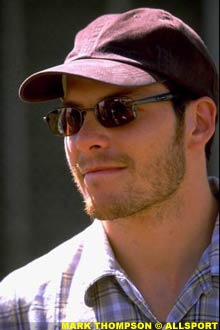 Brave talk from the former champion who has not won a race for nearly three years and who is not likely to win again in the near future. Most drivers would do practically anything to get themselves into a winning car, and the former champion may one day regret his decision not to pursue this option as the time passes on his F1 career.
When Craig Pollock signed Jacques Villeneuve to his then new BAR outfit on the eve of the Austrian Grand Prix back in 1998, he admitted that it was a risk for his former protégé. "By having signed Jacques we are putting enormous pressure on ourselves to perform," Pollock stated. "We have a World Champion who knows the Renault engine, but Jacques is a risk taker and this is certainly that - a calculated risk, but a risk none the less."
Villeneuve trusted his friend and former manager, walking away from Williams, then just coming to terms with the loss of its works Renault engines and already planning its F1 comeback with BMW power. Now, of all the midfield teams attempting to get on terms with the 'big two' Williams looks the most likely to achieve it within the next two years. But the option for him to return to his former team has long gone, as team boss Frank Williams is spoilt for choice between the twin talents of Jenson Button and Juan Montoya.
So now Villeneuve is faced with another big gamble. Stay with a failed team as it struggles to regain its credibility in the hope that Pollock can at last deliver what he promised some two years ago. Or depart and trust his future to the re-energized Benetton team and hope that Renault can achieve today what it failed to achieve some twenty years ago - winning titles under its own name.
Either way, he is likely to see many more races won by the silver cars from Woking and the reds from Maranello before he tastes victory in a Grand Prix again.