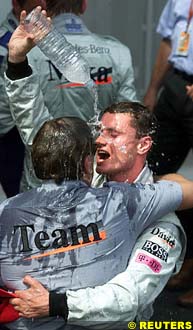 The French Grand Prix was the epitome of the 2000 F1 World Championship, and specifically that of David Coulthard's performance so far: an unexpected roller coaster ride. With so many ups and downs in his career, it is difficult to predict whether the Scot will perform as a real title contender are whether he would stall the engine on the grid.

But in Magny Cours, Coulthard was the class of the field, surpassing even championship leader Michael Schumacher, and reaffirming his image as a fast and mentally strong driver that was reborn after his plane crash two months ago. Coulthard's performance was, probably, his best ever. The McLaren driver kept his cool when he was overtaken by Rubens Barrichello at the start and then blocked behind him for numerous laps, and instead he waited for the right moment to pass the Ferrari in one of the best maneuvers of the year.

Not much later, although not that easily, he did the same with Schumacher and disappeared into the distance comfortably, crossing the line some 15 seconds ahead oh his teammate, Mika Hakkinen. The Scot had a flawless race and the McLarens were once again superior to the Ferraris.

For the Italian team, the weekend seemed promising when Schumacher took control of pole position without much apparent effort. When, at the start of the race, the German forced Coulthard to lift his foot off the throttle, allowing Barrichello to take second place, there was a feeling of deja vu, and Schumacher's victory seemed certain even before completing the first lap.

However, things were not that easy for the German, who not only saw himself passed on track by Coulthard, but also had a mechanical failure which deprived him of taking any WC points, making the fight for the drivers' title a much more interesting and close one. To make matters worse, Schumacher left France with his image of an "unsporting" driver reignited.

The now almost former World Champion, Mika Hakkinen, was a mere shadow of his old self and was never a factor - neither during qualifying nor in the race. The Finn continued to play the role of "David Coulthard in 1999" and his second place at the end of the day was more than he could have expected. All the motivation and inspiration seems to have disappeared from Hakkinen, and with Coulthard seemingly already consolidated as the number one driver in McLaren, the Finn seems to be in no man's land.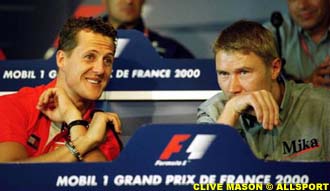 Rubens Barrichello proved once again that luck is still on his side - the bad one, that is - in spite of which he managed to finish on the podium for the third consecutive occasion, though once again on the lower step. Moreover, Ferrari's frequent problems with his pit stops are not helping the Brazilian's chances of achieving his first win.
The fact that this year the victories are distributed among only two drivers makes Jacques Villeneuve's absence from the front end all the more evident, especially after his great performance in Magny Cours. The BAR driver did, once again, one of his patent rocket-like starts to eventually finish a credible fourth. Ironically, this result came a day after Honda announced they will supply works engines to Jordan, as well as to BAR, next season; Villeneuve, however, was clearly superior to both Jordan drivers.
Another team that struggled in the last few races but made a comeback in Magny Cours was Williams. The English team benefitted from the good work in both free practice sessions and gave Ralf Schumacher a car he could fight with for the points. The German, as usual this year, took full advantage of the package and finished the race in fifth place, ahead of Jordan's Jarno Trulli in sixth.
McLaren's and Ferrari's reliability is giving very few opportunities for the other teams to score points, as was evident from the fact that a Jordan, a Williams and a Benetton left France with nothing to show for despite no evident problems. Heinz-Harald Frentzen, winner of last year's French Grand Prix, seems to be in a similar mental state as Mika Hakkinen, with a lack of inspiration. Jenson Button made an anonymous race in one of the few circuits that he knows. And Giancarlo Fisichella, despite being the only driver who has finished all of the races so far this season, had to be content with ninth position, courtesy of a less than perfect Benetton.
Qualifying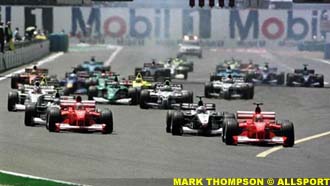 Michael Schumacher and Ferrari worked hard to have his car ready for qualifying and at the end it paid off. The German timed his first run to perfection - when the track was at its coolest - and set a time that no one could improve, not even himself, securing the 27th pole position of his career.
"My first run was spot on and that is the main reason I took pole, because others seemed to improve on their later runs," Schumacher said after the session. "The car was good so we did not need to make many changes in between the runs."
David Coulthard's good form was obvious from his performance during the qualifying session, where, despite all sorts of trouble, he managed to end up second on the grid, just a tenth of a second slower than Schumacher. The Scot initially had to use the T car, which was set up for Hakkinen, due to a problem in the fuel pump on his McLaren.
Despite the problems, Coulthard was very content with his team's performance: "I am pleased with my final lap time which puts me on the front row of the grid for tomorrow's race and I have to take my hat off to the mechanics who had to work hard under very pressured conditions and did a great job."
Rubens Barrichello was four tenths slower than his Ferrari teammate, after setting the initial pace. The Brazilian tried a different setup for the second and third runs, but it proved to be a mistake and he ended up losing valuable time and laps: when he finally got it right, it was too late and the track too hot to improve.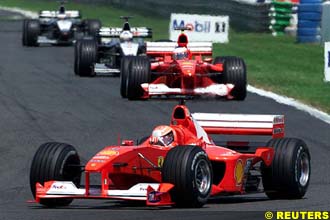 Fourth place was all Mika Hakkinen could achieve with his McLaren, but he somehow was relieved after improving on his 14th spot in last year's session: "On the one hand I could say that it was a very disappointing session for me today, but on the other hand it is better than last year when I qualified 14th," said Hakkinen, who also admitted he was not happy with the balance of his car.
Ralf Schumacher was very happy with fifth place after struggling in free practice and he was also surprised of being so high up on the grid: "After last week's test I expected a position between seventh and 10th. The team sorted out all the problems and they were very well prepared for this qualifying session. I must also say that I like this track and I'm looking forward to tomorrow's race."
Alongside Schumacher Jr., Eddie Irvine was a bit disappointed after the German stole 5th place from him in the dying moments of the session. Despite that fact the Jaguar driver was pleased after improving Montreal's situation. "Because I had such a bad test here, I didn't fully understand the car's suitability for this circuit," the Ulsterman said. "We've chipped away over the past two days and found bit improvements which have also helped to explain, to some degree, why we struggled so much in Canada."
Jacques Villeneuve was surprised with his performance and seventh place was better than he expected: "I'm pretty happy as the car performed better than I thought it might. I think seventh is as good a qualifying position as we could have hoped for and we got as much as we possibly could out of the car." The Canadian qualified in front of the two Jordans of Heinz-Harald Frentzen and Jarno Trulli, and the second BMW-Williams of Jenson Button.
The biggest disappointment were both Benettons and, after a brilliant free practice, the Prosts. Giancarlo Fisichella complained about the handling of his car and had to settle for 14th place, while his teammate, Alex Wurz, did not help his poor chances of staying in the team next season and ended up behind the Italian once more, in 17th.
Meanwhile, the Prost team continued to struggle, now on their home track. Nick Heidfeld was 16th and Jean Alesi two places behind. "It is disappointing, of course, but now we have to look for the best possible result here tomorrow and try to finish the race with good reliability," Alain Prost said.
The Race
Under perfect weather conditions, all 22 drivers took the start of the race without problems. Up in front, Michael Schumacher did not make a very good getaway and had to compensate by chopping across Coulthard's front wing in a move that the Scot later deemed legal, since drivers are allowed to change direction once.
Schumacher's move, however, allowed his teammate Rubens Barrichello to take second place, while Coulthard had to settle with third. Hakkinen was fourth and Villeneuve fifth, while Irvine - starting from sixth - lost five places and crossed the line 11th at the end of the first lap, later complaining of Clutch problems.
With the two Ferraris in front, the race looked settled and Schumacher began to increase his lead. With Coulthard unable to pass Barrichello, it all seemed to work in Michael's favour. However, Schumacher's pace was not that different from his teammate's and the gap between them stabilised around the 5-6 seconds range.
Meanwhile, at the back of the pack, and if as things were not bad enough, Nick Heidfeld tried to pass the Benetton of Giancarlo Fisichella at the Adelaide hairpin, hitting his own teammate, Jean Alesi, and forcing him to spin. They would both resume the race, but the Frenchman was less than impressed with Heidfeld's move. "Needless to say, I am terribly disappointed by everything that has happened this weekend and with the result. We have to put this behind us and concentrate on the next race to score a good result," Alesi later said.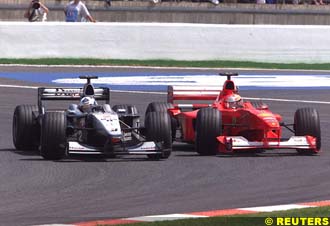 Moments later, Ricardo Zonta's weekend to forget came to an end after a problem with the brake system on his BAR forced him into the gravel.
Johnny Herbert and Alesi were the first to make their planned pit stop, on lap 18, while Heidfeld entered a lap later, stalling his car and losing more time before he was back on track. Herbert would retire a lap later with a clutch problem.
It was not until lap 20 that Coulthard's pressure on Barrichello paid off. The Scot tried to pass the Brazilian on the inside, the latter closed the door but ran wide coming out of the corner and the McLaren driver could accelerate faster and take second place. From that moment on, Coulthard began to close the gap to Schumacher.
Mika Hakkinen was the first of the top four to make a pit stop. On the next lap it was Schumacher's turn, and after Coulthard pitted as well, the German was back in the lead with 5.2 seconds ahead of the Scot. Barrichello also made his scheduled first stop, but Ferrari's crew was not that fast and when the Brazilian came out he was already behind the McLaren of Hakkinen.
Meanwhile, Jos Verstappen's race came to an end when his Arrows transmission failed on the start/finish straight. It was not a good weekend for the British team as Pedro de la Rosa would retire with a similar problem some 25 laps from the end.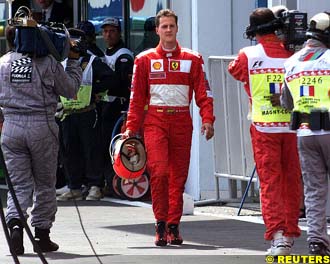 Michael Schumacher's luck with tyres has not been the best this season, and after his pit stop, the German complained about the lack of performance of his Bridgestones. "The tyres on my car seemed to suffer a drop in performance earlier than on the others," Schumacher revealed later. "This problem was at its worst after the first pit stop. At first I could control the situation, but then the tyres went off and I tried to look after them knowing there were still a lot of laps to go."
Coulthard was now under the Ferrari's rear wing and his commitment to pass the German was more than obvious. With 39 laps to go, Coulthard made a move at Adelaide's hairpin, but Schumacher took the inside line and forced the McLaren on the outside. Coulthard did not give up and tried to take on the Ferrari. Schumacher then forced him wide and the Scot's reaction to follow was seen by millions on viewers: in a sudden burst of anger and frustration, Coulthard showed his middle finger to Schumacher, followed by a more obscene gesture - something he later regretted and apologised for.
"I know it was not a sporting thing for me to do and I apologise for that," Coulthard said, "But it was a tough weekend for me. I know it was not in keeping with our sport. As you can understand, my emotions were running high and I knew that to be in a position to win the championship I had to win here today. I had a clean run at Michael on the outside and equally I felt he drove me wide."
None the less, it took him just another seven laps to try it again, this time going on the inside, touching wheels with the Ferrari at the exit of the corner, but coming out on top. And once in the lead, Coulthard disappeared into the distance, while Schumacher was doing his best to hold Hakkinen, who was now getting the attentions of Barrichello.
With 29 laps to go, both Schumacher and Hakkinen came in for their second stop. The Ferrari crew was once again faster and the red car rejoined in front. Barrichello entered a lap later, but he wasn't as lucky as his teammate. The right front wheel of his Ferrari had a problem and he could only accelerate away after 16.8 seconds, losing all his chances of catching Hakkinen, let alone Coulthard. "It was a shame, because I heard that Hakkinen had a so-so stop as well. Maybe I could have passed him," Barrichello said.
Coulthard entered the pits two laps later and rejoined in the lead, but he almost threw it all away in the first turn, where he ran wide and put two wheels on the grass. However, from that moment on, the Scot raced on his own.
McLaren's fortunes were all the more blessed, when Schumacher's engine expired on lap 59, allowing the Woking team to take an easy one-two.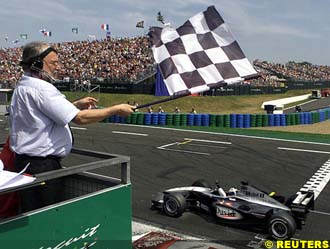 "I am delighted to have won this Grand Prix and today's result puts us back where we were after Monaco - right in the championship fight," Coulthard said after achieving his ninth career victory. "I knew that we had a quick car and that once I settled into the race I would find an opportunity to pass Michael. It has been a tiring weekend but my mechanics, engineers and everyone on the pit wall did a great job - thank you."
Barrichello was third, his team telling him to take it easy after Schumacher's problem, while Jacques Villeneuve, who had an untroubled race, was fourth for the BAR team. The Canadian had to fight hard during the final laps with Ralf Schumacher and was very pleased with the outcome. "I am very happy to finish fourth here, especially on a track where we didn't expect to be particularly strong," Villeneuve said. "The start was so good that I even surprised myself! I settled into fifth and was also surprised that the first four didn't pull away from us."
The championship battle between Schumacher and Coulthard is now more interesting than ever, with 12 points between them, while in the Constructors Championship Ferrari now lead with only 6 points. However, you can be sure that Michael Schumacher will be ready to fight back in Austria, and we will just have to wait and see which way the Coulthard Roller Coaster is going to swing this time around.

Race Results

CLASSIFIED

Pos  Driver         Team                             
 1.  Coulthard      McLaren Mercedes      1h 38:05.538
 2.  Hakkinen       McLaren Mercedes       +    14.748
 3.  Barrichello    Ferrari                +    32.409
 4.  Villeneuve     BAR Honda              +  1:01.322
 5.  R.Schumacher   Williams BMW           +  1:03.981
 6.  Trulli         Jordan Mugen-Honda     +  1:15.604
 7.  Frentzen       Jordan Mugen-Honda     + 1 Lap    
 8.  Button         Williams BMW           + 1 Lap    
 9.  Fisichella     Benetton Playlife      + 1 Lap    
10.  Salo           Sauber Petronas        + 1 Lap    
11.  Diniz          Sauber Petronas        + 1 Lap    
12.  Heidfeld       Prost Peugeot          + 1 Lap    
13.  Irvine         Jaguar Cosworth        + 2 Lap    
14.  Alesi          Prost Peugeot          + 2 Lap    
15.  Gene           Minardi Fondmetal      + 2 Lap    

Fastest Lap: D.Coulthard, 1:19.479 (192.548 km/h), lap 28

NOT CLASSIFIED / RETIREMENTS                                
                                                            
     M.Schumacher   Ferrari               59    engine      
     de la Rosa     Arrows Supertec       46    transmission
     Wurz           Benetton Playlife     35    spun off    
     Mazzacane      Minardi Fondmetal     32    spun off    
     Verstappen     Arrows Supertec       26    transmission
     Herbert        Jaguar Cosworth       21    clutch      
     Zonta          BAR Honda             17    brakes      


WORLD CHAMPIONSHIP STANDING, ROUND 9:                

Drivers:                    Constructors:             
 1.  M.Schumacher  56        1.  Ferrari             88
 2.  Coulthard     44        2.  McLaren             82
 3.  Hakkinen      38        3.  Benetton-Playlife   18
 4.  Barrichello   32        4.  Williams-BMW        17
 5.  Fisichella    18        5.  Jordan-Mugen Honda  11
 6.  R.Schumacher  14        6.  BAR-Honda            9
 7.  Villeneuve     8        7.  Jaguar               3
 8.  Trulli         6        =   Arrows               3
 9.  Frentzen       5        =   Sauber               3
10.  Button         3                                  
 =   Irvine         3                                  
 =   Salo           3                                  
13.  Verstappen     2                                  
14.  Zonta          1                                  
 =   de la Rosa     1                                  


Fastest Race Laps

Pos  Driver        Team               Lap  Time             
 1.  Coulthard     McLaren-Mercedes    28  1:19.479         
 2.  M.Schumacher  Ferrari              4  1:19.656  + 0.177
 3.  Irvine        Jaguar-Cosworth     61  1:19.708  + 0.229
 4.  Hakkinen      McLaren-Mercedes    29  1:19.746  + 0.267
 5.  Barrichello   Ferrari             27  1:20.225  + 0.746
 6.  Villeneuve    BAR-Honda            3  1:20.857  + 1.378
 7.  R.Schumacher  Williams-BMW         3  1:20.908  + 1.429
 8.  Fisichella    Benetton-Playlife   45  1:20.958  + 1.479
 9.  Trulli        Jordan-Mugen Honda  26  1:21.071  + 1.592
10.  Heidfeld      Prost-Peugeot       62  1:21.115  + 1.636
11.  Button        Williams-BMW        14  1:21.151  + 1.672
12.  Frentzen      Jordan-Mugen Honda   4  1:21.255  + 1.776
13.  de la Rosa    Arrows-Supertec     42  1:21.506  + 2.027
14.  Salo          Sauber-Petronas     26  1:21.725  + 2.246
15.  Diniz         Sauber-Petronas     30  1:21.753  + 2.274
16.  Herbert       Jaguar-Cosworth      4  1:21.901  + 2.422
17.  Alesi         Prost-Peugeot        2  1:22.293  + 2.814
18.  Gene          Minardi-Fondmetal   23  1:22.420  + 2.941
19.  Wurz          Benetton-Playlife   27  1:22.481  + 3.002
20.  Verstappen    Arrows-Supertec     25  1:22.498  + 3.019
21.  Zonta         BAR-Honda            5  1:22.563  + 3.084
22.  Mazzacane     Minardi-Fondmetal   25  1:22.639  + 3.160

Pit-Stops Times

Pos  Driver        Team                Time   Lap
 1.  Heidfeld      Prost-Peugeot       23.8s  60 
 2.  Irvine        Jaguar-Cosworth     23.9s  68 
 3.  de la Rosa    Arrows-Supertec     24.0s  40 
 4.  Irvine        Jaguar-Cosworth     24.1s  59 
 5.  Diniz         Sauber-Petronas     24.2s  27 
 =   Fisichella    Benetton-Playlife   24.2s  19 
 7.  M.Schumacher  Ferrari             24.3s  43 
 8.  Coulthard     McLaren-Mercedes    24.4s  25 
 =   Gene          Minardi-Fondmetal   24.4s  45 
10.  Frentzen      Jordan-Mugen Honda  24.5s  22 
11.  Coulthard     McLaren-Mercedes    24.6s  46 
12.  Barrichello   Ferrari             24.9s  25 
13.  Diniz         Sauber-Petronas     25.0s  47 
 =   Trulli        Jordan-Mugen Honda  25.0s  21 
15.  Salo          Sauber-Petronas     25.2s  46 
 =   Wurz          Benetton-Playlife   25.2s  20 
17.  Verstappen    Arrows-Supertec     25.3s  23 
18.  Button        Williams-BMW        25.4s  39 
19.  R.Schumacher  Williams-BMW        25.5s  47 
20.  Mazzacane     Minardi-Fondmetal   25.6s  23 
 =   Hakkinen      McLaren-Mercedes    25.6s  23 
 =   Button        Williams-BMW        25.6s  23 
23.  Villeneuve    BAR-Honda           25.7s  22 
24.  Villeneuve    BAR-Honda           25.9s  43 
25.  Alesi         Prost-Peugeot       26.0s  46 
 =   de la Rosa    Arrows-Supertec     26.0s  24 
27.  Gene          Minardi-Fondmetal   26.1s  21 
 =   Irvine        Jaguar-Cosworth     26.1s  43 
29.  M.Schumacher  Ferrari             26.2s  24 
 =   Trulli        Jordan-Mugen Honda  26.2s  42 
31.  Fisichella    Benetton-Playlife   26.3s  43 
32.  Hakkinen      McLaren-Mercedes    26.4s  43 
33.  Frentzen      Jordan-Mugen Honda  26.5s  40 
34.  Heidfeld      Prost-Peugeot       26.7s  45 
35.  R.Schumacher  Williams-BMW        27.2s  22 
36.  Salo          Sauber-Petronas     28.1s  24 
37.  Alesi         Prost-Peugeot       28.4s  18 
38.  Heidfeld      Prost-Peugeot       33.5s  19 
39.  Barrichello   Ferrari             33.7s  44 
40.  Herbert       Jaguar-Cosworth     39.8s  18 
41.  Irvine        Jaguar-Cosworth     63.8s  23 


Sector Times and Speeds
Sector 1 (S/F Line - T1)
Sector 2 (T1 - T2)
Sector 3 (T2 - S/F Line)
Pos
Driver
Time
Speed
Pos
Driver
Time
Speed
Pos
Driver
Time
Speed
1
Hakkinen
24.131
297.28
1
M.Schumacher
31.760
263.52
1
Hakkinen
22.921
N/A
2
Coulthard
24.241
300.32
2
Coulthard
31.810
269.44
2
M.Schumacher
23.143
N/A
3
Barrichello
24.316
291.36
3
Hakkinen
31.839
266.40
3
Irvine
23.189
N/A
4
M.Schumacher
24.388
293.28
4
Irvine
31.972
263.52
4
Trulli
23.232
N/A
5
Villeneuve
24.540
288.32
5
Trulli
32.112
261.44
5
Coulthard
23.232
N/A
6
Irvine
24.547
292.32
6
Barrichello
32.163
265.44
6
Barrichello
23.389
N/A
7
Frentzen
24.588
290.24
7
Villeneuve
32.422
264.48
7
R.Schumacher
23.443
N/A
8
delaRosa
24.615
296.32
8
R.Schumacher
32.431
264.48
8
Frentzen
23.484
N/A
9
R.Schumacher
24.618
292.32
9
Fisichella
32.440
263.52
9
Villeneuve
23.501
N/A
10
Diniz
24.623
285.28
10
Heidfeld
32.547
262.56
10
Heidfeld
23.561
N/A
11
Button
24.636
294.24
11
Frentzen
32.547
263.52
11
Button
23.566
N/A
12
Verstappen
24.652
298.24
12
delaRosa
32.628
266.40
12
Fisichella
23.624
N/A
13
Herbert
24.657
295.36
13
Salo
32.759
258.56
13
Salo
23.740
N/A
14
Fisichella
24.688
291.36
14
Button
32.770
261.44
14
Diniz
23.857
N/A
15
Trulli
24.782
289.28
15
Wurz
32.987
259.52
15
delaRosa
23.902
N/A
16
Zonta
24.811
297.28
16
Zonta
33.027
265.44
16
Verstappen
23.995
N/A
17
Heidfeld
24.812
294.24
17
Herbert
33.031
266.40
17
Gene
24.024
N/A
18
Alesi
24.879
290.24
18
Gene
33.037
260.48
18
Alesi
24.030
N/A
19
Salo
24.973
287.36
19
Verstappen
33.038
266.40
19
Herbert
24.043
N/A
20
Mazzacane
25.045
288.32
20
Diniz
33.048
258.56
20
Wurz
24.081
N/A
21
Gene
25.076
287.36
21
Alesi
33.061
266.40
21
Mazzacane
24.170
N/A
22
Wurz
25.109
289.28
22
Mazzacane
33.217
260.48
22
Zonta
24.442
N/A

The French Grand Prix, Lap by Lap
Lap 1: At the start Michael Schumacher is slightly slower off the line that David Coulthard but he moves over to block the McLaren. Coulthard loses momentum and switches to the right but finds Rubens Barrichello there and he drops behind both Ferraris. Mika Hakkinen is fourth ahead of a fast-starting Jacques Villeneuve (BAR-Honda) and Heinz-Harald Frentzen (Jordan). Ralf Schumacher has a bad first lap and drops from fifth to seventh. Eddie Irvine has an even worse time and drops from sixth on the grid to 10th. Mika Salo also makes a good start to move from 12th on the grid to ninth at the end of the first lap.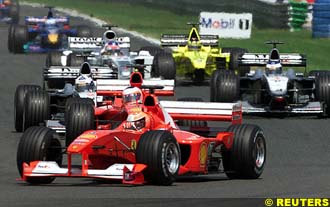 Lap 2: With the two McLarens caught behind Rubens Barrichello, Michael Schumacher is able to pull away quickly at the front. Further back Jarno Trulli overtakes Ralf Schumacher to grab seventh place. Jean Alesi overtakes his team mate Nick Heidfeld to grab 14th place.
Lap 3: Ralf Schumacher repasses Jarno Trulli for seventh place.
Lap 4: Giancarlo Fisichella overtakes Heidfeld to run 15th.
Lap 12: The order is unchanged at the front but Schumacher had not pulled away as much as expected and is only five seconds ahead of Barrichello and the two McLarens. There is then a big gap back to Villeneuve with Frentzen sixth under pressure from Ralf Schumacher. Trulli is eighth ahead of Salo. Jenson Button overtakes Irvine for tenth. Further back Alesi is tapped into a spin by Heidfeld.
Lap 13: Button overtakes Salo for ninth and sets off after Trulli.
Lap 17: Ricardo Zonta, running in 17th place in his BAR-Honda, goes off because of brake problems.
Lap 18: Schumacher is leading by 6.2 seconds. Further back Johnny Herbert pits with a gearbox problem. He retires two laps later. Alesi is the first runner to pit for tyres.
Lap 21: Trulli is the first of the frontrunners to pit.
Lap 22: Coulthard passes Barrichello for second place at the Adelaide hairpin. Villeneuve, Frentzen and Ralf Schumacher pit.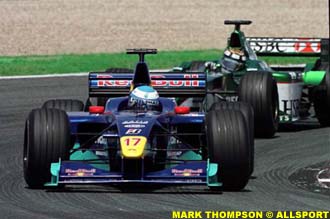 Lap 23: Hakkinen and Button stop. Irvine also stops and drops to the back of the field.
Lap 24: Michael Schumacher pits and drops to third.
Lap 25: Coulthard and Barrichello both stop and Michael Schumacher goes ahead again. Barrichello's stop is slow and he emerges in fourth place. Villeneuve is still fifth ahead of Trulli, who was able to pass Frentzen and Ralf Schumacher during the stops. Button is right with his Williams team mate.
Lap 26: Jos Verstappen retires from 14th in his Arrows with a gearbox problem.
Lap 33: Gaston Mazzacane spins into retirement.
Lap 34: Coulthard has closed right up on Schumacher and challenges for the lead. Schumacher edges David outwards and the Scot is not happy, waving his fist at the Ferrari driver.
Lap 39: Button pits in an effort to get ahead of the cars ahead of him.
Lap 40: Coulthard gets ahead of Schumacher at the Adelaide Hairpin. The two cars touch wheels at the exit but Schumacher has to give way. Hakkinen challenges Schumacher but is unable to pass. Frentzen pits from seventh place and gets out ahead of Button.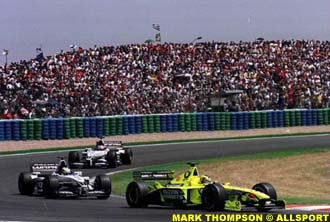 Lap 42: Trulli pits from sixth and gets out ahead of Frentzen and Button.
Lap 43: Schumacher and Hakkinen both pit and are followed into the pits by Villeneuve and Fisichella.
Lap 44: Barrichello pits but there is a problem with the right front tyre and he loses around 10 seconds.
Lap 46: Coulthard pits but is able to retain the lead. He quickly begins to pull away. Further back Pedro de la Rosa retires his Arrows with a gearbox problem.
Lap 47: Ralf Schumacher is the last of the leaders to pit, dropping from fifth place to seventh.
Lap 52: Schumacher overtakes Trulli to grab sixth place. At the back of the field the intense battle between Alesi and Marc Gene results in both spinning. They rejoin and begin the battle again.
Lap 55: Irvine overtakes Pedro Diniz to take 12th.
Lap 59: Michael Schumacher retires with an engine problem. Irvine pits again and drops behind Diniz again.
Lap 68: Irvine stops again.
Lap 72: Coulthard wins from Hakkinen and Barrichello. Villeneuve and Ralf Schumacher cross the line together but the Canadian takes fourth. Trulli is sixth while an intense battle for seventh results in Frentzen just beating Button and Fisichella to the line.

The Results - Team by Team (provided by Reuters)
MCLAREN (David Coulthard 1, Mika Hakkinen 2):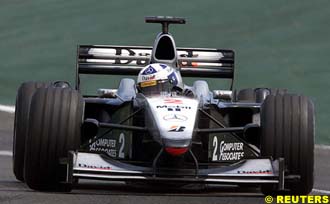 Coulthard recovered from a bad start, where he lost second place to Rubens Barrichello, to produce an aggressive drive. Took the lead from Michael Schumacher with an excellent overtaking manoeuvre at the Adelaide hairpin on lap 40 and did not look back.
Hakkinen secured a one-two finish for McLaren. Moved up to third place after his first pit-stop on lap 23 and then overtook Michael Schumacher on lap 57 after the German locked his wheels at the Adelaide hairpin.
FERRARI (Michael Schumacher retired, Rubens Barrichello 3):
Barrichello made a solid start, moving from third to second, but was soon overtaken by Coulthard. Lost six seconds on his second pit-stop when a wheel nut on his front right wheel jammed.
Schumacher maintained his lead at the start before being overtaken by Coulthard on lap 40. Suffered from grip problems throughout the race and retired on lap 58 after his engine blew up.
BAR (Jacques Villeneuve 4, Ricardo Zonta retired):
Villeneuve produced a confident and assured drive after moving up two places off the grid. Maintained his position throughout before being promoted to fourth after the retirement of Michael Schumacher.
Zonta was the first to be forced out of the race. The Brazilian crashed heavily into a tyre wall at the Imola chicane when running 17th on lap 16.
WILLIAMS (Ralf Schumacher 5, Jenson Button 8):
Schumacher battled throughout the race and put in an impressive drive. The German touched cars with Villeneuve late in the race while battling for fourth place.
Britain's Button produced a confident drive, particularly when he overtook Mika Salo's Sauber in the early stages of the race, before matching the pace of early leader Michael Schumacher.
JORDAN (Jarno Trulli 6, Heinz-Harald Frentzen 7):
Trulli made a flying start. The Italian clashed with team mate Frentzen when battling for sixth place in the early stages of the race. Maintained his position and picked up one point for sixth.
Frentzen lost a place to Trulli at the start and then faced a battle with Button to maintain his seventh place finish.
BENETTON (Giancarlo Fisichella 9, Alexander Wurz retired):
Fisichella failed to threaten the points-scoring positions as he battled for a top-10 finish with the two Saubers.
Wurz spun out on lap 34 when running 16th after attempting an ambitious overtaking manoeuvre on Jean Alesi's Prost at the Adelaide hairpin.
SAUBER (Mika Salo 10, Pedro Diniz 11):
Salo had an uneventful race and maintained a position in the midfield throughout. He finished 10th.
Diniz finished one place behind team mate Salo, but was fortunate to continue the race after losing control of his car late on and travelling over a gravel trap.
PROST (Nick Heidfeld 12, Jean Alesi 14):
Heidfeld boosted his confidence with a much-needed 12th place finish. The German produced a solid drive, but clipped his team mate Alesi early on which forced him into a spin.
Alesi failed to produce any form in front of his home crowd, but provided excitement with two seperate spins at the Adelaide hairpin.
JAGUAR (Eddie Irvine 13, Johnny Herbert retired):
Irvine suffered a bad start and was plagued by a faulty clutch as he lost place after place. Finished strongly, but was still way off the points in 13th.
Herbert was haunted by gearbox problems once again and the frustrated Briton was forced to end his race in the pit-lane on lap 20 as his clutch failed.
MINARDI (Marc Gene 15, Gaston Mazzacane retired):
Gene was the last of the finishers and was lucky not to wipe out Alesi when he lost control of his car at the Adelaide hairpin.
Mazzacane was in last place before spinning out and into a tyre wall at Estoril on lap 31.
ARROWS (Pedro de la Rosa retired, Jos Verstappen retired):
De la Rosa kept in touch with the top 10 for most of the race before being forced out with engine problems after completing 35 laps.
Verstappen started from 20th on the grid and made up four places in the early laps. An engine blow-out on lap 25 ended the Dutchman's race.