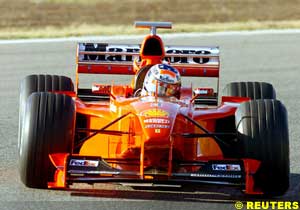 Following January's testing in preparation for the 2000 Grand Prix season, Ferrari, the Constructors' Champion, appear to be in a very strong position as the world builds up to the Australian GP in just over a month. Yes, there have been problems for many – Silverstone's times aren't even worth considering, while Michael Schumacher and Ferrari are, in fact, concerned about the delays in the launch of the 2000 car.
Others meanwhile, are well into their programs with their 2000 challengers with mixed results. But at this point, Ferrari appear to be in the pound seats.
Last time Ferrari's test driver Luca Badoer set a new lap record at the Fiorano test track was before the Malaysian Grand Prix; we need not remind of the manner in which the red machines dominated that controversial weekend. Luca repeated that feat in testing at Fiorano on January 26th, taking the fastest lap at the circuit to a new record of 1:00.226 - that's almost half a second quicker than his pre-Malaysia mark and a few tenth faster than the record set by new-boy Rubens Barrichello last month!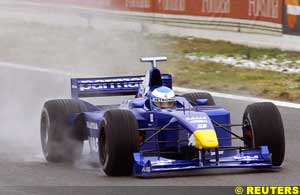 But it isn't just Badoer's new Fiorano record that has attracted the attention to Ferrari's 2000 potential. Basically everyone has made the winter pilgrimage to Barcelona, which will continue well into February and perhaps March as teams seek out climates worthy of testing in. Those January times confirm Ferrari's pace right now.
Besides Rubens Barrichello and Michael Schumacher's times leading the January Barcelona time-sheets (set impressively early in a period in which times tumbled throughout the month), the Saubers, which run Petronas-badged Ferrari mills, were a somewhat surprising third and fourth quickest in the hands of Pedro Diniz and Mika Salo. So it was essentially a Ferrari 1-2-3-4...
McLaren's test driver, Olivier Panis, outpaced World Champion Mika Hakkinen in the end to set Barcelona's fifth quickest time, the McLaren trio separated by Jaguar's Johnny Herbert and Giancarlo Fisichella's Benetton ahead of David Coulthard. The Jordan and Benetton were the best of the 2000 cars at the Spanish circuit.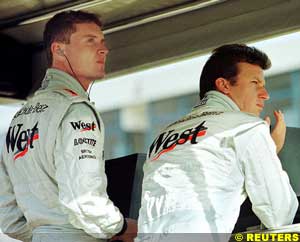 Behind Coulthard on the overall January Barcelona timesheet, came Ralf Schumacher's BMW Williams, showing encouraging progress, from Jaguar's Eddie Irvine, Alex Wurz' Benetton and Jacques Villeneuve in last year's BAR, fitted with a Honda, early in the month. Next came Jenson Button, his earlier times being those of the BMW Williams shoot-out that won him his seat over Bruno Junqueira, who followed the Englishman on the timesheet.
Meanwhile, a mid-January session at Jerez saw David Coulthard relatively easily quicker than Ricardo Zonta, buoying BAR-Honda's spirits in the new car. Johnny Herbert was third, from continually impressive Jaguar test driver Luciano Burti. Panis was fifth quickest from Irvine, Diniz, Button and Junqueira - the latter duo battling with a recalcitrant Williams in that shoot-out.
Fiorano also saw Minardi enjoying its privilege of testing on Hallowed Ferrari ground, Mark Gene and Mezzacane turning in relatively encouraging times.
Noticeable by their absence from the timesheets are Prost, Jordan and Arrows - the French equipe staying in France and both British teams remaining in Britain and battling horrible local winter weather to get through their respective programs at Silverstone, mostly on the national circuit.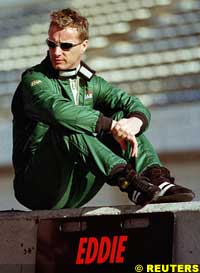 Jordan shook its 2000 car down during that period, and while times are not really worthy of analysis, we'll watch the yellow team's progress with much interest in February. Jaguar waited at Silverstone to grab an afternoon's testing at Silverstone too, Herbert running quickest on the day, while BAR came to grips with its 2000 machine.
February will see a far more conclusive picture emerging, as teams hone their 2000 charges in, in preparation for that long awaited trek to Australia.
But right now, Ferrari is on top and we'll have to wait and see who else will be on the pace by the time they set off for Melbourne. McLaren will, more than likely, be the biggest thorn in Ferrari's side, while Jordan and Jaguar appear a good bet to make it a four-cornered fight up front.
BMW Williams is making progress, and perhaps could surprise in 2000 – despite its conservative stance on its prospects this year, while BAR Honda have worked hard on emerging phoenix-like form its nightmare debut season and Benetton wants to relive its halcyon glory years.
Sauber has already fired warning shots, but Prost has given us little to work with, testing on the quiet in France. Supertec-equipped Arrows and a freshly funded Minardi have it all to do.
For 2000, F1 promises to be as great as ever.