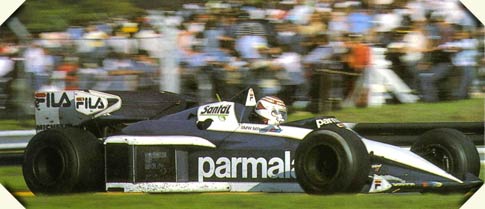 1983 Nelson Piquet in the Brabham BT52B BMW at Brands Hatch on the way to win the revived European Grand Prix. Piquet drove a faultless race to win once early leaders Riccardo Patrese and Elio de Angelis removed each other.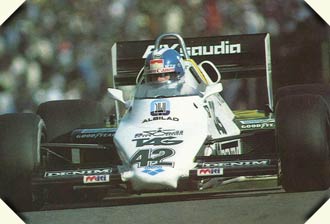 The last Williams-Cosworth. Test driver Jonathan Palmer was rewarded with an entry in a third Williams FW08C at Brands Hatch in 1983, which was just as well as Jacques Laffite failed to qualify after Keke Rosberg crashed his car and Laffite lost an engine. Williams and Cosworth won 17 races, 2 drivers and 2 constructors titles together in five year period. At the next race was Honda.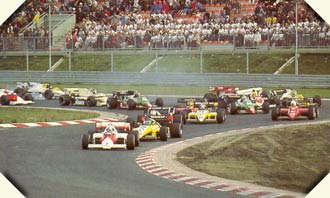 1984
First corner, first lap at the new Nurburgring circuit. Alain Prost (McLaren MP4/2 Porsche) is leading from Patrick Tambay (Renault RE50), Nelson Piquet (Brabham BT53 BMW) and Derek Warwick in the second Renault. Four cars further back Ayrton Senna (Toleman TG184) has made contact with Keke Rosberg (Williams FW09B Honda) and Eddie Cheever (Alfa Romeo 184T). Cheever continued but Rosberg, Senna, Marc Surer, Gerhard Berger, and Piercarlo Ghinzani would not continue, and Nigel Mansell lost a dozen places.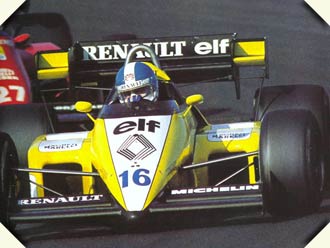 Derek Warwick in the Renault RE50, being pursued (barely visible) by Michele Alboreto in the Ferrari 126C4. For Renault, the Nurburgring was a dreadful day, the both Renault and the customer Lotus-Renaults all had engine failures, while the Ligier-Renaults had so much problems elsewhere they weren't quick enough to stress the engines. Warwick was classified however in eleventh, six laps down.
Ligier and Jacques Laffite were resurgent at Brands Hatch. Pirelli were better, a match for Goodyear, and the Renault powered JS25's themselves were quicker. Laffite qualified fifth and overtook Prost during the race before retiring.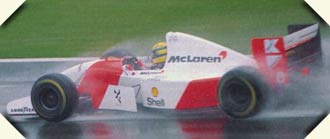 1993 It was one of those days where one man is untouchable. Ayrton Senna in the underpowered McLaren MP4/8 Ford, was unstoppable. In dreadful conditions at Donington Park. While Williams drivers Alain Prost and Damon Hill made stop after stop for tyres in the changing conditions, Senna stayed out and used his skill to walk away from the field. His opening two laps were incredible. After being forced on the grass at the start he took Karl Wendlinger at turn 1, Michael Schumacher around the back of the Craner Curves and had Damon Hill into Coppice. And by the Melbourne Hairpin, Prost's big lead was now Senna's lead.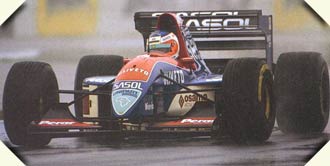 The other highlight of Donington 1993, was Rubens Barrichello. While the Williams duo made stop after stop, the young Brazilian in the Jordan 193 Hart moved up to second. His brilliant drive ended along with the car's fuel pressure.


1994 Nigel Mansell, the return. After only one Formula One race in 22 months, Mansell returned to Williams. But at Jerez Mansell got a bad start in the Williams FW16B Renault, then bent his nosecone on Hideki Noda's Larrousse, lost a lap replacing it, then spun into a gravel trap.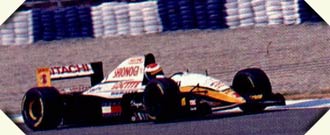 Eric Bernard had been swapped with Johnny Herbert, leaving Bernard to learn the Lotus 109 Mugen very quickly. He would finish an unremarkable 18th and three laps down. The once great marque of Lotus was in it's death throes.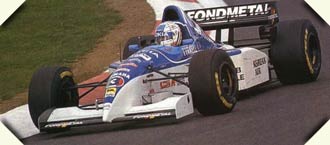 1995 Gabriele Tarquini made a brief return to Formula One after 3 years of absence. Here Taquini drives Ukyo Katayama's Tyrrell 023 Yamaha at the Nurburgring. Katayama was injured in a very high speed accident at Estoril and was unable to take his seat in the car. Tarquini finished 14th after a spin in the wet conditions.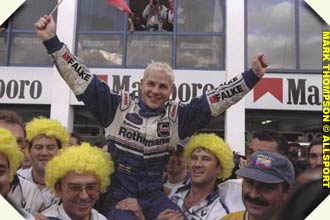 1997 Jerez 1997 was a hugely dramatic weekend. It started when Jacques Villeneuve, Michael Schumacher and Heinz-Harald Frentzen all recorded identical pole position qualifying times. Then in the race a clash between Villeneuve and Schumacher, while the Canadian was attempting to pass the German, put Schumacher out. And finally there were allegations of collusion between Williams & McLaren, brought up by Ferrari to defend Schumacher's tactics. At the end of the day, however, a third place in the race made Jacques Villeneuve a World Champion.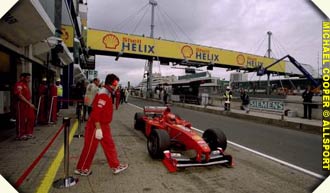 1999 With the world championship to play for, Eddie Irvine's 1999 European Grand Prix at the Nurburgring was a farce. At the first pitstop, Ferrari were forced to serice Mika Salo first, so when Irvine arrived there were no tyres. Three were quickly bolted to the car, but Irvine sat for long seconds while the right rear tyre was found. Irvine would finish seventh, his only consolation was that Mika Hakkinen could only manage fifth.