This week's Grapevine brings you
information fresh from the paddock on:

Change of Pace
Mika's Moving On...
Picked from the Bunch
Change of Pace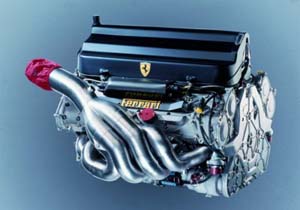 Following Silverstone and Spain, where engine grunt, tyre wear and aerodynamics in high speed corners dominate, the teams are moving to Monaco and the Nurburgring. These circuits place premium on car balance, high downforce, and the drivability of the engine.
The recent tests in Jerez have largely been used to continue work on a good basic setup for these circuits; many teams have tried the next evolutions of their engines, and all had aerodynamic components to evaluate.
McLaren and Ferrari are both known to have tried new engines, and both are believed to have recovered a lot of the smoothness that the FIA's electronics rule change cost at Silverstone. Emphasis has been on smoothing the power curves, rather than high power output. The evolved Mercedes engine is expected to be used for the Nurburgring, but Ferrari are uncertain of running their new unit until the test team have examined every detail of the engines for a hint of reliability trouble.
The Benetton team are expected to go much better at these circuits, and test times from Jerez reflected that opinion. However, word from the shop floor at BAR has the team expecting "good things" from their chassis at these tracks too. Jacques Villeneuve has never been lucky at Monaco, but the team genuinely believe they should be leap-frogging Benetton in the performance stakes, and challenging for points.
As it stands, no-one believes that Ferrari or McLaren are likely to be troubled at the front by anything other than reliability problems; even Jordan, who have often claimed they have every chance of putting one over the sports' leading lights, are keeping quiet on their chances. Which probably says enough, really.
Mika's Moving On...
If you believe paddock gossip, then you will currently be thinking that Mika is defending his title for the final time - no matter the outcome of this year's championship.
In Spain, a new rumour began gathering momentum: at the end of the season, the Double World Champion would be leaving McLaren, and retiring. It was hotly followed by a second rumour: Hakkinen would not be retiring, but joining Jaguar, to spearhead Ford's challenge for the Formula One Championships.
News that Jaguar approached Mika with a lucrative contract would come as no surprise: Ford has deep pockets, and the will to use them, in their quest for greatness. Hakkinen is currently acknowledged as at least the second most talented driver in Formula One - possibly even as good as Schumacher, now he has come into his own. Add to that the years of knowledge that driving for McLaren has built in, and Ford would certainly be interested in bringing the star on board to compliment the Ferrari insights which Irivine brought.
There are some who believe that the Finn might be considering taking on this Jaguar challenge, falling into two schools of thought. Some argue that Hakkinen, like Schumacher, would wish to prove he is not a one-team driver, unable to succeed elsewhere. Others think that Jaguar are offering the perfect retirement package - win or lose, speculation is he would take home as much as Schumacher, ideal for drivers looking to supplement their pension.
Without a doubt, both schools are wrong. Hakkinen, should he move to another team, would not be doing it to prove himself equal to any other driver. The only demon he faces at night is himself, his mistakes are his own, as are his triumphs. Schumacher might be great, or even the greatest, but Hakkinen is happy enough within himself to know that when he performs at his best, he has achieved enough. Furthermore, the Finn is certainly not in this to make up the numbers. When he considers his retirement package, it will be in the firm knowledge that he is no longer racing: having nearly died on the Adelaide circuit, he above all knows the dangers of the sport, and never goes out unless he is one hundred percent committed. It's just not worth the risks, otherwise.
But that does raise the interesting question of the original rumour. Hakkinen retiring at the end of 2000 is not the nonsense a first glance would make you think.
Should he defend this title, and take a third successive Championship, his record will match that of Fangio - who many argue was the best Formula One driver ever. The chances of a fourth title, with Ferrari ever more competitive, Williams coming back on song, whilst Jordan and Jaguar continue to close the gap, not to mention a tyre war, are slim indeed. Arguably, not worth the risk. And if he loses the Championship? Well then, why remain in the sport - his time would have passed. The strains of another season at the top could be telling indeed.
The rumour does not originate from the Hakkinens themselves. Indeed, the first it reared its public head appears to have been in a certain Scarlet pit. Whether it was genuine speculation at Hakkinen's future, or just another dose of wishful thinking, is unlikely to be known. It could yet turn out to be a lucky guess, but as Hakkinen's contract has another year to run, and the McLaren-Mercedes continues to dominate the field, there are better odds to be had on Mika taking the title in 2001, than his retirement from Formula One.
Picked from the Bunch
The Schumacher brothers were widely reported to have fallen out over the escapade at Spain; however, their father Rolf has stood in, as he did when they were racing karts. It seems that few words were required - apparently, the Nurburging race of 1997 was mentioned, and the air cleared...
Ferrari Chief Mechanic Nigel Stepney came away from Spain with a broken ankle. Original beliefs that he stretched a ligament proved unfounded. Luck appears to be on his side, however, as the break is expected to heal in about half the time expected for ligament damage.
Ferrari's latest tests included protracted pit-stop practice. Not only were they working on training Andrea Voccari on refuelling, they worked on pitstop protocol, looking to improve not only the speed of the stops, but the safety practices used to ensure mechanics are not injured in the stop.
Jenson Button continues to be warned that his seat at Williams is not yet secure for 2001. The honeymoon seems to be coming to an end, as Williams notice his personal merchandising deals continue to take up time and effort, and some of the British press have taken offense at his reported intent to move to Monaco.
David Coulthard's cracked ribs are expected to give him some trouble for at least the next three races. Without taking a real break from driving, and the forces exerted by racing conditions, Coulthard is expected to take at least eight weeks to recover properly.
Rumours of Jacques Villeneuve's departure from BAR continue to make the rounds. The French-Canadian continues to suffer uncompetitive machinery, and the latest speculation has him driving for Renault next year.