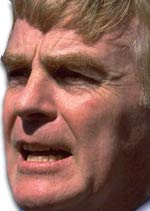 In the build-up to the European Commission's final decision regarding the antitrust case against F1, FIA president Max Mosley talks exclusively to Atlas F1 about the anticipated settlement and other subjects of current interest. In a four-part series of features, Thomas O'Keefe outlines Mosley's path through the ranks, his childhood in a controversial home, the EC v. F1 case, Bernie Ecclestone, women in racing, and untimately, yes, his views about going back to Slicks

Late last month I asked to interview the president of the FIA, Max Mosley, on behalf of Atlas F1, on the European Commission proceedings against Formula One and on other subjects of current interest. Mosley agreed, and the time and place were set for the now-legendary rainy weekend at Silverstone, where we agreed to meet after Qualifying.
Once Rubens Barrichello pipped Heinz-Harald Frentzen, the McLarens and his teammate Michael Schumacher for pole, I set out through the Silverstone quagmire to the appointed place, one of the hospitality suites overlooking Woodcote Corner.
Upon arrival I was greeted by Max's staff members, one of whom enthusiastically rattled off the first six rows of the grid to a questioner and the other of whom showed me in to a comfortably furnished (and dry) suite, which had the customary appointments for Silverstone fans that weekend: a large conference table, a desk, three TV monitors and a kitchenette, all in a paneled wood setting, a far cry from the muddy Spectator Banking at Becketts, where I spent much of the race weekend.
While I was in Max's suite, I had a chance to see him in action, meeting with his staff on the issues of the day, fielding questions from a Sunday Times reporter and greeting BMW Motorsports boss Gerhard Berger, who showed up unannounced for a chat with Mosley, and surprisingly did not pull rank and push we mere mortals aside but contented himself with munching on cookies at the conference table and watching the F3000 race while waiting for his audience with Max. The interplay between Gerhard and Max actually contributed to the interview on occasion.
But before getting into the substance of the European Commission v. Formula One case and its ramifications for the future of Formula One, it may be useful to give context to Max Mosley the Man and the world in which he operates.
Max Mosley The Man:
Son, Racer, Constructor, Lawyer and The President of the FIA
Some of the most intriguing sidelights of Formula One are the rich and varied personal histories of those who now run the sport - Bernie Ecclestone, Sir Frank Williams, Ron Dennis, Luca di Montezemolo, Flavio Briatore, Tom Walkinshaw, David Richards and Eddie Jordan - most of whom have known and dealt with each other for 25 years or more of the 50 year history of modern Formula One.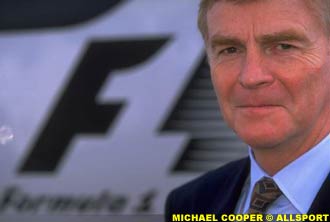 Unlike the drivers they hire, who tend to end up driving in Formula One only after following a well-worn path of stepping stones such as performing well in Go-Karts, Formula Ford and F3000, there is no defined apprenticeship, career path or business, law or engineering school that has produced the current generation of The Powers That Be in Formula One.
Instead of a formal process or curriculum leading to team ownership, what we find is that there is almost a genealogical chart connecting all of these members of the Formula One family; it is almost as if putting up with each other for 25 years is the chief qualification for entry into this most exclusive Paddock Club! For example, in 1998, Sir Frank Williams was bold enough to stand up to Max and Bernie and be one of the team owners who, for at least a time, refused to sign the Concorde Agreement as amended; and yet 30 years ago, this same Frank Williams at an early point in his career was a mechanic and team manager for well to do club racers, including Max Mosley, for whom he prepared Max's Brabham F2 car.
As another instance, Ron Dennis was in his early days a mechanic at Cooper assigned to Jochen Rindt, a driver who was then managed by Bernie Ecclestone; Dennis then moved over with Rindt to Brabham, whose team was ultimately acquired by Ecclestone.
Flavio Briatore and Tom Walkinshaw, although running separate Formula One teams now, were instrumental in somehow finagling Michael Schumacher away from Eddie Jordan's team in 1991 and together they turned the Benetton team into a sufficient force in Formula One to give Michael Schumacher the World Championship in 1994 and 1995 by capitalizing on their respective commercial and engineering skills. When Flavio left Benetton, David Richards took over for a brief interregnum and after that was over Richards began to focus on the World Rally cars, ultimately buying The World Rally car TV rights from Bernie's company. And along the way, Flavio bought an apartment in London from Bernie!
As for Luca di Montezemolo, President of Ferrari, his link to the group connects it back to the sport's Godfather, Enzo Ferrari. As a young lawyer to the Agnelli family, which owns Fiat and thus Ferrari, di Montezemolo worked with and around the Commendatore on behalf of the Agnelli family and has been managing Ferrari behind the scenes since the mid-1970's as well as acting as the Italian liaison with the British members of the Club during most of that period.
But if there had been a kind of University of Formula One that graduated all these talented and diverse people, with the Formula One tracks across the world as their campuses, Max Mosley, now the President of the FIA, would surely have been the Class Valedictorian, uniquely combining a hands-on knowledge of the sport gleaned from his experience as a racer and constructor with the formal professional credentials of a lawyer and the political instincts needed to lead this unruly pack from club racing in the 1960s to the pinnacle of open wheel motorsports in the year 2000. And it is to Max that the rest of this fractious group has entrusted their sport, which is both their collective passion and the source of their incredible aggregate personal wealth.
In this current era of Formula One, which seems to be in transition from the entrepreneurial phase represented by Ken Tyrrell and the other members of the Club, to a corporate management phase as exemplified by the influx of manufacturers like Ford, DaimlerChrysler, BMW, Honda and Toyota into the sport, the Club will need to rely heavily on Max to shepherd Formula One through a period that is more business than racing.
Mosley is expected to preserve the sport that Club members have collectively worked so hard to build over these years, in the face of legal challenges by the European Commission, and to prepare for the inevitable diminution of financial support from Big Tobacco and for the insistence of the new owners of Formula One - the manufacturers and their sponsors - on cost accounting and regularizing the operations of the teams so that they are more like a business than a sport and can be presented as such to investors and sponsors.
Where did Max come from and how did he end up so high in the pecking order of the Club?
Even more so than with the other members of the Formula One Powers That Be, Max's family history is a fascinating one. Max Rufus Mosley was born in 1940 to a storied family that were members of the British aristocracy. Lady Mosley, Max's mother, was born Diana Mitford, sister of the writer Nancy Mitford, and herself a lady of letters and a great beauty. Max's father was Sir Oswald Mosley, a controversial British politician who was most noteworthy as the leader of the British League of Fascists in the late 1930's.
Astonishingly, just after Max was born in 1940, both Max's father and mother were imprisoned in England for their political views under the controversial Regulation 18B, which permitted internment without the niceties of due process of "persons whose detention appears . . . to be expedient in the interests of the public safety or defense of the realm." Max's aunt, Nancy Mitford, later described the strange happenings of that era as follows: "But we were young and high spirited then and didn't know about Buchenwald."
Judging from the letters of literary lights like Evelyn Waugh in correspondence with Diana's sister, Nancy Mitford, which mentions the comings and goings of Max's parents when Max was a child, Max must have grown up in a rarefied atmosphere living under the same roof as Sir Oswald and Lady Mosley. Nancy Mitford somewhat enviously describes Sir Oswald and the family cruising the Mediterranean on the family yacht calling at Portofino and Marseille, visiting Spain and being looked after by Sir Oswald's friend, General Franco, and ultimately moving to France in 1951, when Max was 11 years old.
In the early 1960's, after being brought up and educated in France and Germany, Max entered Oxford where he studied physics and the law and became Secretary of the prestigious Oxford Union. Upon leaving school he began his legal career, specializing in the highly technical areas of patent and trademark law and became a practicing Barrister (which, in British legal parlance, means that he went to court to argue cases rather than stayed in his chambers to give advice as a Solicitor).
While practicing law, he turned to motorsports for diversion on the weekends, sometime in the mid-1960s. Ironically, several careers later, at age 60, he now finds himself back in litigation mode, returning to the role of the practicing lawyer he thought he had abandoned 30 years ago, this time in the world of motorsports rather than patent law.
Fittingly, it was motorsports that provided the initial lure of getting away from The Law. It is sometimes forgotten that both of the Twin Towers of Formula One were race car drivers early in their careers. Bernie Ecclestone raced 500cc Formula 3 Coopers in the early 1950s and attempted to qualify his privately-entered Connaught Formula One car at Monaco and Silverstone in 1958; however, Bernie makes it clear that he's prouder of the fact that, as he puts it, "I used to race bikes." Max took a different route, spending his leisure time away from being a patent and trademark lawyer club racing, ultimately working his way up to a Brabham F2 car prepared by now-Sir Frank Williams.
As with his family life, it would turn out that Max moved in elite circles in racing as well. On April 7, 1968, at 28 years of age, Max found himself in his first Formula 2 race at Hockenheim, Germany, along with the stellar likes of Jim Clark, Graham Hill, Jean-Pierre Beltoise, Derek Bell, Henri Pescarolo, Jo Schlesser and Piers Courage. In a tragic race that claimed Clark's life, Max finished 10th out of 18 cars in the first heat (and 9th overall in both heats), passing Graham Hill's Lotus in the process.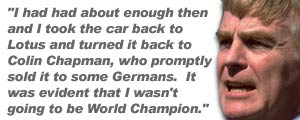 What does he remember of Jim Clark's accident on that fateful day? "I just remember seeing the ambulance parked off to one side of the track [and thinking that] someone had obviously gone into the trees. I also remember catching Graham Hill and overtaking him, which was one of the high points of my career. It was wet, the tires on the two Team Lotus cars were inferior to the ones I had, so it had nothing to do with skill: I was never any good. But I finished 10th and Hill finished 11th."
A year later, a shunt at the old 14.1 mile Nurburgring circuit in his privately owned Lotus F2 car brought Max's driving career to an end. Max describes what happened:
"As Lotuses were apt to do in those days, the front wishbone dropped off the suspension upright and caught in the wheel on the flat out fifth gear right-hander just coming out of the trees after Schwalbenschwantz (Swallowtail).

"The left front wheel stopped turning and I thought, 'This is trouble', and I ended up in the caravan park. Then I took [my customer F2 Lotus] back to Lotus and they fixed it. And I took it out to Snetterton to test it and the brake disc sheared off while I was braking; as you might imagine, it's very difficult to control the front of the car when the front brakes fail. I had had about enough then and I took the car back to the Lotus racing division and turned it back to Colin Chapman, who promptly sold it to some Germans. It was evident that I wasn't going to be World Champion."
It was after this accident at the Nurburgring in 1969 that Mosley decided to apply his talents as a lawyer to become a principal in what was to become the March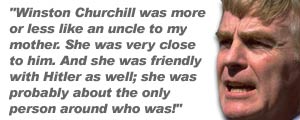 (Max Mosley-Alan Rees-Graham Croaker-Robin Herd) Formula One team.
When asked if motorsports was a kind of refuge from growing up in the shadows of his controversial parents, Max looked at me bemused and acknowledged that it was not always easy growing up on the Mosley family:
"When you are a child everything is natural - normal you think. It [the family's controversial nature] was always there. But you have got to remember that my father started life in politics at the age of 21, just 22, as a conservative MP, then he was a labor MP, then he was in the labor government: so he had a whole conventional political career [and] behind the scenes he was still friendly with a great many of the conventional politicians in England and so it wasn't quite like being sort of right out [of it]. The general public probably saw him as a strange person but it was a very curious thing, a strange sort of family.

"Take my mother, for example: [through family connections] Winston Churchill was more or less like an uncle to my mother. She was very, very close to Churchill. And she was friendly with Hitler as well; she was probably about the only person around who was!"
With that as day-to-day life at home, the discovery of motorsports during a visit to Silverstone in 1961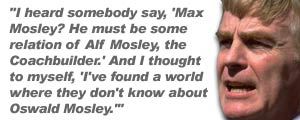 was an eye opener for Max and clearly part of the appeal was the relative anonymity of motorsports and the indifference of those in it to who you were and where you came from:
"There was always a certain amount of trouble [being the son of Sir Oswald] until I came into motor racing. And in one of the first races I ever took part in there was a list of people when they put the practice times up as they do. Everyone stood around looking at the times. All the competitors in that class of racing looking at the list and they came to my name and I heard somebody say, 'Mosley, Max Mosley, he must be some relation of Alf Mosley, the coachbuilder.' And I thought to myself, 'I've found a world where they don't know about Oswald Mosley.' And it has always been a bit like that in motor racing: nobody gives a darn."
And in that respect, Max and the other members of the Club have mutually benefited from the ethic that you make your own way in Formula One based upon what you accomplish rather than where you came from.
Next Week: Mosley's Biggest Case - The European Commission Antitrust Proceedings Against F1