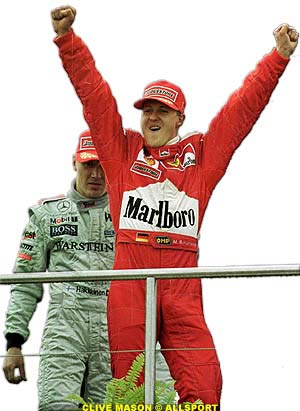 In a stunning display of driving by both himself and championship rival, Mika Hakkinen, Michael Schumacher cemented his campaign at the European GP to bring Ferrari its first world drivers' title in 21 years. The duo were in a brilliant class of their own on a wet Nurburgring – totally outclassing the rest in difficult conditions, although the rainmaster was unbeatable on the day and in the conditions.

Furthermore, it was once again a straight fight, featuring a rare decisive pass for the lead in F1 as Schumacher lined Hakkinen up into his favourite corner before continuing unchallenged to the flag.

Behind, Coulthard made the best of difficult conditions to soften the Ferrari victory blow, clinching third in a clearly recalcitrant McLaren-Mercedes, while Rubens Barrichello drove a confusing race – chasing his Scottish rival home in the gloom. The rest soldiered on in the mire, mostly two laps adrift of F1's still definite first division, with Benetton's Giancarlo Fisichella popping up again in a good drive to fifth and a delighted Pedro de la Rosa and Arrows fighting to an impressive first 2000 point. But it was a tough race, with several tales of woe as events took their toll on the field.

It also proved once again why Bernie Ecclestone seems to seek wet conditions in F1's calendar – they bring out its best.

Before the Race

Friday saw an unfamiliar result after the first day's practice. While Michael Schumacher was quickest in the morning, Jenson Button and Alex Wurz stunned the F1 world by dominating a drying second session as both did their best to try to ensure their doubtful seats for 2001.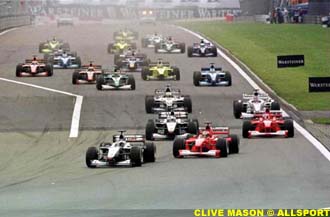 But qualifying soon sorted the men from the boys as Ferrari battled McLaren. David Coulthard made the best of the cool, wet conditions though to claim a happy pole, his first in almost two years, which neither Michael nor Mika could do anything about in the dying seconds. "Now I'm hoping to become the first guy to win from pole this year," David said, "because so far no one else has been able to do that!"
Barrichello ended fourth from the regular top ten club of Ralf Schumacher's BMW-Williams in its now customary fifth from Jarno Trulli leading the Jordan Mugen-Honda charge. Giancarlo Fisichella slotted the Benetton into seventh ahead of Eddie Irvine's regular top 10 qualifier in the Jaguar, Jacques Villeneuve's BAR Honda and Heinz-Harald Frentzen in a somewhat unfamiliar tenth.
The Race
But Mika Hakkinen had nothing of his teammate's pole, nor his chief rival's startline plans, rocketing off the line to sneak between Coulthard and Schumacher and into an immediate lead. Michael too, got the better of David, but couldn't do much about Mika as the field streamed through the dramatic Nurburgring first corner complex. The melee there was far less significant than in recent years, but Trulli nonetheless managed to fall over someone to end his race on the spot. Sadly for Jordan, Frentzen's race never lasted much longer as the Mugen expired on the first lap.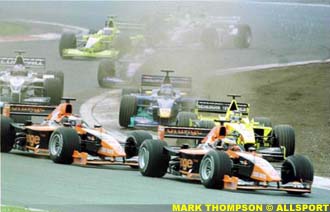 So Hakkinen led a menacing Michael Schumacher, from Coulthard and Barrichello, while Villeneuve's usual good start saw him leading Ralf, Fisichella, Irvine and the Arrows duo in what was about to become a fraught battle.
Much the same could be said about the battle up front as Michael clearly had the advantage on the man in front of him, something that perhaps was not part of the Ferrari plan. But the homeboy soon made amends by forcing his way ahead when he finally got close enough to the McLaren on the approach to the Veedol chicane, drew up alongside and passed his rival in a clean move. But then, when is Mika Hakkinen ever dirty? The world champion is one of F1's true gentlemen…
So Michael was ahead, and finally able to work on his master plan - the track becoming all the more slippery as the rain started to gradually fall. Barrichello meanwhile was applying similar pressure on Coulthard, and although it took a while longer, he too passed his McLaren rival and eased ahead, closing on Hakkinen.
Further back, Ralf had dropped behind slightly and was involved in a train with the Arrows, Jaguars, his teammate Button and Wurz' Benetton – a mob that was set to provide its fair share of entertainment as the race wore on…
The rain achieved an acceptable level for wet rubber at an almost ideal point – about one third distance, with the recently passed Coulthard the first in. A lap later Schumacher and Hakkinen were in, Michael taking on a large fuel load – was it a change of tactics after a light start, or was Ferrari planning a long stint in the middle?
But Coulthard's gamble of an early stop almost paid off when he stormed up behind the Ferrari as it left the pits. Michael stood his ground, and the McLaren soon dropped off into the clutches of Hakkinen's similar car, which David let pass easily.
Schumacher was blinding in the wet, although Mika stood his ground, not letting the Ferrari gain too much of an advantage, while the action in the bunch behind came to a head. Jos Verstappen, who had been taking no prisoners all day, and an equally hard Eddie Irvine came together into the first corner, both spinning, but the hapless Ralf Schumacher, who found his path blocked by a blur of rotating green and orange was forced to spin his Williams in avoidance.
He managed to mesh rear wings with Irvine's though removing both in the process. Irvine continued, letting the laws of physics remind him of the lack of rear downforce a corner later, the Jaguar beaching itself in the process. Verstappen continued too, only to destroy his Arrows when it went awry on a quick section as a result of its earlier contact.
That left de la Rosa, Herbert, Button and Wurz to carry on fighting for the last point, as Villeneuve had disappeared quietly to leave Fisichella in a lonely fifth as the wet conditions and varied pit stop strategy left one guessing as to the actual order from fifth back…
Up front, there wasn't much real action except for an apparent lack of pace on the leading Ferrari's behalf, when the top four stopped a second time. This time Barrichello's stop was unusually short – perhaps in an unsuccessful attempt to gain track position over Coulthard, but the Scot grabbed third as Rubens exited the pits spoiling the plan.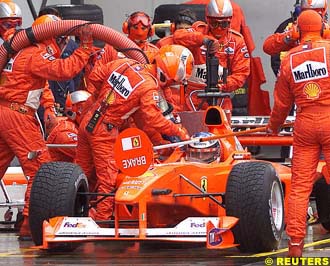 Rubens had to stop again though – destined never to better his fourth.
As the race wore on, Schumacher and Hakkinen closed on Coulthard and Barrichello, who was once again closing on the second McLaren. But they in turn, were closing on the still-battling Herbert, Wurz and Button.
Michael was quickly past Barrichello and Coulthard as they approached the scrap ahead, and indeed, the lead Ferrari scythed through the backmarkers. But before the rest could pass, Wurz and Herbert got together out of the Veedol chicane, eliminating each other and Button succumbed to yet another late race retirement.
With all the commotion, Mika Hakkinen held station behind the duelling Coulthard and Barrichello, complaining about the backmarkers "They don't concentrate enough or take enough care" That allowed a visibly delighted Schumacher to cruise home to win his home GP.
"This is my first win for Ferrari in front of a German crowd," beamed Schumacher. "That's great for me - I hope it warmed up their hearts too!"
"We knew it would be difficult," Michael continued, "but the car ran very well. To be honest, It's how I dreamed it might be as we prepare to go to Monaco."
Mika was an easy second, almost a lap ahead of Coulthard, who resisted Barrichello's incessant attention toward the end, both a lap behind the leader. Further back was Fisichella, while a point rewarded Arrows after a splendid effort by de la Rosa.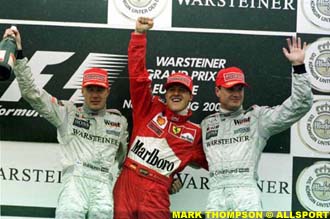 So Michael Schumacher extended his championship advantage back to almost two race wins over Hakkinen, relieving the recent pressure from McLaren. Coulthard was third in a race that he shouldn't have been so far up in to keep Barrichello out and help McLaren's constructor's hopes alive - the Scuderia only gained three points there.
Michael Schumacher's performance in the European GP was stunning, and its rewards sweet. Not only did he win and extend his championship lead, but he scored his 616th F1 point to move him past the late Ayron Senna into second in the all time points scored - now only behind Alain Prost. Michael's 39th GP victory also moved him within two of the great Senna's 41 and Alain Prost's 51 wins, and his fastest lap moved him first equal with Alain Prost.
At this rate, Michael Schumacher is set to rewrite the F1 record books as he begins to look extremely good for his third world championship. But it isn't going to be all that easy – there is another great driver and team doing their utmost to stop him as Mika and McLaren are not likely to just give up.

Race Results

CLASSIFIED

Pos  Driver         Team                              
 1.  M.Schumacher   Ferrari               1h 42:00.307   
 2.  Hakkinen       McLaren Mercedes           + 13.800  
 3.  Coulthard      McLaren Mercedes           + 1 Lap   
 4.  Barrichello    Ferrari                    + 1 Lap   
 5.  Fisichella     Benetton Playlife          + 1 Lap   
 6.  de la Rosa     Arrows Supertec            + 1 Lap   
 7.  Diniz          Sauber Petronas            + 2 Laps  
 8.  Mazzacane      Minardi Fondmetal          + 2 Laps  
 9.  Alesi          Prost Peugeot              + 2 Laps  
10.  Button         Williams BMW               + 5 Laps *
11.  Herbert        Jaguar Cosworth            + 6 Laps *
12.  Wurz           Benetton Playlife          + 6 Laps *

Fastest Lap: M.Schumacher, 1:22.269 (199.365 km/h), lap 8

NOT CLASSIFIED / RETIREMENTS                                

     Zonta          BAR Honda           51   spun off   
     Gene           Minardi Fondmetal   47   accelarator
     Villeneuve     BAR Honda           46   engine     
     Irvine         Jaguar Cosworth     29   accident   
     Verstappen     Arrows Supertec     29   accident   
     R.Schumacher   Williams BMW        29   accident   
     Salo           Sauber Petronas     27   spun off   
     Frentzen       Jordan Mugen-Honda   2   engine     
     Trulli         Jordan Mugen-Honda   0   accident   

WORLD CHAMPIONSHIP STANDING, ROUND 6:                

Drivers:                     Constructors:             
 1.  M.Schumacher  46        1.  Ferrari             62
 2.  Hakkinen      28        2.  McLaren             52
 3.  Coulthard     24        3.  Williams-BMW        15
 4.  Barrichello   16        4.  Benetton-Playlife   10
 =   R.Schumacher  12        =   Jordan-Mugen Honda   9
 6.  Fisichella    10        6.  BAR-Honda            6
 7.  Villeneuve     5        7.  Sauber               1
 =   Frentzen       5        =   Arrows               1
 9.  Trulli         4                                  
10.  Button         3                                  
11.  Zonta          1                                  
 =   Salo           1                                  
 =   de la Rosa     1                                  


Fastest Race Laps

Pos  Driver        Team              Lap  Time             
 1.  M.Schumacher  Ferrari             8  1:22.269         
 2.  Hakkinen      McLaren-Mercedes    8  1:22.288  + 0.019
 3.  Coulthard     McLaren-Mercedes    7  1:22.289  + 0.020
 4.  Barrichello   Ferrari             8  1:22.339  + 0.070
 5.  de la Rosa    Arrows-Supertec     8  1:23.125  + 0.856
 6.  Fisichella    Benetton-Playlife   5  1:23.255  + 0.986
 7.  Verstappen    Arrows-Supertec     8  1:23.369  + 1.100
 8.  Villeneuve    BAR-Honda           8  1:23.390  + 1.121
 9.  Wurz          Benetton-Playlife   8  1:23.485  + 1.216
10.  Button        Williams-BMW        5  1:23.688  + 1.419
11.  Schumacher    Williams-BMW        9  1:23.802  + 1.533
12.  Alesi         Prost-Peugeot       7  1:23.898  + 1.629
13.  Irvine        Jaguar-Cosworth     8  1:24.008  + 1.739
14.  Gene          Minardi-Fondmetal   8  1:24.018  + 1.749
15.  Salo          Sauber-Petronas     5  1:24.346  + 2.077
16.  Zonta         BAR-Honda           8  1:24.620  + 2.351
17.  Herbert       Jaguar-Cosworth     8  1:24.715  + 2.446
18.  Mazzacane     Minardi-Fondmetal   8  1:24.772  + 2.503
19.  Diniz         Sauber-Petronas     8  1:24.798  + 2.529
20.  Frentzen      Jordan-Mugen Honda  2  1:24.937  + 2.668


Pit-Stops Times

Pos  Driver        Team               Time  Lap
 1.  Barrichello   Ferrari            32.9   33
 2.  Alesi         Prost-Peugeot      33.0   16
 3.  Barrichello   Ferrari            33.1   51
 4.  Mazzacane     Minardi-Fondmetal  33.3   16
 5.  Coulthard     McLaren-Mercedes   33.4   45
 6.  Salo          Sauber-Petronas    33.5   13
 7.  Button        Williams-BMW       33.5   17
 8.  Coulthard     McLaren-Mercedes   33.6   14
 9.  Barrichello   Ferrari            34.1   16
10.  Verstappen    Arrows-Supertec    34.3   13
11.  Villeneuve    BAR-Honda          34.3   15
12.  Zonta         BAR-Honda          34.4   49
13.  Fisichella    Benetton-Playlife  34.5   39
14.  Mazzacane     Minardi-Fondmetal  34.5   43
15.  Diniz         Sauber-Petronas    34.6   44
16.  Herbert       Jaguar-Cosworth    34.9   41
17.  Gene          Minardi-Fondmetal  35.4   41
18.  Zonta         BAR-Honda          35.6   14
19.  Hakkinen      McLaren-Mercedes   35.7   45
20.  Wurz          Benetton-Playlife  35.7   40
21.  de la Rosa    Arrows-Supertec    35.9   14
22.  R.Schumacher  Williams-BMW       36.0   16
23.  Alesi         Prost-Peugeot      36.3   45
24.  Fisichella    Benetton-Playlife  36.3   15
25.  Diniz         Sauber-Petronas    36.3   14
26.  Irvine        Jaguar-Cosworth    36.6   14
27.  Herbert       Jaguar-Cosworth    37.0   12
28.  Wurz          Benetton-Playlife  37.3   15
29.  Alesi         Prost-Peugeot      37.5   33
30.  Button        Williams-BMW       37.6   39
31.  de la Rosa    Arrows-Supertec    37.9   48
32.  Schumacher    Ferrari            37.9   35
33.  M.Schumacher  Ferrari            38.9   15
34.  M.Hakkinen    McLaren-Mercedes   43.0   15
35.  Alesi         Prost-Peugeot      43.1   49
36.  Gene          Minardi-Fondmetal  53.5   13


Due to technical problems, there are no sector times and speeds this week.

The European Grand Prix, Lap by Lap (provided by RaceFax)
Pre–Race: All the cars fire cleanly and everyone makes it off the pre-grid. Coulthard assumes his pole, with Michael Schumacher to his right, Hakkinen behind him and Barrichello behind Schumacher. The third row is composed of R Schumacher on the left and Trulli on the right, with Fisichella and Irvine, then Villeneuve and Frentzen making up the fourth and fifth rows. Overhead, the sky is threatening, but the track is dry. Rain, however, is expected at some point during the race, as happened to the F3000 race on Saturday.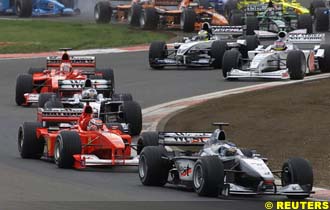 Start/Lap 1: As the lights go dark, Coulthard makes a poor start, and begins to lose ground to Michael Schumacher as they go up through the gears. Hakkinen has made a start worthy of Villeneuve, and darts between the other McLaren and the now leading Ferrari, passing both to take the lead, unchallenged, into the first corner.
Back on row five, Villeneuve has made a start worthy of, well, Villeneuve. Ahead of him, R Schumacher and Trulli are side by side, but Fisichella has made a better start than either and pokes the nose of his Benetton between them.
Villeneuve pulls alongside R Schumacher on the left, but Schumacher holds his position, forcing Villeneuve to put his left side tires in the grass. Villeneuve does not lift, making it four-wide as they near the pit exit.
There isn't quite enough room between the Williams and the Jordan for Fisichella's Benetton,, and Trulli, presumably not aware of Fisichella's presence, makes a feint at R Schumacher, only to come into contact with the Benetton, giving Trulli anxious moments with a series of fishtail moves.
As Trulli gathers his Jordan up, he is swamped by Irvine and the two Arrows. Villeneuve, meanwhile, continues down the left side of the track, and out-drags R Schumacher for fifth (from ninth) well before the first corner.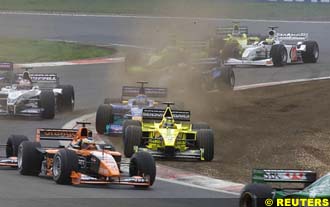 Into the right-hander at the end of the pit straight, Hakkinen leads Michael Schumacher, while Barrichello tries an outside move on Coulthard, but wisely gives it up at the turn-in. No doubt mindful of what a roadblock Villeneuve has been in recent races, R Schumacher tries to get inside him, but he's not close enough to prevent the Canadian from slamming the door in his face. Schumacher is forced fully off the track at the apex, his left side tires well up on the curb, and his right side tires in the dirt. The battle continues as they negotiate the following left-hander, and head over the brow.
Fisichella follows the Villeneuve-Schumacher battle, while behind him, Trulli has been regaining lost ground. Trulli arrives at the first corner on the outside of Irvine, who nevertheless takes the normal line from the first apex across the track to the second. There is apparent contact as Trulli is forced onto the grass on the left. He regains the track, but pulls off the course a couple of corners later, done for the day. The damage has been done, and while Trulli later reserves his ire for Fisichella, it is the Jordan's right rear tire which has been cut, suggesting that, at least, was the handiwork of Irvine.
On the run down the hill to the Dunlop chicane, R Schumacher makes a couple more attempts at Villeneuve's fifth place, but having refined his defensive driving technique over the last several races, Villeneuve holds him off. Out of Dunlop, the field is essentially single-file.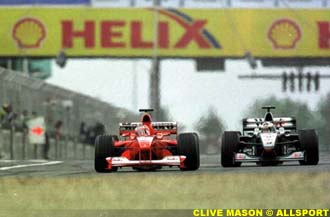 Across the line, Hakkinen leads Michael Schumacher by 0.562, following by Coulthard (-0.998), Barrichello (-0.519), Villeneuve (-1.223) and R Schumacher (-0.600). Fisichella remains seventh, followed by Irvine, Verstappen (ninth, from 13th on the grid), De la Rosa and Wurz (11th from 14th).
Lap 2: Michael Schumacher sets the fastest lap (1:22.438), while De la Rosa passes Verstappen for ninth and Alesi takes Button, who started 11th, for 13th spot.
Lap 3: Schumacher does another fastest lap, pressuring Hakkinen. Both Jordans are on their way to the transporters. Frentzen's Mugen has laid down a fog bank, a piston no longer sealing the gap between the combustion chamber and the crankcase. Across the line, Hakkinen leads Schumacher by 0.489. Coulthard trails Schumacher by 1.622, but leads Barrichello by just over a second. Villeneuve, of course, has completely lost touch, and is 4.802 seconds behind, holding up R Schumacher and an increasingly restless Fisichella.
Lap 4: Visibly quicker, Fisichella gets around R Schumacher. De la Rosa, well wound up, pushes his Arrows ahead of Irvine, indicating that a factory engine deal is not the answer to all questions.
Lap 6: Fisichella so enjoys being in sixth, he decides to see what fifth would be like, harrying Villeneuve, but without success. Villeneuve had been losing enough ground to the leaders before, but now, under pressure from Fisichella, he's driving to protect his position, instead of for outright speed, which the BAR-Honda doesn't really have. As a result, he's now around seven seconds behind Barrichello. De la Rosa is flying, relatively speaking, and takes R Schumacher for seventh.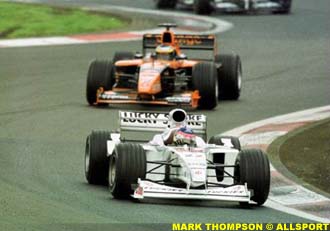 Lap 7: Coulthard sets fastest lap at 1:22.289, trying to close the gap to Michael Schumacher.
Lap 8: Michael sets fast lap at 1:22.269, and is clearly quicker than Hakkinen. Schumacher is using much less race track all around the lap, and with one eye on the darkening sky, he is relentlessly looking for a way through and can be seen powersliding the car out of corners. Despite what Hakkinen will say after the race, the handling of his McLaren is not all that much better than it was in qualifying.
Lap 9: There are hints of rain around the course. Fisichella gets better grip off the right-hand second part of the Veedol chicane, and powers alongside Villeneuve on the right as they cover the short straight to the final corner. With the inside line, not to mention better handling and traction, Fisichella is ahead before the apex, leaving Villeneuve no recourse.
At the end of the lap, Hakkinen is 0.611 up on Michael, who is all but three seconds ahead of Coulthard and Barrichello. Again, the Ferrari is visibly quicker than the McLaren, Coulthard suffering from poor handling. Fisichella is over 10 seconds farther back, followed closely by Villeneuve. The reason De la Rosa was able to get past R Schumacher has become apparent, as he has been losing touch with the Arrows, and begun drifting back toward Irvine.
Lap 10: De la Rosa closes on Villeneuve around the rest of the lap. Schumacher is all over the back of Hakkinen's McLaren, even more anxious to get around as rain drops have begun to spot the drivers' visors.
Lap 11: With rain obviously imminent, Schumacher makes his move. Up the straight to the RTL corner, he's half a second back, but through that left-hander he begins a run, and with better handling through that corner and the Bit Kurve which follows, he closes the gap to a car length.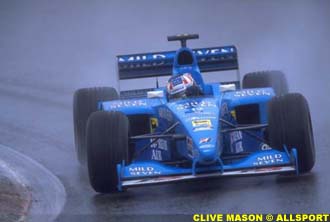 Coming out of the flat-out, right-hand bend, Hakkinen takes the normal line, swinging back to the right to line up the chicane. Schumacher, out-accelerating the McLaren in seventh gear, stays to the left, out-braking Hakkinen for the second-gear left on the inside, and leaving Hakkinen no option beyond second place.
Lap 12: Schumacher's move has come none too soon, for it begins to rain in earnest. The track, overlaid with a mix of oil, rubber and increasing amounts of water, is as slick as it will become, and many take advantage of their skills in such conditions. Barrichello gets a better run off the last corner and breezes past Coulthard down the pit straight. Irvine takes R Schumacher for eighth. Alesi passes Wurz for 10th. And Verstappen spins, falling from 10th to 14th after putting his right rear tire on the wet curb at the apex of the first corner.
With a clear track, and one which favors his legendary wet-track skills, Michael Schumacher puts over three seconds on Hakkinen, who finds himself no more than that ahead of Barrichello, with another three seconds back to Coulthard. Fisichella is just nine seconds back of Coulthard, and now well ahead of Villeneuve and De la Rosa. Irvine is another couple of seconds behind in eighth, but closely pursued by R Schumacher. Alesi lies tenth, ahead of Wurz and Button. Herbert, with nothing to lose in 16th, becomes the first to pit for wet tires. Gene has a quick spin, but regains the track.
Lap 13: Schumacher extends his lead to over five seconds. Verstappen, Salo and Gene pit for wets.
Lap 14: Coulthard, De la Rosa, Irvine, Zonta and Diniz pit. Coulthard is on pit road for 33.649 seconds, and he rejoins in eighth. The timing of his second stop (on lap 45) will later combine with a 3.3-second refueling on the first to show that Coulthard had started the race heavy with fuel.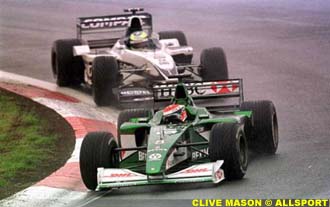 Lap 15: Michael Schumacher and Hakkinen pit, as do Fisichella, Villeneuve and Wurz. Schumacher and Hakkinen each have a long stop, but for similar, yet significantly different reasons.
Hakkinen's refueling goes normally, but there is a problem fitting the new right rear wheel. The result 43.085 seconds on pit road, which is 10 seconds longer than Coulthard, and in fact, longer than all except Gene. Whatever Schumacher and Ferrari had planned, it did not include the beginning of another round of problems with refueling. Everything appears normal at the beginning, but after a good three seconds, the (new) man on the hose discovers that no fuel is going into the car. Out comes the hose, in goes the hose again, and only after 38.929 seconds does Michael Schumacher break out of the speed zone on pit road, free at last.
Lap 16: As Michael Schumacher drives up the inside of the track to the apex of the first turn, Coulthard is only yards behind, turning in from the racing line. Through the right-left combination they go, Coulthard looking for an opportunity. With his tires fully up to temperature, he has an advantage, but it will be short-lived.
Out of the left, Coulthard moves off line to the left, in anticipation of the following left-hander, but Schumacher pulls off-line as well, cutting DC off. He then makes a second (and illegal) move back onto the line and narrowly keeps ahead of Coulthard on the exit. On the run down to the hairpin, the leading pair follow Button (who has not pitted), and up ahead, Alesi (likewise). Going into the long, 180-degree corner, Button takes the outside line, letting Schumacher go through, but Coulthard isn't close enough to follow suit, and is still behind Button at the left-right combination of sweeping turns which follows.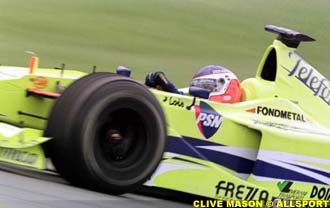 Perhaps he had good intentions, but going into the next, fast bend, Button leaves the door open for Coulthard, though only by about two-thirds of the width of the McLaren. Adding salt to the wound, Button then cuts Coulthard off again as they go through the following right, then attempts to make amends by pulling all the way off line on the following straight to finally let Coulthard through. Schumacher, meanwhile, has taken Alesi on the straight, and is free.
Temporary leader Barrichello pits (34.144), followed in by R Schumacher and Alesi.
Lap 17: Michael Schumacher leads Coulthard by 4.9 seconds, with Hakkinen another 10 seconds behind. De la Rosa is fourth, followed by Fisichella, Button, Irvine, Verstappen and, in ninth, Barrichello, the victim of time lost on the track with dry tires, and on what was by then a wetter pitroad. Button is the last to stop, and like Barrichello, will pay the price, returning to the track in 15th.
Lap 19: Coming down the hill to the hairpin, Fisichella moves inside fourth-placed De la Rosa, pulling level at the turn-in. They go through the corner side by side, but its a draw; off-line, where De la Rosa runs, there is no oil, and no rubber, but better traction.
They are still even at the exit, and up the short straight to the following left-hander, Fisichella edges just enough ahead to be able to force his way across to take the corner and the position. The order is thus Schumacher, Coulthard (already nine seconds behind), Hakkinen (another 3.5 seconds back), then a very distant and loose grouping of Fisichella, De la Rosa, Irvine, Verstappen and Barrichello.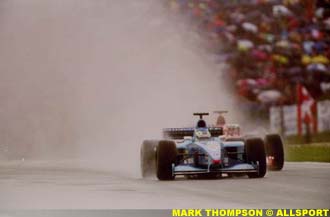 Lap 20: Hakkinen is the fastest man on the track. In two laps, he has closed the gap to Michael Schumacher by almost two seconds. At the same time, Coulthard has been a victim of his car's handling and (somewhat predictably) the traffic, falling seven seconds behind Schumacher. He can see Hakkinen in his mirrors on the shorter straights.
Lap 21: In the hairpin, Coulthard moves to the outside, running a high line to allow Hakkinen through to take his shot at Schumacher.
Lap 22: The gap between Schumacher and Hakkinen stabilizes at 12.5 seconds. Barrichello takes Irvine for sixth.
Lap 23: Schumacher has added a second to his lead, and begins a series of laps which are breathtaking. Fully extending the car, he slides it around corners, catching the odd twitch and apparently having a grand time in conditions which suit him far better than anyone else in Formula 1. Barrichello takes De la Rosa for fifth.
Lap 27: Salo slips off and into retirement. Schumacher's lead is out to 17.3 seconds.
Lap 30: While Barrichello works on Fisichella, there's trouble in the first turn. Irvine, Verstappen and R. Schumacher have been running together for several laps, but Verstappen takes Irvine out of the last corner and down the first part of the pit straight. Irvine, however, is having none of it, and tries to regain the position at the other end of the straight.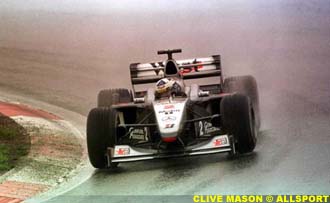 The move begins well, with Irvine out-braking Verstappen to pull even as they turn in for the first corner, side by side. Irvine loses grip just past the apex, the Jaguar sliding across and into Verstappen, which spins Irvine. As the car rotates in front of him, Schumacher spins in avoidance, but doesn't quite make it. As the Williams slides sideways behind the Jaguar, the rear wings touch.
Schumacher's Williams slides off into the gravel minus its wing, but Irvine's doesn't come off until the following corner. At the end of the next straight, he turns in for the left-hander, but without the downforce, the rear end goes straight on, dragging the car backwards into the gravel trap.
Verstappen, like Schumacher a hapless victim, fares no better. Coming out of the right-hander that leads to the hairpin, he also spins off the course, perhaps due to a cut rear tire. He hits the tire barrier on the right, ripping off both tires on that side of the Arrows and breaking the nose cone off, as well.
Lap 32: Running times almost equal to his teammate's, Barrichello finally overtakes Fisichella for fourth.
Lap 33: Barrichello pits: fuel flow, 5.0 seconds; on pit road, 32.9 seconds. We are one lap short of half distance, and Ross Brawn has put Barrichello on a three-stop strategy to make up for the time and positions lost initially on dry tires.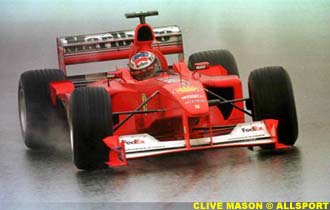 Lap 35: Schumacher pits, and fuel flows for just over nine seconds. He is on pit road for 37.9 seconds. He has taken on half a race worth of fuel, and will not be stopping again. The McLarens continue to circulate, Hakkinen now leading from Schumacher, with Coulthard third. Barrichello has dropped to sixth again, and is behind Fisichella and De la Rosa.
Lap 37: Hakkinen leads Schumacher by 22.5 seconds. Coulthard is another 10 seconds back. Barrichello, in sixth, is seven seconds behind De la Rosa, who in turn is over 15 seconds behind Fisichella. De la Rosa and Fisichella are, like the McLaren drivers, yet to make their second stops.
Lap 39: Fisichella pits, rejoining behind Barrichello.
Lap 40: Hakkinen's lead has grown a bit, to 25.6 seconds.
Lap 45: Hakkinen and Coulthard pit, though their appearances on pit road are separated by nearly 50 seconds.
Given the distance remaining - not to mention a comparison to Coulthard - Hakkinen's stop is a couple of seconds long. He is on pit road for 35.8 seconds. He returns to the track in second place. Coulthard returns in sixth, behind Barrichello
Lap 46: With their pit stops complete, Schumacher leads Hakkinen by 12.5 seconds. Coulthard is nearly 40 seconds behind Hakkinen, but almost 30 seconds clear of De la Rosa who runs fourth, pending his last pit stop, and is being relentlessly pursued through the heavy spray by Barrichello. Villeneuve is on his way to his second stop when he gets a call on the radio telling him to drive straight into the garage. Most of the indicators on the telemetry are in the red.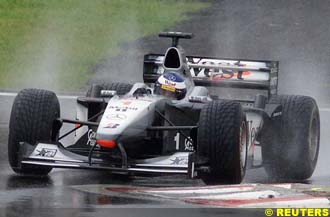 Lap 48: De la Rosa pits, and it's a long one. That puts Barrichello into third place, while Coulthard is up to fourth. The gap between Barrichello and Coulthard is 10 seconds, but unlike Coulthard, Barrichello has another Page 4 stop to make.
Lap 49: Button taps Herbert from behind, which does the nose of the Williams no good, though both continue.
Lap 51: Barrichello makes his third stop, and with just 16 laps remaining, it is quick. Still, the additional seven seconds he has gained on Coulthard are far from enough, and he returns in fourth.
Lap 52 - Finish: The top four will finish without a pass, but the finish is nevertheless one of the more exciting. Herbert is running in seventh, a lap down but well behind a fine drive by De la Rosa. Herbert's attention is on his mirrors, because Button is right behind him, and Wurz, who is charging, is but another second and change behind Button.
Schumacher laps Barrichello on lap 57, and then, in effect pulls Rubens along toward Coulthard, and more importantly, the fight for seventh. On lap 61, Schumacher out-brakes Coulthard easily into the chicane, putting him one lap down, and leaving him to Barrichello, who has a rapidly closing Hakkinen behind. On the track, it is Schumacher, Coulthard, Barrichello and Hakkinen, but Coulthard and Barrichello are a lap down, and fighting for third while about to have to navigate through the battle for Herbert's eighth place.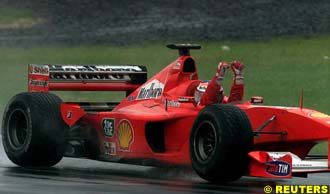 On the next lap, Fisichella moves over for Schumacher, going down a second lap. Button balks the Ferrari, then moves off-line in the Bit Kurve, before the long, downhill run to the chicane. He should have done it earlier. Fisichella, holding a watching brief, gets a good run at Button from behind Schumacher as they go down to the chicane, where Fisichella neatly out-brakes him. Coulthard approaches the chicane behind Button, and out of it, he and Barrichello each smell opportunity.
Coulthard ducks inside Button on the run out of the second part of the chicane, and Barrichello goes inside Coulthard. Three-wide on the approach to the final corner, Button wisely gives ground, staying to the outside as Coulthard and Barrichello sweep through underneath him. Across the line, it is thus Herbert, Schumacher, Wurz, Coulthard, Barrichello, Button and Hakkinen, all covered by less than seven seconds.
In the twisty bits before the hairpin, Herbert lets Schumacher through easily, and with that, the win is all but assured, with Hakkinen still behind all the traffic. Ending the lap, Hakkinen's task is made somewhat easier. Going into the final corner, Wurz made a charge up the inside of Herbert, who stayed wide to give him racing room. Wurz, unfortunately, had come into the corner about 10 mph too fast, and slid across and into Herbert before the apex.
Both cars half-spun, backing off into the gravel. There Wurz's Benetton would remain, but Herbert makes another 180 across the trap, winding up back on the track. Herbert having lost the fire, is also out. Button's glory in seventh is short-lived, his engine going away a lap later.
Schumacher came home a well-deserved winner in his own country, extending his lead over Hakkinen by four points, and over Coulthard by six. To say the win was popular is to grossly understate the reality, and Schumacher looked, on the podium, as if he knew exactly how good a drive he'd just put in, and what he'd done to morale at McLaren.

The Results - Team by Team (provided by Reuters)
FERRARI (Michael Schumacher 1, Rubens Barrichello 4)
Michael Schumacher dominated in the wet to stop the recent resurgence of the McLarens and extend his lead at the top of the championship to 18 points.
Barrichello was unlucky not to secure a podium finish after cutting through to catch the McLaren of David Coulthard.
MCLAREN (Mika Hakkinen 2, David Coulthard 3)
Hakkinen led after a fantastic start from third on the grid, but was chased down by Schumacher and forced into an error on the 11th lap which allowed his rival through. The Finn never recovered.
Coulthard reacted slowly to the lights after securing pole position and slipped back to third. A problem with the rear of his car was made worse by the weather.
JORDAN (Jarno Trulli and Heinz-Harald Frentzen retired)
Frentzen suffered a major engine blow out after just two laps and was forced to abandon the race. Trulli's race ended on the first lap when the Italian was shunted by Giancarlo Fisichella's Benetton.
JAGUAR (Johnny Herbert 11, Eddie Irvine retired)
Herbert lost a possible points finish when he was clipped by Alex Wurz's Benetton. He was then forced to retire, but was classified 11th. Irvine went out when Dutchman Jos Verstappen tried to go past after 29 laps and they collided.
WILLIAMS (Jenson Button 10, Ralf Schumacher retired)
Button made a poor start to his first race in the rain, losing several places to his rivals. The 20-year-old Briton recovered but retired with electrical failure caused by water in the footwell just five laps from the end while seventh.
Schumacher was forced to retire after being a casualty of the Irvine/Verstappen collision on lap 29.
BENETTON (Giancarlo Fisichella 5, Alex Wurz 12)
Fisichella drove a brilliant race after chasing Coulthard for fourth place. It was his third points finish of the season.
Wurz ended up in the gravel after clipping Herbert six laps from the end. He was classified 12th: "I saw I had my only chance to get past Herbert and went for it. I'm sorry for Johnny but that's racing."
PROST (Jean Alesi 9, Nick Heidfeld did not start)
Alesi used all his experiences to get round in the rain-soaked conditions despite having to pit four times because of mechanical problems and a time penalty. Heidfeld was disqualified on Saturday when his car was ruled two kilos under the required FIA weight limit of 600 kilos.
SAUBER (Pedro Diniz 7, Mika Salo retired)
Diniz suffered three early spins but managed to get back on the track each time to stay in the race. Salo had a difficult drive before he slid into the gravel after 27 laps.
ARROWS (Pedro de la Rosa 6, Jos Verstappen retired)
A flying drive from de la Rosa saw the Spaniard move up from 12th on the grid to sixth.
Verstappen battled with Ralf Schumacher on the fringe of the points for much of the race before ploughing into a tyre wall after 29 laps.
MINARDI (Gaston Mazzacane 8, Marc Gene retired)
Mazzacane had a remarkable race after starting last on the grid. Gene spun off early due to the rain, damaging the front wing and nose cone. He did recover, but was eventually forced to retire after spinning off again 20 laps from the end.
BAR (Ricardo Zonta and Jacques Villeneuve retired)
Zonta went wide on lap 16 and beached his car on the kerb. Villeneuve got off to a flying start, moving up to up to fifth in the first lap after qualifying ninth fastest. But he dropped back and retired with mechanical failure after 46 laps.