Have a question about Formula One statistics or history? Well you're not the only one, and it's about time someone came up with the answers to Formula One's most Frequently Asked Questions. Send us your questions, to faq@atlasf1.com - we may not know everything, but we will sure make the effort to find out
"Hi, I wonder if you could help clear up a gray area about the way race results are listed. Why are some drivers (e.g. Frentzen at Silverstone 2000) classifed as having finished the race (albeit 6 laps down) rather than retired...? Many thanks, Andrew. K Ireland."
The difference between classification and non-classification is 90% race distance. If you've covered 90% of the distance from the winner then you're classified as a finisher, regardless if you have retired before the finish. At Silverstone, the winner finished a 60 lap race, which meant that Frentzen could be 6 laps down (90% of 60 is 54) and still be classified.
"What does the word 'Scuderia' mean in the Ferrari team's name? Jonathan"
Translated from Italian, Scuderia roughly means team. Squadra is the Italian word for 'team' so the translation is not quite correct, but that is the essential meaning. "Team Ferrari", "Team Italia", "Team Minardi" etc.
"Hello. Brain-storming about the weather conditions at Silverstone this year, the question arose if there has ever been a race driven in more or less snowy conditions or has been stopped due to snow or hail. Thanks, Arjan D."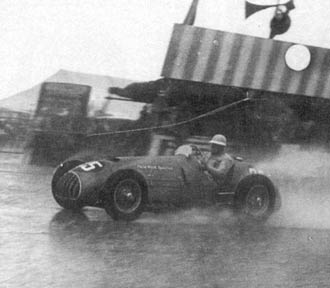 It has never snowed during a World Championship Formula One race, however Atlas F1's Roger Horton was able to dig up a report of a non-championship race that was hit by a hail storm, covering the track with hailstones and pools of water. This was at the International Trophy race at Silverstone, in 1951. A quote from a report on the race stated, "Drivers could not see, cars were hidden in spray, brakes were useless on the slippery hail and in places the track was six inches deep in water from side to side."
Local driver Reg Parnell in the Tony Vandervell owned 4.5 litre 'Thin Wall Special' Ferrari won the race, beating even the combination of Juan Manuel Fangio in the 1.5 litre supercharged Alfa Romeo 159. You can read more about this fantastic race at the 8W Millenium edition.
"Hi! My question is probably not frequently asked. I'd like to know what the fuel of F1 is made of. And, if you know it, I'd also like to know what each part of that liquid is doing. Thanks! Guy A. Canada"
Formula One uses 'pump fuel'. Unleaded Petrol. At the start of the season the fuel suppliers supply a control sample of ten litres of the fuel they intend to use. Throughout the year the FIA samples fuel and compares against this fuel sample to see if any team may be cheating. In the recent past some very exotic blends of hydrocarbons were used in Formula One petrol, which wa starting to become a health hazard for mechanics fuelling the cars prior to each session. In the early post war days of Formula One the fuel used was methanol.
"Hi. Could you please tell me who Gordon Murray is? i am told he was something to do with F1. thanks Mark M."
Gordon Murray was a designer of Formula One cars. He first rose to prominence as a relatively young head of the technical side of Bernie Ecclestone's Brabham operation in 1973, and his influence dominated the evolution of Brabham's throughout the 70's and 80's, the pyramid monocoque of the mid 70's, the infamous fan car of 1978, the thin look turbo era sidepod-less car. As Ecclestone became more involved in the running of Formula One as a whole Murray more an more ran Brabham. Finally, a Murray design, the BT49 won the world championship with Nelson Piquet in 1981, and Piquet and the BT52 got a second championship in 1983. The 1983 Brabham had to be refuelled because of its smaller fuel tank, the first time in modern times this had been done. It soon became common practice amongst teams and was banned, then later re-instated.
Murray joined McLaren in 1988 and oversaw the Steve Nichols McLaren MP4/4 design which became the most dominant car ever in a season of Formula One. Later Murray worked on McLaren's road car project, which produced the incredibly fast BMW engined McLaren F1 supercar. Murray ranks up with names like Jano, Chapman, Forgheiri, Barnard, Head and Newey as some of the greatest names in the technical side of the sport's history.
"could you please remind me what FIA stands for - I have blanked out as of late. Thanks a lot Ray"
Federation Internationale de l'Automobile. Their website can be found at http://www.fia.com.
"Dear AtlasF1, Recently, I happened to be looking at the list of drivers competing in this year's Formula One Championship. I noticed that there isn't a number 13 car. If 13 was present as a car number it would be on Jean Alesi's Prost. Why isn't there a number 13 car in the championship? Is it perhaps that 13 is an unlucky number (in the U.S. at least). Please respond, as I am curious about this oddity. Lucas R. USA"
The number 13 hasn't been used in a Grand Prix since the numbering system for cars was first formalised in the mid 70's. Most of Formula One teams are based in Britain, and racers are a superstitious bunch. So 13 has been skipped. Occasionally #14 has been skipped as well so teams can have the odd-even combination. Mostly though it's superstition, and over a period of at least 30 years that superstitious belief has become habit.
"Hello Mark! I was watching a feature on Speedvision about the 1972 Championship season. During the German Grand Prix, held at the Nurburgring, they showed interesting in-car footage, of what I believe was Jacky Ickx's race-winning Ferrari. The interesting thing was that the car was fitted with what seemed to be grooved tires. Has the FIA ever mandated the use of grooved tires before? Thanks! Peter d."
The first appearance of the 'slick' tyre was in 1971. Up until then tyres had been grooved or patterned in one manner or another.
"As an F1 fan we always hear of the massive expenses involved. For example the complexity and price of a steering wheel. It would be greatly appreciated if you guys could please give us a story or better idea of what goes on in a F1 car. A detailed picture of a steering wheel would be great. Thanks again. Dennis"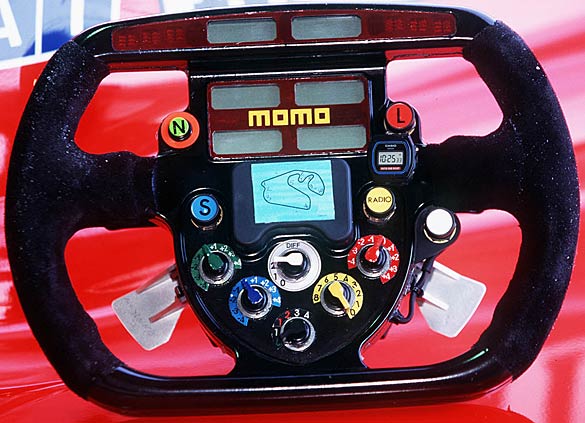 Here we have a steering wheel, as it came from dual world champion Michael Schumacher's Ferrari during the weekend of the Brazilian Grand Prix. The steering wheel has to display information about speed, lap times, revolutions per minute, gear change warning lights, radio button, a button for the ignition, a button for the pit lane speed limiter, the two gear change paddles at the back, temperatures and pressures at various points of the car, a button for drink supply, for the fire extinguisher, plus some rudimentary adjustments to the engine mappings and fuel mixture settings. Incongrously a cheap wrist watch (minus band) appears to have been added to Schumi's wheel, and in the centre of the wheel is a map of the Interlagos circuit with the corners numbered so the driver can instantly inform the pits where he is.
Whether the steering wheel is intelligent enough to play chess is open to debate. On the two seater McLaren, there's an extra button to start the cars fare metre as the car is being trailed to be used as a Taxi. Well maybe not, but it would be just the thing for beating traffic in the mornings, even if drivers of large four wheel drives couldn't see you.

Editorial Remark:

Some of the questions we receive have already been replied to in previous F1 FAQ columns. Therefore, before sending in a question, we suggest you have a look at the back issues, by searching the FAQ database. Not that we mind getting so much mail, just that we feel bad for those who feel they are left unanswered...

We receive quite a few questions from you all, and it is absolutely impossible for us to research and respond to each of you, be it here or privately. Please, don't feel discouraged if your question was not replied to; it might come up in the next column. And don't forget - you can always look for answers at the Atlas F1 Bulletin Board.