Since Jenson Button's debut at the 2000 Australian Grand Prix, there has been a public debate about the wisdom of hiring young and apparently inexperienced drivers to compete in Formula One. This came to a head this month with the FIA's decision to allow Kimi Raikkonen to race for Sauber in the upcoming 2001 season. In the red corner of this debate are team principals Peter Sauber and Sir Frank Williams, and in the blue corner is British Racing Drivers Club President Jackie Stewart and FIA President Max Mosley.
Are you Experienced?
Although some of the current drivers testing Formula One cars in Spain are inexperienced in open-wheel car racing, many of today's motor racing drivers have up to ten years of driving experience in karts before their 18th birthday. Many drivers have successfully made the transition from F3 to Formula One, but Raikkonen's case is unique because he will be graduating from Formula Renault.
At the heart of the matter is the FIA Super-Licence, which is required for competition in Formula One. Appendix L to the International Sporting Code describes in detail who may qualify for a Super-Licence, and it puts a heavy emphasis on good results in either International F3000 or Japanese F3000.
At first glance this seems logical, but upon reflection one may realise that success in F3000 is no indication of how well a driver will fare in Formula One. No F3000 champion has ever become a Formula One champion, and former F3000 champions have scored a grand total of two Formula One Grand Prix wins. Two-time Formula One champion Mika Hakkinen didn't raced in F3000; Three-time Formula One champion Michael Schumacher had one race in Japanese F3000; while 1997 Formula One champion Jacques Villeneuve only competed in one F3000 race. Clearly something doesn't quite fit here, but the questions are what and why?
F3000 was created in 1985 and it replaced the 2 Litre, 6 cylinder Formula Two. At this time, Formula One was becoming the exclusive territory of the 1.5 Litre turbocharged engine, and F3000 was created, in part, as a stepping-stone to Formula One.
International F3000 started as a fairly open Formula, with V8 3 Litre-engined cars, shod with Avon slicks, racing on a mixture of Grand Prix and Club circuits, but it has evolved into a very restricted Formula with only one chassis (Lola) and one engine (Zytek) homologated since 1996. The races are run over about 200 km - only two-thirds of the distance of a typical Grand Prix - and since 1999 they have raced exclusively on Grand Prix tracks.
It seems that this formula should let the most talented succeed on the basis of merit, and this type of experience would be invaluable to a Formula One novice, but Jenson Button's performance in the 2000 season places a big question mark over this assumption. Thirteen of the fifteen F3000 champions have entered Formula One, but only 1989 champion Jean Alesi and 1993 champion Olivier Panis have won a Grand Prix. 2000 champion Bruno Junqueira and 1996 champion Jorg Muller both failed to get Formula One drives to date, while 1995 champion Vincenzo Sospiri went down with the sinking Lola Formula One team in 1997 and didn't qualify for his one and only Formula One race attempt.
Go East young man?
There are several F3000 series - the second most famous being Japanese F3000, which started in 1987 and became Formula Nippon in 1996.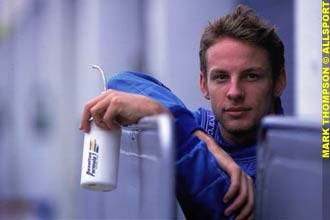 Unlike International F3000, Formula Nippon is not a one chassis/one engine Formula, but the majority of chassis are Reynards, while the majority of engines are Mugens. BMW-Williams driver Ralf Schumacher was the 1996 Formula Nippon champion, and Arrows driver Pedro de la Rosa was the 1997 champion. Local champions Aguri Suzuki and Ukyo Katayama also graduated to Formula One by this route.
The conventional wisdom is that racing in a Japanese Formula at an early age gives a driver an advantage at Suzuka in Formula One. However, Jenson Button, at his first appearance at Suzuka, out-qualified his teammate and former Formula Nippon champion Ralf Schumacher and finished in 5th....
In 2001, over a quarter of the Formula One drivers are either former F3000 champions (Alesi, Panis, Nick Heidfeld and Juan Pablo Montoya) or Formula Nippon champions (de la Rosa and Ralf Schumacher). Perhaps these drivers can add to their tally of two Grand Prix victories?
Let's examine both sides of the debate and see if any valid conclusions can be made.
Peter Sauber's argument is that exceptional drivers like Kimi Raikkonen have so much talent that they can quickly adopt to a Formula One car, and denying them the chance to drive based on age or experience is arbitrary. Sauber stated, "Kimi was able to demonstrate to the satisfaction of the FIA the qualities that attracted us in the first place. We are delighted to establish a relationship with a young driver who shows such clear promise for the future. Kimi's performances in Formula Renault this season attracted our attention, and when he tested one of our C19s at Mugello in September his driving skills were very impressive for a young man with such limited experience.
"It was clear from the outset that the step into Formula One was not too big for him, and he completed the test with very encouraging results. In the last three days Kimi tested again at Jerez in an impeccable manner, confirming his talent and readiness for Formula One."
Sauber's philosophy is a bit like that of a parent who gives their child prodigy a Stradivarius violin. Jackie Stewart, on the other hand, adamantly believes that F3000 is a vital step for the career development of a driver.
Stewart has an almost evangelical belief in his philosophy of 'Formula Finesse'. Formula Finesse is basically a theory that good drivers are born, but great drivers are made. Stewart realised that a lack of driving finesse can slow a naturally fast driver down, and he spent the latter half of his driving career on a relentless quest for smoothness in his own driving.
In addition to Formula One, Stewart raced in F2 and the Tasman Series, and he felt that these races honed his driving skills and salvaged his reputation when he was driving uncompetitive BRMs in Formula One. After retiring, Stewart drummed his philosophy into any driver who drove for his son's team, Paul Stewart Racing, which fielded a team in F3000. Stewart went as far as to say that skipping F3000 was like skipping a year at school. In other words, if Stewart had a musical genius in his family, he would rather make him or her perfect their skills on a good violin before letting them loose on a Stradivarius.
FIA President, Max Mosley, recently added his voice to the chorus, stating: "Unfortunately the F1 commission doesn't always do as I tell them, despite speculation to the contrary. I do not believe that they adopted a defensible position in giving an inexperienced driver like Raikkonen a licence. It is quite wrong given that we have strict criteria for graduation into F1. When there is a major accident caused by the presence of very inexperienced drivers in F1, I'm the one who will have to explain it to the world's media and television cameras."
What is wrong with F3000?
If you look up the results of F3 races, familiar Formula One names appear with amazing regularity. In fact, nine of the current Formula One drivers (Jean Alesi, Rubens Barrichello, Pedro de la Rosa, Giancarlo Fisichella, Mika Hakkinen, Nick Heidfeld, Michael Schumacher, Jarno Trulli and Jos Verstappen) were F3 champions. So, if you are a team principal looking for new talent, F3 is historically the formula to watch. Unfortunately, this becomes a self-fulfilling prophecy because if the fastest F3 drivers are syphoned out of the pool before they enter F3000, then competition within F3000 will obviously suffer. Both Mosley and Stewart would like to see this trend reversed.
Stewart is concerned that talented drivers will be syphoned out of the lower Formulae and will miss valuable experience in F3000. The disturbing aspect of this trend is that young drivers are attractive to Formula One teams partly because they are cheap and plentiful. To their credit, the FIA have steered F3000 races onto Grand Prix tracks to reverse this trend, but it will probably take five more years to see if this change has made a difference. The FIA should also take comfort in the commitment of Arrows, McLaren, Prost and Red Bull to running 'junior' F3000 teams.
This is not your father's F2
The flaw in Stewart's argument is that F3000 is not like the old F2 that he drove in. In Stewart's days, Formula One drivers regularly competed in Formula Two races, which meant that a club driver could gauge his abilities against the cream of Formula One. Today, Grand Prix drivers compete exclusively in Formula One and do not share the track with F3000 drivers, so the F3000 drivers don't have a realistic benchmark to measure their performance against.
When Jacques Villeneuve made this remark about 1999 F3000 champion Nick Heidfeld - "He was driving like he was still in F3000" - he made it clear that he didn't mean Heidfeld was dominating the races as he had in F3000 by adding: "...thinking that he could force everyone onto the grass." Villeneuve was essentially saying that Heidfeld had picked up some bad driving habits in F3000 that he needed to overcome before he could be successful in Formula One. Maybe this is true, maybe F3000 does has a tendancy to lull the drivers into a false sense of security and can encourage sloppy technique - which is completely the opposite of Stewart's conclusion.
Using Jackie Stewart's education analogy, maybe Formula One is the driving equivalent of a doctorate, maybe F3 is a bachelor's degree and maybe F3000, as it is today, is a master's degree that isn't essential, if what you really want is a doctorate.
Perhaps the last word should go to Raikkonen himself: "This is a fantastic opportunity for me. I thoroughly enjoyed the F1 testing I did earlier this year, and although there was pressure to prove myself to the FIA in Jerez, I believe that I demonstrated my potential successfully. Now I will be doing everything I can in 2001 to justify the faith that Peter Sauber, his team and the governing body have placed in me."
Good Luck Kimi, and drive safe.