This week's Grapevine brings you
information fresh from the paddock on:

All Things Ceing Equal...
Michelin Man on a Roll
Picked from the Bunch
All Things Being Equal...
Having advocated the return of traction control in 2001, Ferrari have put their weight behind putting back the introduction until the Spanish Grand Prix – leveraging the support of Sauber, Minardi and Prost to add weight to their veto.
It came as something of a shock, as it was originally thought it was Ferrari's wish to bring back traction control. This was related to the belief that Honda's engine mapping is finally so efficient, and the engine's performance sufficiently close to Ferrari's, that BAR and Jordan would be able to close the performance gap considerably. Adding traction control should provide negligible benefit to the Honda teams, whereas Ferrari expect to be in a position to gain from it immediately.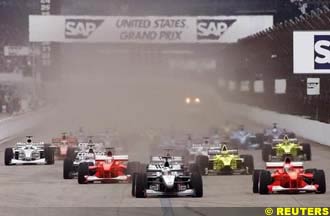 However, it seems on reflection that Ferrari believe McLaren have stolen a march on them. Traditional traction control technology relies on controlling speed by preventing individual cylinders from firing. This is effective, and Ferrari had a cross between that and their current – very advanced – engine mapping system ready to roll. Ferrari believe that McLaren, by contrast, have come up with a different solution: their traction control effects the fuel injection system, with very similar results.
The difference, it should be mentioned, comes only when dealing with the engine's efficiency. McLaren's solution is more efficient than Ferrari's, providing optimum fuel efficiency as well as optimum traction under acceleration: potentially worth as much as a five percent saving over a race distance. This would effectively allow the team to run an extra lap for every twenty that Ferrari run, handing over a significant advantage over the course of a race.
Whilst Honda continue to present something of a threat to the front runners, the performance gap they have to overcome has best predictions looking beyond the mid-season before BAR or Jordan can really challenge at the front. Ferrari's priority is clearly to look for any and every advantage over McLaren, and avoide giving ground in any area. Putting back the introduction of traction control by five races should give plenty of time to develop an equivalent system: failing that, there's always the opportunity to leverage Max Mosley's final proviso - by failing to submit approval of any means to police electronics to ensure other forms of electronic aid are in use, traction control will not return. Or at least, not within the rules.
Michelin Man on a Roll
Michelin's return to Formula One has created something of a stir, right at their first real outing. Williams, along with Jaguar and Benetton, put the new tyres through their paces in no uncertain terms, as they evaluated all aspects of the tyres in preparation for the season ahead.
In the dry, tyre degradation and grip proved to be well within acceptable bounds for a new entry – the Michelin-mounted cars put performance a little behind the Bridgestone ones, but not by as much as expected. Experimental rubber is already scheduled for testing in January, which should show significant progress, even if a noticeable gap remains.
The big deal, however, and what turned heads in Jerez, was wet weather performance.
As soon as there is genuine standing water on the track, wet weather Michelins appear to have an edge on the Bridgestone equivalents in terms of outright performance and wear. Deeper water sees the performance margin maintained, but tyre wear is not as good as with Bridgestone in 1999.
Official comments on Michelin's wet weather tyres have been along the lines of "we were lucky to have posted that time on a drying track," but the effect of a new and different wet-weather tyre construction has clearly been seen. Of potential worry to Bridgestone, this direction in tyre construction has not really been explored, so considerable advances may still be made.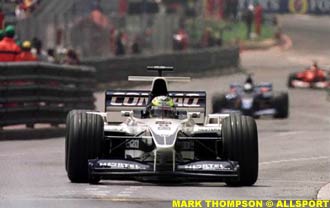 One thing that both tyre manufacturers noticed, was that the anticipated reduction in rear tyre wear from introducing traction control was not as great as expected. It appears that since electronic aids were banned, almost all the teams have developed engine mapping systems which do a very good job of emulating the effect. Between a smooth power curve, and a highly skilled driver, the cars operate at close to optimum traction out of corners – measured at close to 98% by Williams and BMW at the Jerez test, comparing Ralf Schumacher with and without their prototype traction control.
The two percent figure is an oversimplification of the picture: there is a significant difference between the wheel-spin out of slow and medium pace corners. What the tests did demonstrate, however, is that almost all of gains available in improving tyre-wear relates to the reducing the impact from the necessary action of tyres slipping in the process of cornering. Acceleration – and by implication, braking – wear rates are close to optimum for the current tyre construction.
Picked from the Bunch
The Jerez test highlighted the pending introduction of Juan Pablo Montoya to the Formula One scene. The Colombian showed commendable poise during his first F1 test in three years. Opinion in the paddock is fickle, and already starts to indicate Frank Williams could have made a smart move after all.
Prost's three year Michelin deal was long awaited in the paddock, despite Michelin's concerns that Ferrari would have access to sensitive data. At the end of the day, political pressure in France, to see what many think of as a "French" team shod with French rubber, proved too much. Marketing opportunity made the final decision...
Murray Walker's retirement has come at an interesting time from the viewpoint of many spectators. For a while, the commentator has negotiated his contracts annually, and according to cynics was told this year that he needed to consider training a replacement. It was also suggested his age was becoming an increasing problem with the fly-away Grands Prix.
Flavio Briatore could buy Minardi, or so some new rumours are indicating, despite the outfit's expected announcement of a deal with Ford. The Italian minnows are struggling to find a budget for the 2001 season but are currently expected to make the grid in Melbourne.
Kimi Raikkonen's superlicence has been the matter of some discussion. Many drivers feel it is dangerous to put a youngster with so little race experience into the cars, but others think that talent will out. In any event, Peter Sauber's luck has held, and Raikkonen will get a chance to confound his critics next year.