Unlike World Champion Michael Schumacher and teammate Mika Hakkinen, David Coulthard has no intentions of sitting at home during the earlier stages of pre-season testing. The Briton's failure to land a maiden title this year has had a marked effect on the McLaren driver and he promises his determination will be greater than ever for March's season-opener in Melbourne.
Coulthard's early season consistency in the 2000 championship made him a serious contender to usurp Finn Hakkinen at the top of Formula One. While the prospect of impending fatherhood seemingly affected Hakkinen in his quest to win a third successive title, Coulthard embarked on his pursuit to become champion.
With a straight direct battle with Ferrari's Schumacher looking increasingly on the cards, 29-year-old Coulthard acknowledged he had the best chance of his career for his dream to turn to reality. By a bizarre twist of fate, however, on an ordinary day in May, the dream almost turned into the worst possible nightmare.
A private Learjet plane, carrying Coulthard and his fiance Heidi Wichlinski, crashed at Lyons. The two pilots were killed on impact but the Twynholm-born driver miraculously escaped with bruising. Not only did he escape, but he returned to the wreckage to pull Wichlinski, a supermodel, from it. The act of bravery typified Coulthard's never-say-die attempts to win a World Championship, but unfortunately for him, the incident affected his chances on the inside - even if he didn't show it on the outside.
But, with the Bridgestone-Michelin tyre war already in full swing just one week into testing for the 2001 season, Coulthard realises his work must begin now if he is to challenge Schumacher and Hakkinen for Formula One supremacy. He remains as confident as ever and said he has what it takes to win a direct fight with the two men who have dominated the sport in recent years.
"I have a definite upward trend," Coulthard told Atlas F1 last week, in a confident manner. "I have won more races, scored more points than in the past. The two guys that I am trying to beat have more track experience, more knowledge, you could argue better support from the teams and that is what I am trying to compete against.
"But I have beaten them in straight fights before, so why can't I have the dream that I can beat them again? All I have to do is string it together for a season. There was no point where I thought 'I'm in here'. From 1997, I have had to move over for someone. I have had to give up on wins that should have been mine, and that is a difficult thing to deal with.
"I didn't have a choice. A number of situations led to me not winning the Championship. Mika and I were on different strategies in Austria because the team wanted to cover Ferrari and I was on more fuel. In Hockenheim there was a communication error, Budapest again, so there were certain situations that saw to the Championship slipping away. When I reflect on the year, I grew a lot and gained a lot of experience and I proved to myself, and others, that I can take a fight on the track and I can turn a situation around and win that way."
Coulthard admits his title challenge was boosted, however, by the work of 2000 test driver Olivier Panis. Following the Spanish Grand Prix, in which Coulthard competed and in fact finished second just days after his plane crash, the one-time Williams driver took a break from testing and claimed it did wonders for his challenge. The only thing that let him down was Hakkinen and Schumacher taking similar breaks only to re-discover even more impressive form.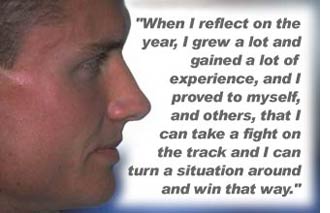 But he is not ready to relinquish the chance of early season testing. While Schumacher, who is recovering after an operation to remove a pin inserted into his leg after his horrific crash in the 1999 British Grand Prix, and Hakkinen enjoying a well earned rest with his wife and new-born child, Coulthard plans to gain the upper hand in the title race by putting McLaren's 2001 challenger through its paces himself.
"Everyone is testing except Michael and Mika, as they can afford to take time off," he said. "I learnt that I didn't need to drive at every test after Barcelona, but we have a tyre war developing and I need to be on top of that for Melbourne. There is some potential that if I do that I will have the advantage.
"This isn't just a job to me, it is my career and I don't want to get to the end of my career and think I could have tried harder. I want to know that I gave 100 per cent. If Michelin get it right, we could find ourselves down the grid and Benetton, Williams and Jaguar could shoot right up, so my work now could be vital."
But as clear as Coulthard is in his thoughts for 2001, Formula One is perhaps not so. The eventual legal arrival of electronic aids will undoubtedly change the face of the sport. Traction control will be legal but the McLaren pilot, as well as some of his rivals, have expressed views against the Federation Internationale de l'Automobile's decision to give it the green light.
Coulthard is a pure racer. He wants to see the quickest and the bravest man become the victor, and without any outside help. But Coulthard's wish will not happen. Traction control could be introduced into the sport by the 2001 Spanish Grand Prix, despite a number of top names expressing concerns about it. The Scot was, by his own admission, one of those names, and he believes electronic aids could add unnecessary danger to the sport.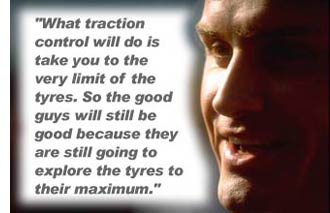 "I think traction control is potentially dangerous," he opinionises. "What you are doing is making a manoeuvre where you are not entirely sure where the car is in your mirrors and you are forcing the car to take evasive action, which is not in the rules. I fail to understand why this is happening.
"But my views on traction control are mine and not the team's. I could be way off on this and it could be not at all what the other drivers are saying, but the thought of having manual gearboxes, someone maybe missing a gear - right now I know that if I am in someone's slipstream, I know that I cannot overtake him, unless he blows up.
"In the old days, someone could miss a gear and that's it, you'd be past him. Semi-automatic gearboxes and traction control will potentially create a processional race because the element of mistake has been taken away. You may make a mistake when braking but you will rarely make a mistake in gear changing."
During his time with Williams, Coulthard readily admits he tested the then Renault-powered car with traction control. But he strenuously denies suggestions of McLaren running electronic aids during the 2000 season, and warns of the eventual pitfalls its introduction could bring - with injury his major concern.
"At Williams, I had traction control testing, but never racing," he says. "The fact that it is 'failsafe' means nothing. There is still the other things that can go wrong. If you let things get faster and faster, there is a point where people get hurt. The FIA have created controls and regulations that are essential. There is no question that safety has improved but the human body can only take so much and it needs to be improved further.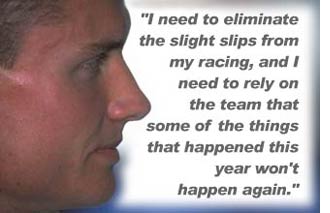 "What traction control will do is take you to the very limit of the tyres. So the good guys will still be good because they are still going to explore the tyres to their maximum. It will make the bad guys safer but it won't make them any quicker in reality."
Regardless of the pros and the cons of traction control, Coulthard has one thing on his mind for the coming season - title glory. For too long he has been 'Mr Nice Guy' but not any more. His testing duties will be cut during the season, his PR activites too, and his experiences on the tragic day in May have resulted in his flying time being reduced.
Coulthard is determined to become the first Briton to be crowned champion since Damon Hill did so in 1996. He is ready to do whatever it takes. If that means leaving the public spotlight like Schumacher and Hakkinen, then so be it. Coulthard is prepared to do anything.
"Next year, I want to be as efficient as possible and I want to be able to rest and come to each race recharged," he states. "I want to cut down on the amount of flying I do because it takes up so much time. I want to re-structure my year a bit, cut down on PR and things.
"On the track my basics are good, I just need to tidy up in a few areas, and we are not talking vast improvements. I need to eliminate the slight slips from my racing and I need to rely on the team that some of the things that happened this year won't happen again. We need 100 per cent support and good calls, because I'll give the championship my best shot."