This week's Grapevine brings you
information fresh from the paddock on:

Jaguar roar into action
Mazzacane in demand
Picked from the Bunch
Jaguar roar into action
Following a hugely publicised arrival in Formula One, Jaguar soon discovered most of the pitfalls of overconfidence that BAR before them had explored.
Taking over the Stewart outfit, Ford expected the team to produce fairly reasonable results right from day one. After all, Jackie Stewart had managed to get his 200 men outfit to put together a car that won a race – with Ford backing, or rather Cosworth, of course. So taking over the outfit and extending it to become a Championship contender would be relatively simple, wouldn't it?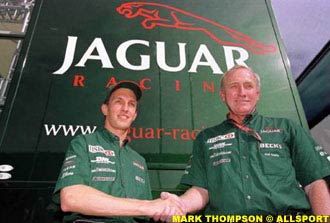 Well, actually not. Stewart was an inspirational leader to the men who worked in the factory. His son was a diligent, and for the most part, talented chief exec. Between them, they kept all the parts ticking over nicely, and working in harmony. They ensured that when mistakes were made, lessons were learned, and so the five year plan should be successfully followed.
However, the team's infrastructure was considered inadequate to take on the two front runners: McLaren and Ferrari are both significant organisations, who have been working on putting together successful procedures to build and race cars for decades. They are not perfect, but the distance from perfect for any given aspect of the car is small, and they can put whole departments onto ensuring they get closer to perfection all the time.
So, Ford bought Stewart, knowing a significant growth program would be required in order to make the target of winning Championships. Unfortunately, between Jackie Stewart seeing it as time to step out of the spotlight, and his son contracting cancer, the core of the leadership, and the men who ensured lessons stayed learnt, have all but disappeared.
Through 2000, Jaguar appeared to make the same mistakes that Stewart made in 1999. The difference this time is that no-one expected Stewart to do as well as they did, whereas Jaguar made a big fanfare about their entry and intentions to compete at the top level. Instead, they choked on their own growth plan, damaging communication between departments (something that Jackie in particular made good on at Stewart), and making mistakes that impacted reliability that had been corrected in '99.
The last car was something of a let-down to Ford: an inherent instability at the back end under turn-in ensured that it was a pain to drive come race time, and something of a handful even on a single lap. Feedback from the drivers helped to narrow the problem, but solutions proved difficult to come by. Eddie Irvine has been credited within the team for making the most of an awkward situation – driving a car which has a characteristic he particularly dislikes into decent qualifying positions. The handling was what put Dario Franchitti off a move from CART, and arguably Johnny Herbert from being able to perform at all. The technical team isolated the problem, and narrowed it to the relationship between the aerodynamics and the rear suspension, but failed to really solve it all year, and the latest changes reflect that.
Moving Gary Anderson out, and Steve Nichols from McLaren in, is a major step for Bobby Rahal in his new-look team. Neil Ressler placed him with Carte Blanche in order to get results, and he is bringing in a fresh approach. The technical team is very strong, but the leadership Anderson provided was considered a little conservative: new, but experienced blood, is the order of the day. Strong direction from the top from Rahal, with solid backing from a pro-active design team has the potential to bring out the same innovative spirit that saw Tyrrell win World Championships with Jackie Stewart in the car...
The only issue now, is whether this approach is good enough to win races in the new world of grooved tyres and microscopic advances in all directions.
Mazzacane in demand
Despite showing little in the way of earth shattering talent, the young Argentinian Gaston Mazzacane has proven to be in demand, as the Formula One circus comes off its annual break.
Mazzacane's appeal is down to the sizable bank role that comes with him. The Pan-American Sports Network (PSN) sponsorship carries a lot of weight: the financial bundle is significant, and enough to keep any backmarker team safe from the receiver for the short term. The downside of an underperforming driver seems a small price to pay when the sponsor income can expand a budget to allow teams to test and develop their car through a complete year.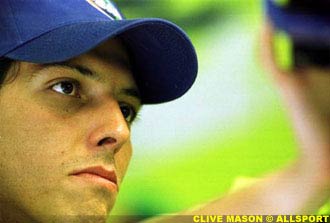 As things stand, Mazzacane is testing for Arrows – largely to give the team feedback on his capacity as a driver. Should he prove capable of getting anywhere near the times of the established drivers, Pedro de la Rosa and Jos Verstappen, his role in 2001 should be on the front line with the team. Tom Walkinshaw is then expected to leverage as much capital as possible from PSN to put his other driver well up the grid… The big question mark then is over which of this season's drivers to let go: the experienced Verstappen or the talented de la Rosa. Of course, if Mazzacane's times are too far off the pace, everything gets simpler, as Arrows would then only offer him a testing contract.
Prost have also expressed some interest in Mazzacane, and for the same reasons. Their cash flow is not so hot at this time: losing Gauloises has put a big dent in the aspirations of the team, who now have to pay for Ferrari engines, which are notoriously expensive. Pedro Diniz's new role as a manager in the team – thanks to a handsome stake being bought by his father – has given Prost sufficient working capital to be sure of getting through the next two years, but the budget is incredibly tight. Bringing Mazzacane on in as full time tester would see the team expecting to close a respectable deal with PSN for around five million dollars a year – around half the value of their Yahoo! deal.
There are complications, however. Minardi are still smarting over PSN's withdrawal from the deal that should have seen the conglomerate buy Gabrielle Rumi's Fondmetal stake in the team, and the team does hold a contract tying Mazzacane to their team for next year. There is considerable concern that if the grid's favourite backmarkers fold, the receivers will go to the courts to recover as much money as possible from PSN for letting them down. Naturally, the money to fight the case would have to come from somewhere, and as things stand, that would be PSN's Formula One budget.
Picked from the Bunch
Silverstone's deal with Octagon to secure the future of the British Grand Prix has surprised a number of onlookers. The surprise is not that the deal happened – Brands Hatch was never going to be ready in time – but that it is for the full fifteen years. Cynics expect the deal to change in form, should Brands ever be ready to host a full event.
Peter Sauber is coming under pressure from his key sponsor Dieter Mateschitz, owner of Red Bull, over results to date. With Mateschitz upset over the Sauber's refusal to appoint Enrique Bernoldi – there are other drivers who appeal more – he is considering withdrawing support for Sauber after the coming year... unless some serious points are scored, that is.
Bernie Ecclestone's influence in a future for Minardi has secured a Ford engine supply for 2001, if the team can pay for them. The projected announcement on Minardi's future relies on tying details of the engines to be supplied (the same unit again, or the '99 Cosworth plant) and the cost... and how they are going to manage that cost. The team do have a sponsor lining them up, but the limited budget (reputedly around $10 million) is right on the borderline to go racing next year.
Pedro Diniz, despite officially hanging up his gloves to be involved in running Prost next year, is still expected to spend time in the car: he has officially made himself available for testing, and the team anticipate making use of him on a handful of occasions.
Planned changes to Hockenheim have been met with opposition from locals: they consider the changes to be a complete departure to the excellent character of the track, and are concerned it will become 'just another Mickey Mouse circuit' on the Formula One calendar.