Leaving the Principality of Monaco, Formula One crosses the Atlantic to Ile Notre-Dame, a man-made island in the middle of the St. Lawrence River, where the Canadian Grand Prix is held at the Circuit Gilles Villeneuve.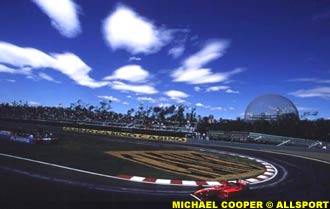 This is a popular Grand Prix, BMW-Williams driver Ralf Schumacher sums up the feelings of the Formula One paddock, saying "Montreal is one of the best events on the Formula One calendar, especially the old part of Montreal with its historical buildings that are wonderful. If the weather is as nice and warm as it was last year, I will really enjoy the atmosphere there." Fortunately the threat of a strike by public transport workers in Montreal during the Grand Prix weekend has not disrupted the preparations for the 32nd Canada Grand Prix.
At 4.421 Km, the Circuit Gilles Villeneuve is average in length and in speed. The circuit consists of two hairpin bends at the opposite ends of the circuit, connected by a series of straights and chicanes that provide some overtaking spots. Each lap involves sudden acceleration and deceleration which is hard on transmissions and brakes; fuel consumption also tends to be high. Rain is always a possibility at Montreal but wind from the St. Lawrence River may also become a factor in the handling of the cars.
Ralf Schumacher also explained the technical challenges presented by the Circuit Gilles Villeneuve: "The circuit itself is a medium-to-low downforce track where the cars reach more than 185 mph on no less than four occasions, each followed by heavy braking for first or second gear corners. Chicanes and hairpins separate the long straights. To achieve a good time the driver has to ride over the curbs and because of all the slow and medium corners you need a lot of mechanical grip and a good traction out of the corners."
Jaguar's Eddie Irvine expanded, "This is a strange place, being neither a street circuit nor a permanent race track. With some fast sections, short corners and a hairpin it can be very tough on the car, especially brakes. The surface is usually very dirty on the first day of practice and gets better as more rubber goes down. So it is important to let the right set-up come to you rather then make lots of changes while the track improves. All these factors mean it can he quite a challenge and putting together a good lap is very satisfying."
Irvine's teammate, Johnny Herbert, remarked: "I enjoy racing there as the circuit has good long straights with chicanes at the end where you have the opportunity to out brake the car in front. It's always difficult to get everyone around the first corner so let's hope for no restarts this year."
And Ferrari's Rubens Barrichello added: "It's a nice circuit to drive, although you have to be careful not to get caught out by one or two bad bumps in the braking areas which always seem to be there. Although the track is a lot wider than Monaco, it's also quite difficult to overtake because it soon develops a quick line, so if you wander off that it is very slippery under braking and in the corners, and you can easily slide off. It's a race where have you to think about being easy on the brakes if you can. At other tracks you normally do not have to worry about it."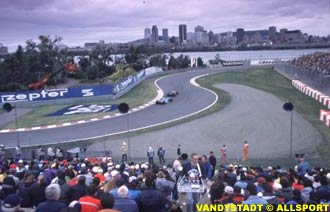 Unfortunately, Montreal is one of the more dangerous Grand Prix circuits with a history of nasty accidents. In 1980 Jean-Piere Jabouille broke a leg in an accident there that ultimately ended his Formula One career. Olivier Panis broke both his legs in 1997 and Heintz-Harald Frentzen had hairline fractures of his knee in 1999 in accidents on this circuit.
In last year's race, 4 drivers crashed into the pit-straight wall. Fortunately Formula One cars are going relatively slowly (95-100 km/h) at this point and none of the drivers were injured. Ferrari's Michael Schumacher commented, "Hopefully the organizers have done something about the area on the inside of the esses this year to prevent dirt being kicked onto the track every time a car runs wide. That is what caught me out last year."
This is a circuit where surprises and upsets are normal. Jaguar's Technical Director Gary Anderson remarked, "It's a demanding track on the brakes and you need good engine power to do well."
Montreal is a circuit where lesser-known drivers like Stefano Modeno finished second and Andrea de Cesaris was a regular points finisher. It is not a question of who is fastest, it is more a question of who has the best luck.
Pitstop and tyre strategies
Attrition is fairly high at this circuit - less than half the field tend to finish. Although 11 drivers were classified in 1999 and 1997, only 10 cars finished in the past three Canadian Grands Prix. Nine finished in 1995 and only 8 cars were running at the end of the 1996 race. In last year's race most of the drivers were on one-stop strategies, stopping between laps 36 and 38 when the pace car was on the track.
On tyre choice, Bridgestone will offer the teams a choice of the Soft or the Medium compound tyres. Bridgestone expects that most teams will select the soft compound, which they believe is best suited to the track conditions at Montreal.
Benetton's Technical Director Pat Symonds commented: "The tyre choice should be relatively simple as the circuit demands a soft tyre, however it may be that, as in previous races, one or two teams opt for the harder tyre to improve their race performance on a circuit where overtaking is easier than normal."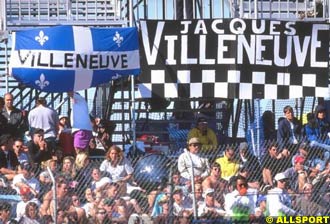 A Ferrari spokesperson revealed that brake wear is a factor in pit-stop strategy in Canada, "Perhaps the biggest preoccupation of all the teams in Montreal is the brakes. It is the hardest circuit of the season for brake wear and the heavy braking can force some teams to make two stops instead of one to reduce braking effort and subsequent wear. For those that go for one stop,you will usually see mechanics quickly check the brake disc wear during thepit stop."
The Teams
Ferrari still lead the constructors' championship. The Italian team won the Canadian Grand Prix three times in the 90s - in 1995, 1997 and 1998 - and have scored 54 points at Montreal in the past decade.
The leader of the drivers' championship, Michael Schumacher, is the most successful and consistent driver in the history of the Canadian Grand Prix. The statistics speak for themselves: Schumacher won this Grand Prix three times, once for Benetton in 1994 and twice for Ferrari in 1997 and 1998; he was second in his Canadian debut in 1992 and again in 1993 then finishing fifth in 1995 (all with Benetton).
Schumacher holds the qualifying record of 1:18.095 set in 1997 and he also set pole position in 1994, 1995, and 1999. Schumacher holds the race lap record of 1:19.379 set in 1998 and he also set fastest lap in 1993, 1994 and 1995. Schumacher also holds the record for the largest number of lap in the lead in the history of the Canadian Grand Prix - 216.
"Our car is very good on all types of track now and even though Montreal is a lot quicker than Monaco, the Ferrari should work well there," Michael said, ahead of Sunday's race. "I am looking forward to the race which I expect to be a lot tougher against the McLarens than it was in Monaco before my car had problems."
Rubens Barrichello has consolidated his 4th place in the drivers' championship. Barrichello finished second for Jordan in 1995 and fifth for Stewart in 1998. His highest grid position was 5th in 1999
McLaren now trail Ferrari in the constructors' championship by only 6 points. McLaren have won 4 times in Montreal - in 1988, 1990, 1992 and 1999 - and have scored 38 points at Montreal in the 90s. After last year's Canadian Grand Prix, McLaren's Team Principal, Ron Dennis vowed "Next year we must be better prepared."
David Coulthard has now climbed up to second in the drivers' championship. Coulthard scored his first two Formula One points at Montreal in 1994 and his best finish was a fourth in 1996. These statistics do not tell the whole story, however; Coulthard had pole position in 1998, set fastest lap in 1997 and led both these races. If McLaren provide him with a reliable car he will be the driver to beat.
Coulthard is looking forward to the rest of the season. "I feel positive that things seem to be going my way now and the reliability issues that affected my car so much last season are in the past," he said. "There is nothing worse when things go badly and you get into a cycle of asking, 'When is it going to come right?' I tried to stay positive throughout those situations because it pulls you down when you start whining and secondly, who cares about whiners? People only care about winners and that's what I aim to be."
Reigning World Champion Mika Hakkinen has slipped to third in the drivers' championship. Hakkinen won last year's race and finished 5th in 1996. Surprisingly, Hakkinen has never set fastest lap in Canada or had pole position; his highest grid positions were 2nd in 1998 and 999.
Williams are currently third in the constructors' championship. Williams won the Canadian Grand Prix in 1993 and 1996, scoring 49 points at Montreal in the 90s. BMW's Dr Mario Theissen stated, "For us, as an engine manufacturer, the Circuit Gilles Villeneuve is completely new and we have not had the chance to test there in advance of this Grand Prix. The characteristics of the circuit require a specific set up for the car, mainly on the chassis side. The engines for Canada will be similar to those we used in Monaco, where we showed good performance until Ralf had his crash. Our main target for Montreal is to finish the race. If we achieve that, collecting a point should be possible."
Ralf Schumacher is 6th in the drivers' championship but he may not be fit to race this weekend due to the leg injury he received at Monaco. Schumacher stated, "Unfortunately, the Monaco accident has caused an injury to my left leg. The doctors and I will do everything to speed up the healing in an effort to compete in Montreal."
Team Principal, Sir Frank Williams stated: "The key point as far as the Canadian Grand Prix is concerned is whether Ralf will be declared fit or not. Bruno Junqueira is our reserve driver and he will be present in Montreal in case of need. Based on his three-day test in Monza and on his current form in Formula 3000, we are confident that Bruno will demonstrate his potential in Formula One and that he will do a good job for the Team."
Ralf Schumacher's teammate, Jenson Button, has to tackle yet another unfamiliar circuit. The young Briton commented, "The team spent three days in Monza preparing for this race and given how well that test went for me, I feel good going to Montreal. Monza shares some characteristics with Circuit Gilles Villeneuve and our test has prepared me well. Like Monza, Montreal will probably be hot and hard on both the cars and drivers. I have heard good things about this circuit and I am quite upbeat about next Sunday's race. The team continues to make good progress with the FW22 and given how well-balanced it felt around Monza, I'm confident of doing a good job for the team in Montreal."
Benetton are 4th in the constructors' championship and have closed the gap to Williams to one point. Benetton have been the most consistent and successful team of the 90s at Montreal with a total of 66 points. They won the Canadian Grand Prix in 1991 and 1994 and finished in the points in every race.
Technical Director, Pat Symonds stated, "Montreal is a low downforce circuit and our preparation for that aspect took place last week by our test team at Monza. Work centred on examining low downforce aerodynamics and trying to optimise suspension settings and weight distribution for this configuration. A new aerodynamic package will be seen on the cars for the first time in Montreal."
Giancarlo Fisichella is 5th in the drivers' championship. Fisichella has always finished on the podium at Montreal. He had the first podium of his Formula One career when he finished 3rd in 1997 for Jordan and he finished 2nd in 1998 and 1999 for Benetton and he led the middle section of the 1998 race. His highest grid position was 4th in 1998.
Alexander Wurz finished 4th in 1998 after destroying his primary car at the first start of the race. Wurz made his Formula One debut in Canada in 1997 and he has always qualified 11th in the Canadian Grand Prix.
Jordan are 5th in the constructors' championship and they have had some moments of glory at Montreal, where they scored their first championship points in 1991. Their finest hour was in 1995 when they finished in second and third positions. Jordan have scored 20 points at Montreal but they last finished in the points in 1997 when Giancarlo Fisichella finished third. Both Jordans crashed out of last year's race. Jordan need both cars to finish on Sunday to keep up the constructors' championship challenge.
Heinz-Harald Frentzen has slipped to seventh in the drivers' championship. Frentzen has not gone consistently well at Montreal, his best finish was 4th in 1997 for Williams. In last year's race Frentzen was lying second before a brake disc shattered on his Jordan. In 1998, he was in 4th position when he went off the circuit trying to avoid a collision with Michael Schumacher. Frentzen's highest grid position was 4th in 1997.
Jarno Trulli was unlucky to leave Monaco empty handed. Trulli has yet to finish at Montreal and he has the dubious honour of being involved in three first corner accidents in the past two years! His highest grid position was 9th in 1999. If he can keep out of trouble he could do well.
BAR are still 6th in the constructors' championship. Chief Engineer, Steve Farrell, commented: "We want to lay the ghost of Monaco to rest in Montreal. With our reliability now sorted, we need to show that we can be consistently there with Williams vying for the places immediately behind the leading two teams."
Jacques Villeneuve's only finish at Canada was a second, after setting fastest lap, for Williams in 1996. His highest grid positions were 2nd in 1997 and 1996. Villeneuve stated: "I am very excited to be travelling to Montreal and racing in the Canadian Grand Prix. I feel the track suits our car better than Monaco, so we'll definitely be looking for a more competitive performance."
Ricardo Zonta did not finish after qualifying 17th in last year's race. Zonta remarked, "I really like the Montreal event. I only hope I can have a better race than last year. BAR Honda has had a good test at Monza this week, even if I did have a big crash, and we are steadily working on improving the car."
Jaguar have leaped to 7th equal in the constructors' championship, and their reliability seems to have improved. However, they will still be looking to increase their pace. Jaguar's Technical Director Gary Anderson stated, "There's no reason why we shouldn't get at least one car in the top six in qualifying, we should have done that in the last two races but it didn't work out that way which is where we need to be in order to score points. Otherwise you have to rely on other people being unlucky."
Jaguar, tagged Stewart-Ford, scored 5 points at Montreal and historically, Gary Anderson-designed cars have performed well at Montreal.
Eddie Irvine moved into 10th equal in the drivers' championship but he has had three podium finishes in Montreal, finishing third for Ferrari in 1998 and 1999 and for Jordan in 1995. Irvine set fastest lap in last year's race and his highest grid position was 3rd, also in 1999.
Johnny Herbert has competed in eight Canadian Grands Prix. Herbert's best finishing position was fifth for Stewart in 1999 and for Sauber in 1997. Herbert commented, "We've fixed the clutch, but we've still got a long way to go. We've got to fix the radio next! I hope Montreal will be good for us. We shouldn't be too bad, but we'll basically have to see how the car goes when we get there. It's difficult to get a good set-up as we can't test there before the race and the track is usually very dirty at least until qualifying on Saturday."
Sauber have moved up to 7th equal in the constructors' championship. They scored four points in Canada in the 90s with their first points coming with Karl Wendlinger's 6th place finish in 1993. Pedro Diniz finished 6th in last year's race and his highest grid position was in 12th in 1998. Diniz commented, "I had a few adventures at the Circuit Gilles Villeneuve last year, so above all I will be looking this time for a trouble-free practice and qualifying, and a good race finish."
Mika Salo has climbed to 10th equal in the drivers' championship. The Finn never scored a point in Canada from four starts and his only finish was 7th in 1995 for Tyrrell, while his highest grid position was 14th in 1996. Unfortunately, Salo is nursing bruised hands after the power steering in his Sauber failed at Monaco. Salo revealed, "My hands are still hurting. "They are causing me some pain which didn't make testing particularly easy." He added that, "After the way that the car went in Monte Carlo I am definitely going there looking to score more points. "
Arrows have slipped to 9th in the constructors' championship. The Arrows team appear confident that the A21 chassis will work well under low-downforce condition at Montreal. Arrows, badged as Footwork, last scored a point at Montreal in 1995 when Gianni Morbidelli finished 6th. In last year's race both Arrows retired due to transmission failures. Pedro de la Rosa did not finish last year's race after qualifying 20th. De la Rosa stated, "I'm definitely looking forward to the race and feel the circuit layout will be better for our car than in Monaco. I'm especially looking forward to actually being in a race again."
Jos Verstappen has never finished a Canadian Grand Prix from two starts and his highest grid position was 13th for Footwork in 1996. Verstappen commented, "Hopefully Canada will be better than Monaco. I think it will because Canada is a high speed circuit and suits the car better, so I'm looking forward to that race. I like the circuit and hope we can get a good result as I think we need it and the team deserves it."
Prost's woes continue with Technical Director Alan Jenkins leaving earlier this month. Jean-Paul Gousset, the Head of the Prost's Design Office, has been promoted to Technical Director. Team principal Alain Prost stated, "I am confident in our existing technical staff and I look forward to a productive future. "We hope we can get the results our partners and supporters expect from us, in the very near future."
Alain Prost had a single victory at Montreal in 1993, but his team had little success at the Circuit Gilles Villeneuve - Shinji Nakano scoring a solitary point for Prost after Olivier Panis's accident in 1997.
Jean Alesi won his only Grand Prix at Montreal in 1995 for Ferrari. Alesi has the most Formula One experience at Montreal, having competed in ten Canadian Grands Prix. Alesi had four other podium finishes: second in 1997 and third in 1996 for Benetton, third for Ferrari in 1994 and 1992. Alesi was taken out at the first corner by Jarno Trulli in the last two Canadians Grand Prix. His teammate, Nick Heidfeld, has never raced in Montreal.
Minardi's best finishing position in Canada was 7th place, with Pierluigi Martini in 1991 and Shinji Nakano in 1998. In last year's race, both Minardis finished the race - Marc Gene classified 8th after qualifying last. This will be Gaston Mazzacane's first race in Canada.
My Predictions
If it is dry, I'm going to pick McLaren, Ferrari and Jordan as the top three teams during qualifying.
Starting grid:
Michael Schumacher
David Coulthard
Mika Hakkinen
Rubens Barrichello
Jarno Trulli
Giancarlo Fisichella
Ralf Schumacher (if he competes)
Heinz-Harald Frentzen
Jacques Villeneuve
Eddie Irvine
Alexander Wurz
Jenson Button
The Canadian Grand Prix Preview in a Nutshell:
This Grand Prix is one of the most unpredictable races of the season. Although reliability and luck play a big part, a powerful, well-balanced package is needed to win.
Michael Schumacher is the most successful driver on this circuit. Schumacher set out to demoralize his opposition in the past two Grand Prix by running away from the field early in the race. This worked at the Nurburgring but didn't work at Monaco. It is probably unwise to adopt a similar strategy at the Circuit Gilles Villeneuve due to that concrete wall on the pit-straight.