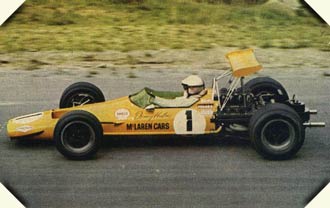 1968 The Bear. New Zealands only world champion, Denny Hulme aboard the McLaren M7A Cosworth at Mont-Tremblant. Hulme would lead home team prinicpal Bruce McLaren in and emphatic display. Hulme lapped the field and McLaren was a lap clear of Pedro Rodriguez in the BRM P133 in third. The field was decimated by retirements which saw a bare six finishers.




1970 A staggering debut. The Tyrrell Racing Organisation finally fielded their own cars in late 1970. At Mont-Tremblant in Canada Jackie Stewart led the first 31 laps of the Canadian Grand Prix in the first Tyrrell 001 after qualifying on pole position. A broken stub axle put Stewart out and allowed Jacky Ickx and Clay Regazzoni to score a 1-2 for the Scuderia in the 312B.
Niki Lauda in a rather battered March 721G Cosworth at Mosport Park. Lauda would be disqualified for receiving a push start. Lauda's days as a pay driver were numbered though.
Chris Amon received a guest drive in an old Tyrrell 005 Cosworth (compared to the 006 models raced by Jackie Stewart and Francois Cevert) and qualified just behind Stewart on the grid and drove through to tenth place.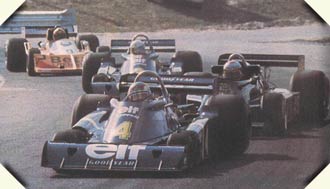 1976 Patrick Depailler (Tyrrell P34 Cosworth) leads Mario Andretti (Lotus 77 Cosworth), Jody Scheckter (Tyrrell P34 Cosworth) and Vittorio Brambilla (March 761 Cosworth). With James Hunt in the McLaren M23 further up the road this battle is for second place, with Depailler eventually beating Andretti by 4 seconds and Scheckter ten seconds further back in fourth. Brambilla would finish a lap down in 14th place.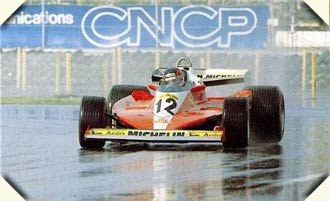 1978 With Mosport Park having been outgrown by Formula One it was thought Formula One might leave Canada, but the mergence of Gilles Villeneuve into the Ferrari squad changed that rapidly. A new circuit was built around the permanent 'Man and His World' exhibition (the former 1967 World Expo site) on the Ile de Notre Dame in the middle of the giant Saint Lawrence River in Montreal. It would be a great day for Canada as before an ecstatic crowd Villeneuve scored his first Grand Prix victory.
1982 Keke Rosberg in the Williams FW08 Cosworth on the approach to the Island Hairpin. The heart had been cut out of the crowd just bare weeks before the race in the woods of Zolder, Belgium where Gilles had died. To add to the gloom, Ricardo Paletti died from his injuries after his Osella plowed into the back of Didier Pironi's stalled on the grid Ferrari. On a day that Formula One would probably wished would just go away Rosberg would be a late race retirement with gearbox gremlins.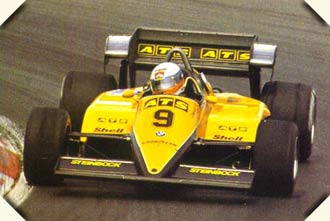 1983 Promise unrewarded. Manfred Winkelhock in the ATS D6 BMW. Winkelhock was a blossoming talent in the powerful german engined german car in the mid eighties and ran in the top ten comfortably in 83 Canadian Grand Prix, finishing a perhaps disappointing ninth considering he started seventh. Two years later at the other great Canadian circuit, Mosport Park, Winkelhock would be killed in a sports car accident.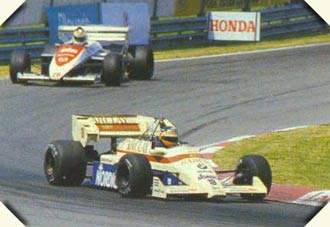 1984 Thierry Boutsen in the Arrows A7/02 BMW leads Johnny Cecotto (Toleman TG194/03 Hart) into the left hander between the pits and the Island Hairpin. Boutsen would lose his turbo just past half distance while Cecotto would finish 4 seconds behind his rising star teammate Ayrton Senna in 9th. Senna was fading late in the race and and collapsed of exhaustion when it ended.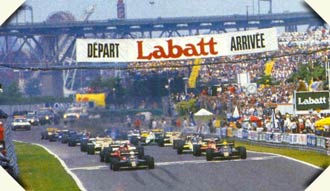 1985 Blast off! Already it was becoming rare for Elio de Angelis to outqualify his team mate Senna but here he did as the two Lotus 97T Renualts occupy the front row. The two Ferrari 156/85 of Michele Alboreto and Stefan Johansson form the second row ahead of Alan Prost's McLaren MP4/2B Porsche and Derek Warwick's Renault RE60. Further back in the white car Manfred Winkelhock (RAM 03 Hart) starts the jump around Gerhard Berger (Arrows A8 BMW). It would be Ferrari's day though as Alboreto collected a win in his ultimately fruitless chase of Alain Prost to the 1985 world crown. Johansson completed the 1-2 for Ferrari.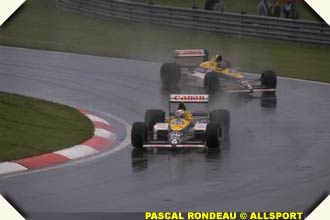 1989 Renault returns. Riccardo Patrese leads Williams FW12C Renault team mate Thierry Boutsen early in the gloomy and wet early stages. With three laps Ayrton Senna's Honda V10 engine failed leaving the two Williams well in the clear of Andrea de Cesaris Dallara to record Renault first win since returning to Formula One after a two year absense. For the Belgian Thierry Boutsen it was also a debut win. His promising career had started to falter in 1989 maybe this would rejuvenate it?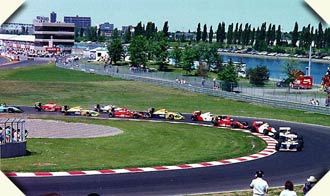 1991 Nigel Mansell and Riccardo Patrese in their Williams FW14 Renaults lead the way into the Island hairpin ahead of Ayrton Senna (McLaren MP4/6 Honda), Alain Prost (Ferrari 642), Gerhard Berger (McLaren MP4/6 Honda), Nelson Piquet (Benetton B191 Ford), Jean Alesi (Ferrari 642), Stefano Modena (Tyrrell 020 Honda), Roberto Moreno (Benetton B191 Ford), JJ Lehto (Dallara 191 Judd) and Ivan Capelli (March CG911 Ilmor). Mansell dominated the race but on the last lap while waving to the crowds his engine inexplicably died leaving him sixth and giving Piquet his 23rd and last Grand Prix win.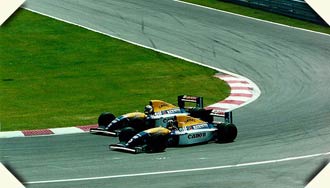 1993 Alain Prost (Williams FW15C Renault) slips underneath team mate Damon Hill at the Northern Hairpin. Hill had lead the opening laps of the race but this was the turning point of the race. From here Prost would draw away to win and Hill would slip backwards into the clutches of Michael Schumacher.
1994 Michael Schumacher (Benetton B194 Ford Cosworth) leads the two Ferrari 412T1's of Jean Alesi and Gerhard Berger into the first corner. Just behind are the Williams FW16 Reanults of Damon Hill and David Coulthard. 69 laps later those five cars would fill the first five places. Behind and to the left of Hill is Mika Hakkinen in the McLaren MP4/9 Peugeot and the Jordan 194 Harts of Rubens barrichello and Eddie Irvine. Schumacher chalked up another win this day over his year long rival Damon Hill. Alesi would beat Berger into third.
At long last. A near hysterically jubilant Jean Alesi return to the pits on the sidepod of Michael Schumacher's Benetton B195 Renault. In a country where the legacy of Gilles Villeneuve had left it full of Ferrari supporters, Jean Alesi finally scored his first and so far only Grand Prix victory. There wasn't a dry eye in the house, least of all Alesi's, except possibly Michael Schumacher and Damon Hill for whom gearbox and hydraulic failures robbed them of the win.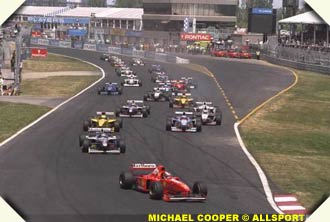 1997 Michael Schumacher (Ferrari F310B) leads Jacques Villeneuve (Williams FW19 Renault) into the first corner. Behind Villeneuve is the Jordan 197 Peugeot of Giancarlo Fisichella and on the inside is the Benetton B197 Renault of Jean Alesi closely followed by David Coulthard (McLaren MP4/12 Mercedes) and Rubens Barrichello (Stewart SF1 Ford) with Heinz-Harald Frentzen (Williams FW19 Renault) to the outside of them. Schumacher gradually went away in the race ahead of a snarling pack of Alesi, Fischella, Coulthard and Villeneuve in the early stages until the home hero spun out. The race was red flagged and the shattering crash of 1997's revelation, Olivier Panis. The frenchman broke both legs and was out for months, effectively ending the Prost's team renaissance.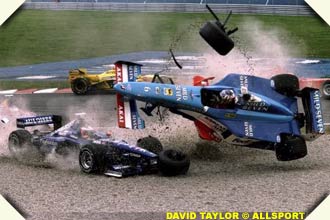 1998 Alexander Wurz (Benetton B198 Meccachrome) somersaults across the nose of Jarno Trulli's Prost AP01 Peugeot during the aborted first start in 1998. After the restart Wurz would chase his team mate Fisichella (second) and the two Ferrari's of Michael Schumacher (first) and Eddie Irvine (third) for fourth but Trulli would not be so fortunate. In the restart Trulli was an innocent victim again in another incident that also involved Eddie Irvine and Jeal Alesi after Ralf Schumacher spun at the first corner.