This week's Grapevine brings you
information fresh from the paddock on:

Safety on the Table Again
Webber Struggles On
Silly Season Update
Picked from the Bunch
Safety on the Table Again
Following Ricardo Zonta's second serious accident in testing, only a fortnight after Giancarlo Fisichella made his Benetton turn somersaults over a Jordan, there is mounting concern that driver safety, whilst catered to strongly under the public eye, is being neglected at the test tracks.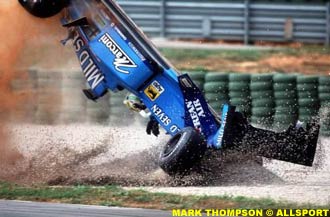 That it has always been this way is no excuse. New components need to be tested; once the aerodynamicists accepted the models, and the computers have crunched the numbers, the parts have to be manufacturered, fitted, then tested properly on a real car. The cars do travel upwards of 300km/h, and the components occasionally fail - this has always been so.
Changes to car designs have improved driver safety, and fatal injuries are considered remotely possible: both BAR drivers made impressive scrap heaps of their cars at Eau Rouge in Spa '99, and both walked away unharmed. Those crashes were due to a driver error, but could as easily have been the result of a failed component, which would have been no excuse for a more serious result.
However, life is not so simple. The safety tests do ensure the driver has a "safety capsule," but in the quest for performance, teams have to take every component to the edge of its capacity. For example, brakes are run as thin as possible - to last over 300 kms, and little more, right at the top of their operating temperature. Accordingly, it's little surprise that in testing, some detritus in the brake cooling duct soon has them overheating, and failing. In Zonta's case, failing at 300 km/h as he went into the Parabolica.
Some believe the modern car is too safe, and from the evidence on their screens, most TV viewers just can't understand it when commentators say the sport is never going to be completely safe. They see massive crashes, and drivers walking away. They rarely realise that drivers are risking life and limb at the races, and certainly, they are not aware that testing, rather than racing, is the biggest danger to the modern F1 driver.
Webber Struggles On
For the last three seasons, Australians have been looking to talented youngster Marc Webber for a return to proper representation in Formula One.
Webber has competed strongly in a number of series, earned the backing of Mercedes, and worked hard to establish his credentials as a top of the line driver. However, things are certainly not all going his way. Last year, Webber eschewed open seaters to concentrate on Le Mans: his goal was to drive the winning Mercedes over the line. As it transpired, the Mercedes was unstable at speed, and after two cars literally took off, they withdrew on safety grounds.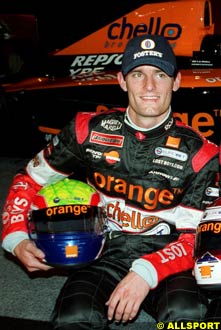 Until that point, Webber was adamant that he would only driver - test or otherwise - for a front line Formula One team. He had seen how often talented drivers struggled with back-markers, leading to an early departure from the sport, so it was imperative to gain a test seat with a team who would permit him to show just how good he really is.
However, the big boys are not simple slaves to money, so politics is a major obstacle. Despite working with Bernie Ecclestone in an attempt to open doors, nothing came together, though it was close a few times with Jordan, had he been willing to part with serious capital.
Finally, Webber approached Arrows, whose new car was supposed to be a thing of beauty. They arranged a test drive, and Webber was finally able to demonstrate not only that he is quick - running close to the pace of regular driver Pedro de la Rosa - but has technical acumen to boot. His feedback was instrumental in developing the car in the off season, whilst the "driver situation" was being sorted out. As it turns out, it also helped to seal a competitive drive in Formula 3000 for the season.
As rumours continue to spread of de la Rosa's defection from Arrows, the team are casting their eyes out for potential replacements to keep them harrying at least into the mid-field in 2001. However, at the same time, Webber's form is starting to look suspect, as he mixes less than perfect qualifying sessions with race mistakes. The Australian is still very fast - and certainly capable of making the top grade, but being pressured into falling off the Monaco circuit at the F3000 race last week, when running fourth, has done him no service.
Tom Walkinshaw at Arrows has an eye on Webber: he is quick, and he brings money from sponsors; however, with little room for mistakes on the glaring stage of Formula One, Webber now knows he is under serious scrutiny. Although the silly season has started, Arrows do not normally announce their drivers until near the new season. It's going to be a long haul, but the Arrows staff think he's got the stuff to make it in Formula One. If that's the case, being under the Walkinshaw spotlight will be as nothing, and his seat is assured in 2001.
Silly Season Update
Every year, particularly around this time of the season, speculation about the future of all the key players in the sport takes off. For the most part, the rumours are contradictory, unlikely, or just plain untrue, but all too often there are gems hidden amongst the dross that bear consideration.
Over the remainder of the year, the Grapevine will be keeping tabs on the latest hot gossip from the Silly Season, to keep you up to date on who is going where, and why, in 2001: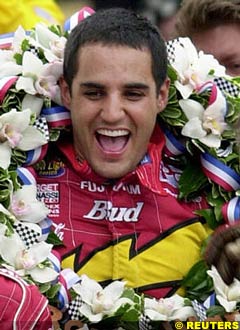 Jacques Villeneuve is believed to have negotiated a 15 million dollar per year contract with Renault - he is widely expected to join the team, if not next year, then for 2002.
Bruno Junquiera (Williams test driver and current F3000 championship leader) is likely to be a pawn in this year's games, as Williams manoeuvre to bring Juan Montoya to Formula One.
Jenson Button is expected to be displaced by Juan Montoya next year. There are rumours of his being placed at Jordan, Jaguar, BAR or Prost next year. Jordan have already denied signing Button, but they remain the favourite destination.
Pedro de la Rosa is expected to be on the move from Arrows - taking any competitive drive that is offered.
Alexander Wurz is not expected to survive this season at Benetton; however, Ricardo Zonta's lack of form is likely to provide Wurz a new home at BAR.
Mika Salo is rumoured to have signed a letter of intent to join Toyota and race with them for the years 2002 to 2005.
Alan Jenkins' departure from Prost is thought to have sparked interest from Toyota and Jordan, though "gardening leave" could interfere with any immediate announcements of his future.
Picked from the Bunch
Despite manager Franz Tost's assertions that Ralf Schumacher would not race unless 100% fit, the young German has privately admitted that he will take part if he thinks there is any way he can manage it. Schumacher believes the low downforce Williams will have all the best points scoring chances this year, and is hungry to capitalise.
Mark Blundell has rated Montoya as a 'Schumacher-beater', telling the British Daily Mail: "I raced against Ayrton Senna and Michael in F1, and considered them to be two incredibly gifted drivers. Now I've competed against Juan over here in CART, and it is my belief that he is one of those exceptional talents than only come along once in a while." He went on to praise the Colombian's ability in difficult circumstances, stating he has "the hallmark of a really good driver."
Alain Prost is staring an uncertain and uncompetitive future in the face, as he tries to establish a decent engine deal for 2001. Furthermore, with the departure of Alan Jenkins, he is admitting that this season is all but written off - despite Jean Alesi's assertions that the car took a big step forward at Monaco.

A few grapes collected by RaceFax:
Renault is said to be trying to break its contract to supplyProst with Supertec engines in 2001. The ink on the contract is barely dry. Also, Niki Lauda recently told MotorSport aktuel that Nick Heidfeld, "is sitting in the biggest shithouse in Formula 1."
Frank Williams is denying that he has already decided to replace Jenson Button with Juan Pablo Montoya next season. What Williams didn't say is that the negotiations with Chip Ganassi have either already begun or will within days.
Jordan could lose both drivers at the end of the year. Heinz-Harald Frentzen is rumored to be headed to any one of several teams. Jarno Trulli is still under a long-term option at Benetton, and Flavio Briatore looks increasingly likely to reclaim him, to replace Alexander Wurz. Combining that with another story making the rounds, even Giancarlo Fisichella may be in need of a new ride. On the Monday after Monaco, Jacques Villeneuve is said to have met on a yacht in the harbor with Briatore and Renault's Patrick Faure and Christian Contzen. Together, they supposedly hammered out a two-year contract worth some $20 million. For his part, Trulli is quoted as saying he can easily imagine having Villeneuve as a teammate next year. And he wasn't talking about Jordan....
Bernie Ecclestone will attempt to get the F1 team owners to meet for a discussion about the future of F1 rules, at Barcelona.
Michael Schumacher's premature departure from Monaco is said to have been due to a change in the torque characteristics of the engine intended to give more grunt off the slow corners there. The re-mapping introduced a vibration which is said to have shaken the exhaust to cracking, the resulting Challenger-like flame out the side having then melted the suspension.