This week's Grapevine brings you
information fresh from the paddock on:

Prost gambles on a future
Glamour puss
Silly Season
Picked from the Bunch
Prost gambles on a future
When Alain Prost's technical department appeared at his door in open revolt, they gave him an ultimatum - Alan Jenkins leaves, or they do.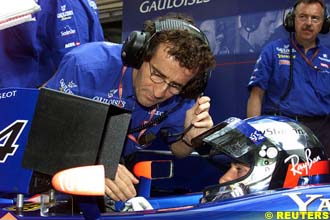 There is a lot of conjecture as to why the situation arose - and depending who you believe, it was because Jenkins was not French; or because he had no patience for French working practices; or because he said what he believed instead of being diplomatic; or just because the incumbent design team had a different idea for the car's concept. Whatever the cause, the situation put Prost into a very difficult situation: should he let Jenkins go, putting the men that have failed to produce a winning car back in charge, or should he call their bluff, and take the opportunity for a change of staff?

Sadly for Jenkins, it was not such a clear cut decision. Had it been so simple, all too many believe the Englishman would have continued in charge, with a significant reduction in trouble makers. However, this was never going to be a trivial affair.

Had the design core left, the factory would probably have gone on strike. The precedence in French industry is there aplenty, and Alain knew this. Furthermore, the Monaco Grand Prix weekend is one of the team's two biggest weekends for sponsorship: in particular, the Gauloises contract is up for renewal, and convincing them to remain on board when the team is lacking either design or production facilities - and having a poor season to boot - would be next to impossible.

In the end, the decision was made by sponsor requirements. Losing Jenkins was seen as the best option for keeping the team alive another season. All he needs now, is to find an engine for 2001, and a designer prepared to take on the task of building a car around it.

Glamour puss

It is often said that Formula One is a glamorous sport. It is little wonder to discover glamour models involved at some level; and less so to see them paraded at launch time, and on the paddock, particularly by teams who are looking to add a little something to an otherwise lacking package.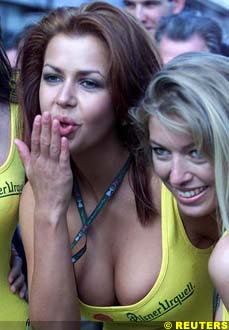 In recent years, the Jordan team has been at the forefront of exploiting [sic] glamour models in a quest to evolve their image as a front running, trend setting team, that stretches the appeal factor away from the starchy older generation who might follow Williams or McLaren, or the fervent tifosi that follow Ferrari. Indeed, the value of establishing the "younger generation" as a fan base has been extensively waved in the face of the establishment, as the team has generated significant revenue from a strong supporters club.
Recognising the team's appeal to an ever widening circle of fans, largely due to the unstinting efforts of the marketing department, Jordan's sponsor base has grown significantly over the last three or four years. In turn, this has presented the team with their first taste of the financial security that the "big four" have enjoyed over the last decade.
When Mike Gascoyne joined the team a year ago, one of his first moves was to ban the pit-babes from the pit-lane. As he put it, they had no place, providing more of a distraction than any benefit. In any case, he believed that Jordan had out-grown that image, and a more suitable, professional approach was required from top to bottom if the team was to progress in the Championship.
Finishing third in '99 has done nothing to dispel the notion that Jordan are a going places outfit, or that professionalism is the way forward. Or at least, so the outside world would believe. However, under the covers, things are slightly different. Gascoyne's departure is seen as something of a mixed blessing by the underlings who really make things happen... it's true the designer brought more professionalism to the team, at least in the procedures and ethos he brought with him. But this year, tails have not been as high as in '99, and it has not been as simple as the car performing less well.
The Jordan team is not Ferrari, McLaren or Williams. They do not pay their technicians, aerodynamicists or engineers as much. But they do promise that racing will be fun. Mike Gascoyne's departure spells the end of a very short era; but it is not the calamity it may seem. He brought vital knowledge, particularly of the "professionalism" expected of a front running team. And Jordan have learned.
But when he is gone, they will integrate that lesson... and the season long party will begin again.
Silly Season Update
Over the remainder of the year, the Grapevine will be keeping tabs on the latest hot gossip from the Silly Season, to keep you up to date on who is going where, and why, in 2001: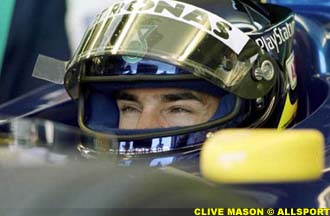 Pedro Diniz is expected to depart Sauber in disgrace, after an appalling start to his year. Minardi and a return to full pay-driver status appears to be on the cards, however.
Mika Salo and manager Mike Greasley have both refused to deny Salo could be running as test driver for Toyota in 2001, though Salo has stated he would prefer to be driving than testing.
Jacques Villeneuve continues to be linked with a Renault seat next year-though there is increasing momentum to rumours his move will be a year later than currently stated, but still for $23 million.
Jenson Button's place at Williams continues to look doubtful as Montoya's CART consistency is maintained. It's thought Williams has an ever more appealing buy-out clause to deprive Ganassi of a third year with the Colombian star.
Pedro de la Rosa could be in a Benetton next year, according to sources close to the Spaniard. It seems that Renault are uncertain of closing any deal with Villeneuve for 2001, and have approached de la Rosa as a top value-for-money alternative... new sponsor Telefonica are based in Spain.
Heinz-Harald Frentzen remains popular, as BAR (in addition to Jaguar) are expected to court his services. However, Jordan have also joined the fray proper, and are intent on retaining their German star for 2001.
Michael Schumacher has been linked with a drive at Renault in 2002 - alongside Ross Brawn and Jean Todt - to reunite the leading exponents of the '94 and '95 winning Benetton team. All parties utterly deny any involvement in such a deal.
Picked from the Bunch
Williams have applauded Ralf Schumacher's decision to race on, despite the pain his leg caused. Optimism for a points finish proved short-lived when practice showed their cars to be off the pace, but a strong performance from Schumacher showed potential in the race.
Jaguar posted record sales for the opening six months of the year, 80% up on sales to this point last year. Over 40,000 cars have been sold in 60 countries worldwide.
Jerez is looking for a return to the Formula One calendar - and more tests in the meanwhile. A $20 million expenditure on enhancing the track surface and replacing the pits are planned over the next year.
Rubens Barrichello was disappointed not to take pole in Canada. Red flags and traffic spoiled his attempts, but he is particularly encouraged for other low downforce circuits, including Monza and Hockenheim.

A few grapes collected by RaceFax:
McLaren is expected to announce one-year contract extensions for Mika Hakkinen and David Coulthard shortly.
At the upcoming FIA meeting in Warsaw (June 21st), president Max Mosley is expected to announce a redistribution of Formula 1 power, in favor of Bernie Ecclestone. In effect, Ecclestone would be brought 'in-house,' eliminating some of the monopoly charges revolving around Ecclestone's television contract with the FIA. Dave Richards, who recently bought the FIA Rally TV rights from Ecclestone, would get similar treatment. All of this would free Mosley to spend more time with his pet projects, road car safety and vehicle pollution. The new arrangement, if it happens, would foster Mosley's desire to make the FIA a public company.
Renault remains undecided about supplying a customer team when it returns formally to Formula One, but if it does, Arrows have a clause in their contract for Supertec engines which gives them first call on such a deal. Also, as part of ramping up, two sources have told us that the highly respected Jean-Jacques His has returned to the racing department from the passenger car division, where he has been for some time.
Auto, Motor und Sport claims that Sauber has offered Heinz-Harald Frentzen a ride for 2001, and would buy back the second year of Mika Salo's contract to make the car available.