Monaco, Formula One's most exciting and glamorous venue, has been run and won for 2000. As anyone who saw this year's running will confirm, it was the same quirky, wonderful race it has so often been in the past. For Formula One, there always seems to be magic at Monaco.
Monaco has genuine, if rather unusual character. It is a matter of record that in the past some very weird things have happened there. A couple of drivers have gone into the harbour. In 1982, a confused Riccardo Patrese won having led only the third from last and final lap. In the interval a handful of others drivers briefly held the lead, each in his turn throwing it away on the slick city streets.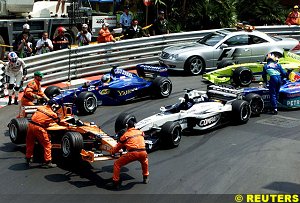 Monaco craziness sometimes reaches beyond the event itself. In 1984, Alain Prost was lucky to see the race called early due to pouring rain, just as his first place was about to be taken by a newcomer called Ayrton Senna. But Prost only got four and a half points for his shortened victory, rather than the six he would've received had he finished second behind Senna in a complete race. He lost the World Championship that year by just half a point...
Then in 1988, Senna made 'The Mistake'. He was so shocked at clouting the barrier at Portier while leading by light years, that he walked straight home from his car, presumably to ponder in isolation the vagaries of racing at Monaco. And who would imagine that Jim Clark could never contrive to win this race?
The traditional Monaco strangeness turned up again this year on cue. Alex Ribeiro crunched the front of the Mercedes medical car on the Swimming Pool Armco. Mika Hakkinen, the Immaculate Qualifier himself, started the race from grid position five on account of several drivers being unable to navigate Rascasse in qualifying. Jordan, who had been keeping a very low profile this season, put a car in position two on the grid.
On a race course as archaic as Monaco, who could have been surprised when the red flag came out on lap one because the computerized timing and scoring system died? Three cars started from the pits when the race finally got under way. Michael Schumacher then had the race in the bag within a lap and a half, but his Ferrari, bullet-proof through the first six races of 2000, sprung an exhaust leak, eventually burning up a suspension piece.
One of the more interesting aspects of the whole grand Monaco event is that, though today's cars are computer-controlled, 18,000 rpm, aerodynamic super machines put on the track at the cost of many tens of millions of dollars per team per year by larger-than-life personalities used to giving rather than taking orders, Formula One still has to accommodate itself to Monaco and not vice-versa. Monaco is always run on the first weekend following Ascension Thursday. Bernie Ecclestone, the FIA and the teams didn't complain about Easter being so late this year, they just turned up on the first weekend following Ascension Thursday as usual.
The mechanics and engineers still found ways to work elbow-to-elbow in pit facilities that would embarrass a kart race organizer. The cars once again went straight from the measly pit lane right into traffic. They still under-steered badly through Loews' simply because its radius is smaller than that of any circle that a modern Formula One car could hope to negotiate gracefully. The first three once more did not spray victory champagne from atop a lofty Valhalla, but rather from right out at street level. The picturesque but sparse acreage not taken up by streets or buildings didn't provide for any more paying customers than it has in the past.
It is as if Monaco keeps Formula One's head from getting too big to fit through the door. Though some other tracks on the calendar appear distinctly beneath the level of modern Formula One racing, tiny Monaco has a way of making the whole Grand Prix circus look like it's lucky just to be there. The Formula One powers may bully Silverstone and Spa, but they tread lightly when it comes to Prince Rainier's domain.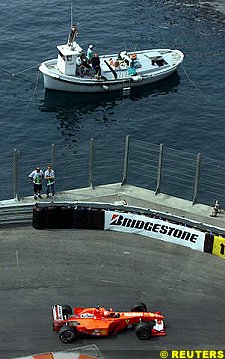 It should be noted, however, that a voice of dissent has been heard. Ron Dennis, Formula One's Mr. Efficiency has dared to question, with due reverence of course, whether it is time that Monaco move its race infrastructure into the twenty-first, or even the twentieth century. Dennis's observations were not well received, as subsequent comments by Bernie Ecclestone and Sir Frank Williams confirmed. Ecclestone and Williams know which side Formula One's bread is buttered on, and they were quick to let it be known that Monaco is OK as it is.
Ron Dennis may not be entirely wrong. Certainly there is some merit to making small changes in the interest of safety. One possibility might be the pit exit. Partly due to its inadequacy, Ralf Schumacher came away from the recent race with an unfortunate leg injury. But beyond things like this, Bernie and Sir Frank are correct. Monaco should stay as it is.
Why should it stay this way? Some observers claim that 'corporate Grand Prix' has replaced 'real Grand Prix', and that the latter with its traditional peculiarities is now a thing of the past. This is not the case at Monaco. Others complain that the sport is corrupted, or worry that it is headed that way, because it has gotten so big. Big technology. Big-time speed. Big ticket prices. Big bucks all around. It is true that modern Formula One is large indeed. But for as long as it can make itself fit Monaco, it will be just the right size.