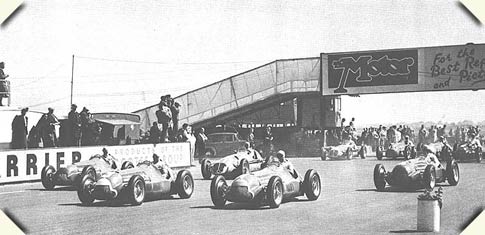 1950 And so it begins. The first World Championship Grand Prix, at Silverstone and the four factory Alfa Romeo 158s lead the way, with Luigi Fagioli getting the jump on Juan Manuel Fangio. Eventual race winner Giuseppe Farina fares less well as does Reg Parnell who's about to be passed by the fast staring Maserati 4CLT of Prince Bira while the Lago-Talbots crawl away.

The first of many. Argentine racer Jose Froilan Gonzalez acknowledges the chequer and wins the first of 128 for Scuderia Ferrari, thus beginning an association between Ferrari and fast motoring that has gone beyond the making and selling of cars, but into the world's collective psyche.

Pole man Stirling Moss leaps away in the Mercedes Benz W196 at Aintree and into history. Moss would win this day for Mercedes, not just wining his first Grand Prix, but also to be the first British driver to win at home. Juan Manuel Fangio also starts well while Jean Behra is slow away in the factory Maserati 250F. Behra would not last long and the cars behind of Karl Kling and Piero Taruffi would complete a 1-2-3-4 for Mercedes.

Mike Hawthorn in the Ferrari Dino 246 drifts through one of Silverstone sweepers. He would be second here this day behind his great friend and team mate Peter Collins. Hawthorn went on to be the first British World Champion that year. The tale of Collins and Hawthorn in 1958 was tragic one though, told in the excellent book Mon Ami Mate. Within 6 months of this photo-op both were dead.

Jim Clark in the Lotus 25 Climax sweeps through Copse at Siilverstone on his way to his fourth consecutive win. Clark was unstoppable in 1963 and at Silverstone this day Graham Hill's BRM would run out of fuel giving chase.








1965 The grid forms at Silverstone. The front row is already in place, Jim Clark on pole nearest the camera in the Lotus 33 Climax with Graham Hill (BRM P261), Richie Ginther (Honda RA272) and Jackie Stewart (BRM P261). Clark would win from Hill and Surtees (yet to take up his spot). The sole second row occupant at this stage, Mike Spence (Lotus 33 Climax) would be fourth ahead of Stewart. Ginther retired with electrical maladies.
Jean-Piere Beltoise in the Matra MS84 Cosworth. This was the first appearance of the MS84 intended to replace the MS80 in which Jackie Stewart was winning the World Championship.
The grand experiment. The Lotus 56B sits idle in the pits. This revolutionary car was powered by a Pratt & Whitney Gas Turbine engine and also had the power delivered to all four wheels. The car had shown some promise in the wet Dutch Grand Prix and it was Reine Wisell's turn to try it. 19th grid spot and 9 laps done at the finish was it's reward.
Jacky Ickx (Ferrari 312B2) leads Emmerson Fittipaldi (Lotus 72D Cosworth), Jean-Pierre Beltoise (BRM P160C), Peter Revson (McLaren M19A Cosworth), Jackie Stewart (Tyrrell 003 Cosworth), Tim Schenken (Surtees TS9B Cosworth) at Brands Hatch. A fierce battle between Fittipaldi and Stewart would dominate the race, with the Lotus winning the day.
Rain struck the 1975 race and a series of crashes brought out the red flag giving Emerson Fittipaldi his last Grand Prix win. When the rain hit only five cars finished that lap. Here in the fence is the Lotus 72E of Brian Henton, and behind is the abandoned Hesketh 308 of James Hunt. The two would be classified 16th and 4th respectively.
Home country heroes James Hunt (McLaren M26 Cosworth) and John Watson (Brabham BT45B Alfa Romeo) lead the Wolf WR2 of Jody Scheckter, Niki Lauda's Ferrari and the Lotus 78 pairing of Gunnar Nilsson and Mario Andretti down the Hangar Straight at Silverstone. Behind the second Brabham of Hans-Joachim Stuck can be seen a Canadian on his GP debut in a McLaren M23 by the name of Gilles Villeneuve.
First for Frank. The moment Williams started racing the FW07 it was clear they'd arrived. In the cars second race Alan Jones put it on the second row of the grid. From there on Jones and his Williams were a race threat. It would be team new boy, the veteran swiss Clay Regazzoni who would score Williams first win. At Silverstone 'Rega' won as he pleased.
Nigel Mansell in the 'twin-chassis' Lotus 88B in it's only Grand Prix appearance at Silverstone. Mansell failed to qualify and the car was subsequently banned. it was the beggining of the end for Lotus as Colin Chapman was already embroiled in De Lorean when this blow on engineering creativity was handed down by FISA.
The Japanese are coming! The testbed Spirit 201 powered by a Honda turbo-charged engine. Within two years Honda and Williams were wining races. By the third year a Constructors Championship, the fourth a Drivers Championship. All that is yet to come as Stefan Johansson punts the Spirit around Silverstone.
What a difference a year makes. In 1987 Nigel Mansell had put in one of the most electrifying drives ever seen as he hunted down Nelson Piquet in the dying laps and took him and the win. A year later Mansell's car was underpowered, unreliable and unlikely to produce results, but Mansell was second...
Riccardo Patrese's officially listed retirement is 'spun off'. It was a slight piece of understatement as Patrese and his Williams FW12C Renault fly airborne across one of Silverstone's sandtraps.
The victor and vanquished. Nigel Mansell after an emotional home win, picks up rival Ayrton Senna to give him a lift back to the pits on his Williams on the cool down lap. Senna had run out of fuel in the McLaren with a lap to go, destroying Senna's hopes of a podium finish. It was Mansell's day though, lifting as he does in front of his adoring home crowd.
Damon Hill had been the revelation of 1993. While not as quick as Prost, on his day he could certainly win, and Silverstone certainly looked like it. Luck had been against the second generation driver all year and an engine fire in his Williams FW15C Renault while in the lead robbed him of his first race win.
The British crowd got a British winner in 1995, just not the one they expected. After Michael Schumacher and Damon Hill took each other out and David Coulthard faded with problems, a consistent drive was rewarded, and F1's nice guy finally got reward; An emotional Johnny Herbert takes his first win, at his home race.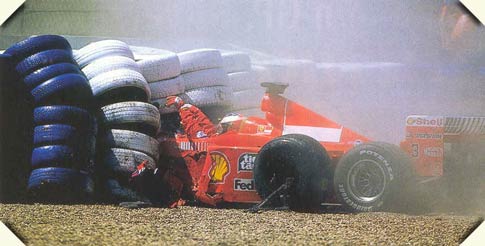 1999 This was to be the year. Michael Schumacher may not yet have had the measure of McLaren but he felt confident, until a momentary misunderstanding with teammate Eddie Irvine and Schumi flew off the track head on into the tyre barrier, his championship hopes shattered. The broken leg would take months to heal, his championship was over, but was Ferrari's?