The British Grand Prix saw McLaren come away with the sixteen points it went there for; Ferrari experiencing problems; and the revelation of Williams' pace - especially young Jenson Button.

The weekend was one that seemed to bring the best out of Heinz-Harald Frentzen too - as changing conditions always do. But like the hero of qualifying, Ferrari's Rubens Barrichello, Frentzen's Jordan Mugen-Honda also expired due to a shortage of fluid pressure.

David Coulthard was, without doubt, the star of Silverstone - timing his brave passing manoeuvre round the outside of a presumably ailing Barrichello perfectly and disappearing into the distance to score an emphatic back-to-back home victory.

Free Practice

While the race was run in almost ideal, sunny conditions, practice and qualifying happened in less than perfect weather, while Sunday's warm-up was delayed for hours after fog took most of the morning to lift.

So bad was it on Friday, that when David Coulthard stopped on the circuit and walked away in his socks in order to protect his race boots from the slime, the Land Rover that came to retrieve the McLaren-Mercedes bogged down in the mud. So the session was red flagged to allow a gang of other marshals to extricate their fellow and the McLaren...

Heinz-Harald Frentzen headed Rubens Barrichello early in Friday's first session when the weather followed typical Silverstone Easter conditions and the rain came down. And it never stopped. "Today we had perfect session," admitted Heinz-Harald. "Not only because we were fastest, but also because the very changeable weather meant we were able to run in lots of different conditions." But Eddie Irvine summed up the situation: "We learned absolutely nothing. It's impossible to tell where we are relative to everyone else."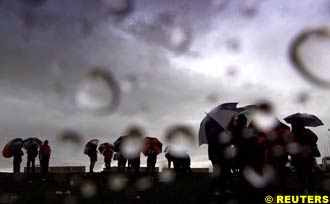 So when qualifying started after two more useless sessions, no one really had any idea of their ideal set-up and a drying track meant that the grid was going to be somewhat of a lottery.
Qualifying
Almost everyone had a chance at provisional pole as conditions improved by the minute. Initially it was the Arrows - Jos Verstappen setting the first benchmark at 1:34.8, before Pedro de la Rosa moved the target to 1:32.6.
Then Rubens Barrichello, Frentzen, Mika Hakkinen, Michael Schumacher, Hakkinen again (the first lap under 1:30), Coulthard, Jarno Trulli in the Jordan and Jacques Villeneuve in the BAR Honda all had their chance at pole - naturally the rest of the grid was impossible to keep track of as it changed almost by the second.
Barrichello then went quickest twice in successive laps before young Jenson Button thrilled the brave few Englishmen who conquered the mud to witness qualifying, moving into second ahead of Marc Gene's Minardi.
Coulthard went ahead again with 15 minutes to run, before Villeneuve - showing his true ability in the rare opportunity of conditions that bring the best out in a driver rather than the car - went ahead. Coulthard had another chance at No.1, before Michael Schumacher moved ahead. Hakkinen had none of it and was ahead again, before Villeneuve stole pole back again.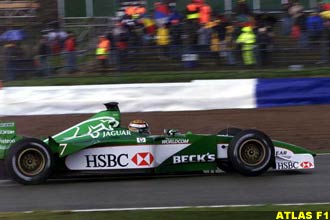 Eddie Irvine put some welcome light into Jaguar's otherwise dark maiden home GP, going ahead with a few minutes left, but Verstappen was quick to end his glory as the flag came out. Frentzen went fastest on his last lap, but Barrichello got it right - finding a gap and the right set-up to score a delighted pole position for Ferrari. "We timed the final laps just right," admitted Rubens. "The only thing to do was to keep concentrating and pray for no traffic. I will not be celebrating Brazil's 500th birthday tonight - I hope to give my country a better present tomorrow."
Frentzen hung on to second, "We never had the chance to test properly - getting a clear lap at the right moment was like flipping a coin," Heinz-Harald confirmed. "I was lucky - I think Lea [Heinz's new-born baby girl; M.L.] has brought me luck!"
Mika Hakkinen's last ditch pole effort couldn't deliver on its promise. "I wasn't completely happy with the car's behaviour during today's qualifying," he said. It was good enough for third though, ahead of Coulthard and Michael Schumacher who had gambled on a special set-up and lost. "We had changed the car but it did not pay off," he admitted.
Sixth, and continuing to confound all his numerous critics, but delighting his albeit sparse home crowd, was Britain's wonder-kid, Jenson Button - once again ahead of his highly-rated teammate Ralf Schumacher in seventh. "It's a great feeling to start my home race next to Michael Schumacher," admitted Jenson.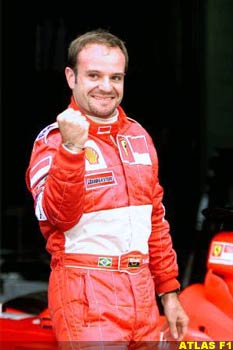 "I didn't quite expect to be sixth on the grid. And it's the British Grand Prix! The crowd was a little disappointing, but hopefully tomorrow we'll get a good crowd and I'll do my best to give them something to cheer about."
Jos Verstappen, Eddie Irvine and Jacques Villeneuve, who were each fastest just minutes earlier, had to be content with eighth, ninth and tenth respectively.
Trulli's Jordan was next from Fisichella's Benetton in the Sauber and Herbert in the other Jaguar. They were followed by Alesi, Zonta, Heidfeld, Salo, de la Rosa, Wurz, Gene and Mazzacane - the Minardis benefited least from the lottery of qualifying.
So not many people had the opportunity to find an ideal set-up, and with Sunday warm-up delayed until so soon before the race, there was no room for error. Mika Hakkinen, in particular, was not a happy camper - his race car showing symptoms of hydraulic trouble.
But that fog gave way to ideal conditions, and viewed from down the start straight the assembled grid was actually blurred by a heat haze! There was a possibility of rain - 40% they said, later in the afternoon, but none of that came about in the race to come.
The Race
When the lights went out, Rubens Barrichello cannoned off the line in perfect style to take command at the front. Frentzen, too, had a good getaway and consolidated his position, while Coulthard slotted into third as Hakkinen had an uncharacteristically tardy start. "I just lost grip while accelerating and found Michael on my left side," he later explained. "It left me with two choices: either to continue going flat out or to lift. I decided to continue - it was a bit unfortunate for Michael."
Michael got off the line well, though, but he went around the outside looking to get by the McLaren, getting onto the slippery grass and losing his advantage. "I took the option of going through the grass, but I found myself with the wheels spinning," Michael admitted later. The pair brushed against each other in the process, but Hakkinen stood his ground - powering into fourth.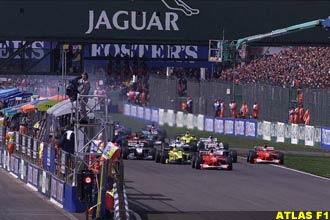 Schumacher, meanwhile, was forced to abstain, changing tactics and ducking around the back of Hakkinen, only to find his path to the inside blocked by Button and Villeneuve. That left him in the clutches of Ralf, who showed little remorse for his big brother's plight and fought his way past the Ferrari. "I did not want to crash with my brother," commented the elder Schumacher. "I found the right spot to pass Michael," Said the younger. The Williams appeared nimble and was quickly around Villeneuve too. "This was very good," said Ralf, "because I had to gain as much advantage as I could."
But the Ferrari couldn't take advantage of the BAR. Was the Ferrari heavier, perhaps?
So Barrichello led a train of Frentzen, Coulthard, Hakkinen, an impressive Button, Ralf, a gap opening to Villeneuve, Michael and Verstappen. The top six were in an entertaining bunch and it stayed much the same as they drew away from the BAR - except for a certain amount of the concertina effect. The fastest lap too was being traded between them, but the positions remained set.
Alex Wurz started the first-stop flurry on lap 14, but only the midfield and tail-enders stopped initially. Jos Verstappen slowed on lap 20 and toured around to the pits. Although Arrows certainly possess new-found pace in 2000, they have yet to shake off the rest of the back-marker mantle lurking in its organisation.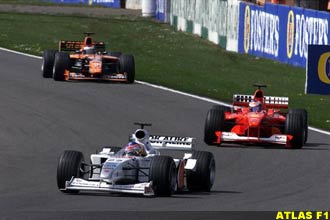 It was only on lap 24 that the lead train was broken up - when Frentzen and Ralf pitted, a lap before Button. This in-between timing of the pit stops kept most people guessing as to the teams' tactics - especially the Williams, which each took in over 10 seconds of fuel flow. Were they going all the way? Surely the stops were too soon, though?
Frentzen's obvious two-stop strategy gave him track position, albeit behind Barrichello, Coulthard and Hakkinen, and Villeneuve and Schumacher - by then some 20 seconds off the lead trio. But there was action looming up front.
David Coulthard was all over the back of Barrichello, when on lap 32, the Scot drew up behind his erstwhile F3 rival and passed him round the outside for the lead. It was an impressive move, and another rare F1 lead change on the track.
David responded with a cracking 1:27.9 the next lap - before calling in the pits for his only stop - a 10.2-second affair. Villeneuve also pitted that lap, allowing Michael Schumacher a clear track to let the Ferrari stretch its legs at last.
Significantly, Mika Hakkinen's stop a lap later was not the usual McLaren magic and the Finn rejoined behind Frentzen and the Williams duo. Frentzen was clearly on a two-stopper, but Williams' strategy was looking good - if those were its respective drivers' only stops.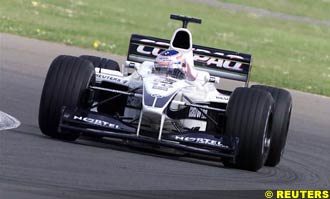 So Barrichello led Schumacher, both still to stop well after half distance. But Rubens was not going to have his day after all, the Ferrari spinning in a smoky, splashy pirouette as it lost hydraulic pressure. The hapless Barrichello eventually recovered to dive into the pits to disturb his unprepared team, only to retire.
"Five or six laps earlier I felt there was something wrong with the car. Then I had problems with the clutch and throttle," Rubens complained. "That's how Coulthard managed to pass me."
The Ferrari tactics for Barrichello will never be known, but Schumacher's 8.8 second stop on lap 38 indicated that Rubens may have been able to last until even lap 40 for a possible sub- 8 second stop after charging for the seven laps Coulthard was heavy and slow. Coulthard would have likely had to then catch and re-pass the Ferrari to win.
F1 tactic and strategy is such an interesting subject...
Michael Schumacher, amazingly, was in the lead, from Frentzen, Coulthard, Ralf, Button and Hakkinen. Michael made his stop, as mentioned, on lap 38, and Frentzen pitted from the lead on lap 42, to leave Coulthard ahead of Ralf, Button, Hakkinen, Michael and Frentzen.
But the Williams duo did stop again - button on lap 46 and Ralf a lap later. They had taken on a significant quantity of fuel in the middle stint, confusing the critics who had hoped they would go the distance.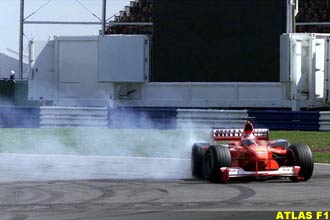 On lap 49, Coulthard led Hakkinen, Michael Schumacher, Frentzen, Ralf, Button, Jacques Villeneuve and Jarno Trulli putting in a late charge. But Trulli's Jordan teammate, Heinz-Harald Frentzen, had slowed and soon succumbed to Ralf Schumacher and Jenson Button before driving into his garage to retire on lap 56. "At least we know we can lead races," said Frentzen later. "And I think we will soon solve our reliability problems."
Hakkinen was charging - making the fastest lap of the race on lap 56 as he chased his teammate - as was Trulli, who passed Villeneuve on lap 56 before the BAR stopped in the pits a lap later.
So David Coulthard drove home to easily win an impressive race and finally start McLaren's 2000 charge properly. "It's a fantastic feeling to win in front of my home crowd for the second time in a row," said the ecstatic Scot. "I managed to overtake Rubens and that left me with quite some time to think about how it would feel to win. I'm pleased my challenge for the Championship has begun. Now I am really looking forward to the rest of the season." And Ron Dennis' wish for Britain came true too, Hakkinen ending second to steal back twelve points from Ferrari.
Michael Schumacher was relieved to be third behind Hakkinen - after a weekend both will probably rather want to forget. "I wasn't happy with the balance of the car in the race," admitted Mika. "So we made a minor change in my pit stop and I was able to go quicker. But we needed more than that."
Michael was philosophical. "I spent much of the race wondering if I was fighting for nothing. But if you don't give up you can always get somewhere. So I'm very happy to have finished third."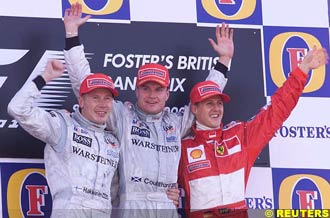 But the biggest surprise at Silverstone had to be the continually improving performance of the Williams team. In its fourth race, the team was in the points for the third time. "Williams and BMW have definitely done a very good job," said Ralf, while Jenson justifiably waxed lyrical: "I think the best moment for me was getting past Michael Schumacher on the first corner after the start. It was an amazing feeling racing in the top group, I was following Mika Hakkinen for so long and then leading him after the pit stop. And I think I also learnt something from it! I knew this circuit more than the others I have raced on so far and it's good for the team to have both Ralf and myself in the points."
But it was Frank Williams himself who best summed up his team's progress: "We are certainly much closer to the two currently dominating teams than we have been in the previous races. We have to now move forward."
Trulli came home sixth, from Fisichella, Salo, Wurz, Alesi and Diniz. Jaguar at least had both cars finish, Herbert twelfth and Irvine thirteenth from Gene and Mazzacane. Villeneuve and Frentzen were classified despite not finishing.
Was Williams expecting to be so strong in the race? Perhaps not, but it will have to move into tactical top gear if it wants to break into the big league. For an "all-new" team, BMW-Williams appear set to claw its way back to the top. And if any team knows how to operate there, Williams does.
Race Results

CLASSIFIED

Pos  Driver         Team                              
 1.  Coulthard      McLaren-Mercedes      1h 28:50.108
 2.  Hakkinen       McLaren-Mercedes        +    1.477
 3.  M.Schumacher   Ferrari                 +   19.917
 4.  R.Schumacher   Williams-BMW            +   41.312
 5.  Button         Williams-BMW            +   57.759
 6.  Trulli         Jordan-Mugen Honda      + 1:19.273
 7.  Fisichella     Benetton-Playlife       + 1 Lap   
 8.  Salo           Sauber-Petronas         + 1 Lap   
 9.  Wurz           Benetton-Playlife       + 1 Lap   
10.  Alesi          Prost-Peugeot           + 1 Lap   
11.  Diniz          Sauber-Petronas         + 1 Lap   
12.  Herbert        Jaguar-Cosworth         + 1 Lap   
13.  Irvine         Jaguar-Cosworth         + 1 Lap   
14.  Gene           Minardi-Fondmetal       + 1 Lap   
15.  Mazzacane      Minardi-Fondmetal       + 1 Lap   
16.  Villeneuve     BAR-Honda               + 4 Laps *
17.  Frentzen       Jordan-Mugen Honda      + 6 Laps *

Fastest Lap: M.Hakkinen, 1:26.217 (214.663 km/h), lap 56

NOT CLASSIFIED / RETIREMENTS                                
                                                            
     Heidfeld       Prost-Peugeot       51   oil pressure
     Zonta          BAR-Honda           36   spun off
     Barrichello    Ferrari             35   hydraulics
     de la Rosa     Arrows-Supertec     26   overheating
     Verstappen     Arrows-Supertec     20   engine electrics


WORLD CHAMPIONSHIP STANDING, ROUND 4              

Drivers:                     Constructors:             
 1.  M.Schumacher  34        1.  Ferrari             43
 2.  Coulthard     14        2.  McLaren             26
 3.  Hakkinen      12        3.  Williams-BMW        12
 4.  Barrichello    9        4.  Jordan-Mugen Honda   8
 =   R.Schumacher   9        =   Benetton-Playlife    8
 6.  Fisichella     8        6.  BAR-Honda            6
 7.  Villeneuve     5        7.  Sauber               1
 8.  Frentzen       4                                  
 =   Trulli         4                                  
10.  Button         3                                  
11.  Zonta          1                                  
 =   Salo           1                                  


Fastest Race Laps

Pos  Driver        Team                 Lap  Time             
 1.  Hakkinen      McLaren-Mercedes      56  1:26.217         
 2.  M.Schumacher  Ferrari               59  1:26.428  + 0.211
 3.  R.Schumacher  Williams-BMW          49  1:26.998  + 0.781
 4.  Coulthard     McLaren-Mercedes      31  1:27.093  + 0.876
 5.  Frentzen      Jordan-Mugen Honda    41  1:27.286  + 1.069
 6.  Barrichello   Ferrari               34  1:27.496  + 1.279
 7.  Button        Williams-BMW          44  1:27.631  + 1.414
 8.  Zonta         BAR-Honda             27  1:27.655  + 1.438
 9.  Trulli        Jordan-Mugen Honda    36  1:27.824  + 1.607
10.  Herbert       Jaguar-Cosworth       53  1:28.001  + 1.784
11.  Irvine        Jaguar-Cosworth       54  1:28.009  + 1.792
12 . Diniz         Sauber-Petronas       52  1:28.037  + 1.820
13.  Villeneuve    BAR-Honda             32  1:28.093  + 1.876
14.  Fisichella    Benetton-Playlife     32  1:28.116  + 1.899
15.  Salo          Sauber-Petronas       32  1:28.178  + 1.961
16.  Alesi         Prost-Peugeot         43  1:28.388  + 2.171
17.  Wurz          Benetton-Playlife     34  1:28.487  + 2.270
18.  Gene          Minardi-Fondmetal     39  1:28.557  + 2.340
19.  Mazzacane     Minardi-Fondmetal     54  1:28.665  + 2.448
20.  Heidfeld      Prost-Peugeot         41  1:28.803  + 2.586
21.  de la Rosa    Arrows-Supertec       25  1:28.867  + 2.650
22.  Verstappen    Arrows-Supertec       12  1:29.546  + 3.329


Pit-Stops Times

Pos  Driver        Team                Time    Lap
 1.  Alesi         Prost-Peugeot       31.397   44
 2.  R.Schumacher  Williams-BMW        31.616   47
 3.  Diniz         Sauber-Petronas     31.707   43
 4.  Diniz         Sauber-Petronas     32.036   26
 5.  Fisichella    Benetton-Playlife   32.155   18
 6.  Heidfeld      Prost-Peugeot       32.158   38
 7.  Mazzacane     Minardi-Fondmetal   32.164   42
 8.  M.Schumacher  Ferrari             32.342   38
 9.  Wurz          Benetton-Playlife   32.411   14
10.  Salo          Sauber-Petronas     32.682   15
11.  Gene          Minardi-Fondmetal   32.768   23
12.  Fisichella    Benetton-Playlife   32.800   39
13.  Frentzen      Jordan-Mugen Honda  32.809   24
14.  Button        Williams-BMW        32.850   46
15.  Frentzen      Jordan-Mugen Honda  33.104   42
16.  Irvine        Jaguar-Cosworth     33.253   26
17.  Gene          Minardi-Fondmetal   33.337   40
18.  Mazzacane     Minardi-Fondmetal   33.615   21
19.  Wurz          Benetton-Playlife   33.744   35
 =   Alesi         Prost-Peugeot       33.744   23
21.  R.Schumacher  Williams-BMW        33.817   24
22.  Salo          Sauber-Petronas     33.820   35
23.  Trulli        Jordan-Mugen Honda  34.672   37
24.  Heidfeld      Prost-Peugeot       34.821   24
25.  Button        Williams-BMW        35.114   25
26.  Coulthard     McLaren-Mercedes    35.175   33
27.  Herbert       Jaguar-Cosworth     35.902   27
28.  Villeneuve    BAR-Honda           36.000   33
29.  Hakkinen      McLaren-Mercedes    36.279   31
30.  Zonta         BAR-Honda           37.000   28
31.  Herbert       Jaguar-Cosworth     42.792   47
32.  de la Rosa    Arrows-Supertec     45.900   23
33.  Irvine        Jaguar-Cosworth     50.442   46


Sector Times and Speeds
Sector 1 (S/F Line - T1)
Sector 2 (T1 - T2)
Sector 3 (T2 - S/F Line)
Pos
Driver
Time
Speed
Pos
Driver
Time
Speed
Pos
Driver
Time
Speed
1
Hakkinen
27.911
302.24
1
R.Schumacher
36.251
245.60
1
Hakkinen
21.936
284.32
2
M.Schumacher
27.929
299.20
2
Hakkinen
36.296
246.56
2
M.Schumacher
21.992
283.36
3
Button
28.152
300.32
3
Coulthard
36.369
247.52
3
Coulthard
22.013
284.32
4
Frentzen
28.220
299.20
4
M.Schumacher
36.402
254.56
4
Button
22.034
283.36
5
Zonta
28.241
302.24
5
Button
36.429
245.60
5
R.Schumacher
22.052
284.32
6
R.Schumacher
28.257
301.28
6
Frentzen
36.575
238.56
6
Diniz
22.120
281.44
7
Coulthard
28.360
309.28
7
Barrichello
36.723
244.64
7
Frentzen
22.124
282.40
8
Fisichella
28.398
298.24
8
Zonta
36.770
247.52
8
Herbert
22.218
283.36
9
Diniz
28.398
300.32
9
Trulli
36.903
244.64
9
Mazzacane
22.256
275.36
10
Barrichello
28.421
302.24
10
Heidfeld
36.981
241.60
10
Salo
22.260
280.32
11
Irvine
28.428
295.36
11
Herbert
36.985
240.64
11
Barrichello
22.261
281.44
12
Trulli
28.439
297.28
12
Irvine
37.010
246.56
12
Heidfeld
22.294
281.44
13
Herbert
28.451
299.20
13
Salo
37.011
240.64
13
Zonta
22.309
285.28
14
Villeneuve
28.497
298.24
14
Fisichella
37.063
248.64
14
Alesi
22.342
280.32
15
de la Rosa
28.512
303.20
15
Villeneuve
37.082
239.68
15
Fisichella
22.365
279.36
16
Alesi
28.648
301.28
16
Diniz
37.092
233.60
16
Irvine
22.380
280.32
17
Wurz
28.723
297.28
17
Gene
37.125
242.56
17
Gene
22.395
275.36
18
Verstappen
28.736
302.24
18
Alesi
37.212
240.64
18
Wurz
22.429
280.32
19
Salo
28.744
300.32
19
Mazzacane
37.217
243.52
19
Villeneuve
22.434
282.40
20
Gene
28.832
292.32
20
Wurz
37.242
244.64
20
Trulli
22.438
281.44
21
Heidfeld
28.932
300.32
21
de la Rosa
37.377
239.68
21
de la Rosa
22.729
283.36
22
Mazzacane
29.001
293.28
22
Verstappen
37.734
242.56
22
Verstappen
22.821
283.36

The British Grand Prix, Lap by Lap (provided by RaceFax)
The Start: Barrichello and Frentzen each make a good start from the front row. Hakkinen gets away late and slowly from third, while Coulthard matches the front row for pace, pulling alongside Hakkinen, then slipping ahead into third.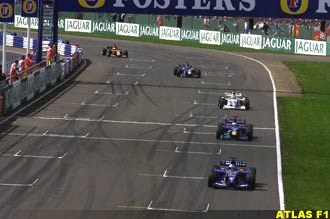 From fifth, Michael Schumacher makes a reasonable getaway, but is blocked by Hakkinen ahead and Button to his right. Schumacher ducks left, pulling alongside Hakkinen, but loses traction with his left side tires on the wet grass. Trying to regain the track, he makes sidewall-to-sidewall contact with Hakkinen, who gives him no ground. Schumacher lifts, settling for sixth, behind Button.
Villeneuve, from 10th, makes his second consecutive lightning start, going to the middle and splitting the slow-starting Verstappen, ahead, and the wheel-spinning Irvine, to his left. Running down the left side like M Schumacher, he also passes R Schumacher, then pulls even with the Ferrari going through Copse.
Out of Copse, it is Barrichello, Frentzen, Coulthard, Hakkinen, Button, Villeneuve/M Schumacher and R Schumacher. Villeneuve stays on the outside, drawing even with Button, while M Schumacher attempts the same thing on the other side.
At Maggotts, something has to give, and it is not Button. He dives for the apex, leaving Villeneuve a choice between lifting and a collision. Villeneuve lifts. So, too, does M Schumacher, who falls in behind Villeneuve through the Maggotts and Becketts sweeps.
Into Stowe at the end of Hangar Straight, Frentzen takes a look inside Barrichello, but isn't close enough to make a serious attempt. Farther back, M Schumacher makes a more realistic move on Villeneuve, who leaves him room on the inside of Stowe, remains ahead through the following left-hand bend into Vale.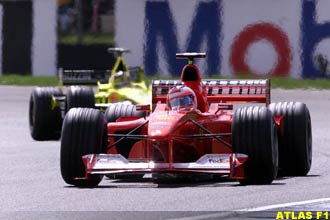 The Schumachers engage in their own private war, Ralf pulling inside Michael into Club, and going ahead on the exit to the following straight. At Abbey, the two are side by side again, and they stay that way on the run over the brow to Bridge, where Michael finally yields. Across the line, the order is Barrichello, Frentzen, Coulthard, Hakkinen, Button, Villeneuve, R Schumacher, M Schumacher, Verstappen and, thanks to a very good start and Irvine's wheelspin, Trulli in 10th.
Lap 2: Through the Maggots/Becketts/Chapel sweeps, Villeneuve is fighting oversteer, and onto the long Hangar Straight, Ralf tucks right under the rear wing of the BAR. Villeneuve runs down the wrong side of the track to block, then sweeps back to his left to line up the entry to Stowe. Ralf stays on the inside, neatly out-braking Villeneuve for sixth.
Villeneuve has already lost touch with Button, but R Schumacher quickly closes the gap to his teammate, while his brother closes on Villeneuve. It is already apparent that Villeneuve, despite the new Honda engine, cannot maintain anything like the pace of the lead group. At the end of the lap, the first six are covered by 3.5 seconds, with Villeneuve 1.7 seconds behind Ralf, and closely followed by Michael and Verstappen.
Laps 3 - 23: There are no changes of position among the top 10 until Verstappen drops out on lap 20, and the two-stoppers begin calling at their pits on lap 24. At lap 10, the first six are still covered by less than four seconds, with Villeneuve 10 seconds behind. At lap 20, the only change is that the gap between Ralf and Villeneuve has continued to grow at a consistent one second per lap. Michael makes no serious attempt to do to Villeneuve what his brother had done on lap two, i.e., pass him.
Laps 24 - 25: The strategy begins to unfold. Jordan and Williams have elected to pit their drivers twice, despite the length of pit road and the high speed on the track opposite pit-in, the pits proper and pit-out. Inexplicably, given the two-stop strategies, both teams have sent their drivers into the race with enough fuel to essentially do half the race, Williams bringing R Schumacher in from sixth, and Jordan calling Frentzen onto pit road from second, both on lap 24 of 60. By way of comparison, others planning two stops had begun coming in on lap 14.
Frentzen rejoins in seventh, behind M Schumacher, and Ralf falls in behind Frentzen. Button's stop comes just one lap later, and it is a long one. He rejoins in eighth, losing a position to his teammate.
Lap 31: Barrichello is in trouble, his clutch and throttle acting up. He misses an up-shift coming onto Hangar Straight, and Coulthard seizes the moment. Losing ground all the way down the straight, Barrichello takes a shallow, defensive line into Stowe, but Coulthard simply drives around him on the outside to take the lead. At the end of the lap, Hakkinen is the first of the one-stoppers in the lead queue to pit, and despite the greater fuel requirement, he spends just one second more on pit road than Button, and only loses either side of three seconds to Frentzen and R Schumacher. Nonetheless, he rejoins behind Button.
Lap 33: Coulthard and Villeneuve make their only pit visits, Coulthard gaining a second on Hakkinen, and Villeneuve splitting the difference. Coulthard returns in fourth, behind Barrichello, M Schumacher and Frentzen, and ahead of R Schumacher, Button and Villeneuve.
Lap 35: Going through Luffield at the end of the lap, Barrichello loses the back end, the car executing a half spin. Before it can come to a rest, he drops the hammer, smoking the back tires through a reverse half spin. Barrichello misjudges the reverse spin, which leaves him pointed at the infield, and he has no alternative but to splash through the very wet grass. He then elects to make his pit stop, as the pit entrance lane is immediately in front of him.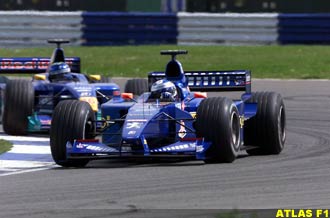 Barrichello is unexpected, but the crew reacts quickly and is ready when he stops. Fuel, tires, big engine noise, but no forward movement. Barrichello has no drive, and his car is pushed into the garage. He later says that the engine all but died entering Luffield, triggering the spin, and that hydraulic problems cost him the clutch in the pits. The team confirms the hydraulic problems.
Lap 36: Barrichello's departure leaves M Schumacher in the lead, followed by Frentzen, Coulthard, R Schumacher, Button and Hakkinen.
Lap 38: M Schumacher pits, and his is the quickest stop among the leaders. Having gained over three seconds on Villeneuve in the pits, plus the time gained with a clear track after Villeneuve pitted, Schumacher lies sixth, and Villeneuve a distant seventh.
Lap 40: Frentzen leads Coulthard by 1.5 seconds, with R Schumacher third (- 4.5s), Button fourth (- 1.8s), Hakkinen fifth (- 2.1s) and M Schumacher sixth (- 11.9s). Villeneuve trails Michael by 17 seconds. Frentzen and Ralf, however, have another stop to make.
Lap 42: Eighteen laps after his first stop, and 18 laps from the finish, Frentzen pits from the lead. Despite needing roughly half as much fuel, his stop is actually longer than the first. He returns in sixth, behind Michael. Coulthard leads.
Lap 46: Button makes his second stop, coming in from third and returning in sixth, behind Frentzen.
Lap 47: Ralf Schumacher pits from second, and while his stop is a couple of seconds quicker than the first, he regains the track in fifth, ahead of Button and behind Frentzen. Coulthard leads, from Hakkinen, M Schumacher, Frentzen and the rest.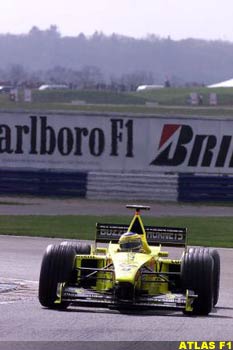 Lap 54: Frentzen's transmission sticks in sixth gear, and after a couple of slow laps, he retires in the pits on this lap.
Lap 56: Villeneuve, struggling to hold off Trulli, also has shifting problems due to the hydraulic system. After a couple of laps characterized by violent twitches and brake smoke, he pits to retire.
Closing Laps: Coulthard has also been having transmission problems, and as the finish approaches, he slows to conserve the equipment. Hakkinen closes, having set the fastest race lap on lap 56, but Coulthard has maintained sufficient pace to win his second consecutive British Grand Prix. Hakkinen comes home second, with M Schumacher third, ahead of his brother, Button and Trulli. No less than 17 drivers are classified at the finish, including Frentzen and Villeneuve, who have retired. There has been just one lead change on the track, the result of Barrichello's mechanical problems.

The Results - Team by Team (provided by Reuters)
MCLAREN:
David Coulthard - Superb overtaking manoeuvre on Barrichello at Stowe corner helped him record his second successive victory at Silverstone. "It means a great deal to win it," said Coulthard.
Mika Hakkinen - Lost grip at the start and struggled with the balance of his McLaren. Kept his cool and secured a fine runners-up spot with a one-stop strategy. "I was not happy with the balance of the car," said Hakkinen.
FERRARI:
Michael Schumacher - Blocked by Hakkinen at the first corner but recovered to grab the final podium spot. Maintained his impressive lead in the title race. "I am happy to have finished third," said Schumacher. "Thanks to a good car I was able to catch the others."
Rubens Barrichello - Hydraulic failure cost him a possible victory as he went off at Luffield on lap 35. Lost engine and clutch and immediately retired to the pit-garage. "I was in control of the race, but the clutch and hydraulics just went."
JORDAN:
Jarno Trulli - Took his Jordan to a points-scoring finish after passing Jacques Villeneuve in the closing stages.
Heinz-Harald Frentzen - Heading for a podium finish until he had gearbox problems. "It was the same problem I had at Imola," said Frentzen. "It was stuck in sixth gear, but it would have been difficult to catch the McLarens anyway."
JAGUAR:
Johnny Herbert - Bad start and suffered clutch problems before stalling his car in the pits. Could not find enough speed to improve on 12th place. "We need to work hard at sorting out our clutch problems," said Herbert.
Eddie Irvine - Engine cut-out on second pit-stop costing him valuable time as Jaguar's nightmare run continued and he finished 13th. "I'm very disappointed," said Irvine. "I had another clutch problem and we must solve it."
WILLIAMS:
Ralf Schumacher - Battled with his brother on the opening lap but lost vital seconds after a problem with his right rear tyre on his first pit-stop. Still managed to finish fourth. "I enjoyed the battle with Michael and this is a great result," said Schumacher.
Jenson Button - Gained his highest finish to date with another mature drive to come home fifth. Suffered an exhaust problem late on but enjoyed his first home race. "The crowd were amazing and I'm naturally delighted to get more points," said Button.
BENETTON:
Giancarlo Fisichella - Damaged the nose of his Benetton early on but pushed hard to earn a commendable seventh place. "I thought the damage to the car would be a big problem, but it wasn't," he said.
Alexander Wurz - Had a great start as he passed five drivers in the opening few laps. Got stuck behind Salo and was unable to improve his ninth place position with less power than the Finn.
PROST:
Jean Alesi - Happy to finish 10th and enjoyed a consistent run throughout the race with a car struggling to perform. "We are moving in the right direction," said the Frenchman.
Nick Heidfeld - Made a good start but got stuck in early traffic. Was forced out with engine failure and oil pressure problems on lap 52. "There is still a lot to improve on the car," said Heidfeld.
SAUBER:
Mika Salo - Held off the challenge of Austrian Wurz to give Sauber a strong eighth place but suffered from understeer in the final stages. "When you start from 18th on the grid you need to do a lot in the first lap, and I didn't," said Salo.
Pedro Diniz (Sauber) - Had a poor start and was never in contention as he finished 11th. Made the wrong tyre choice and paid for the decision.
ARROWS:
Pedro de la Rosa - Left the track at the old pit entrance as the Spaniard made an early exit on lap 27. "It is disappointing because I felt I could have finished well," said the Spaniard.
Jos Verstappen - Wheeled into garage after he stopped in pits on lap 23. "The car felt great in the morning, but an electrical problem ended my race."
MINARDI:
Marc Gene - Judged his pit-stops well to move above Heidfeld and secure a reasonable 14th place finish. Lack of power a major problem.
Gaston Mazzacane - Third consecutive finish but was hampered by a lack of power. Overcame illness but did not make any mistakes. "I am quite pleased to finish my third consecutive race," said Mazzacane.
BRITISH AMERICAN RACING:
Jacques Villeneuve - Consistently in the top six throughout until he suffered a mechanical problem. Showed his disappointment by tossing his steering wheel away as he left the cockpit. "I was unhappy because we threw away a point today," said Villeneuve.
Ricardo Zonta - Spun out into the gravel on lap 37 and was unable to continue after stalling his car. "It was my mistake and I'm just sorry for everybody on the team," said Zonta.