This week's Grapevine brings you
information fresh from the paddock on:

Renault return to the fray
Moral Dilemma - to bet, or not to bet?
Picked from the Bunch
Renault return to the fray
Fifteen wins, 31 poles, and second in the 1983 Championship by 10 points with Prost - Renault's first attempt at the Constructors' championship was certainly nothing to be sniffed at. And now, they are coming back to finish the job.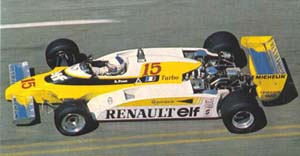 In the '90s, Renault provided the most dominant engine in Formula One, before leaving the sport with the claim they had achieved all they could possible hope to. They were right, too, at least as an engine manufacturer, as there was nowhere to go but down from there. The unit lived on in the form of Mecachrome/Supertec/Playlife, which has seen Williams struggle to fifth in 1999, whilst Benetton fell right off the pace.
A number of teams have been looking to attract the attention of Renault on their much anticipated return to the sport. Benetton have openly courted an engine deal, with Arrows and Prost also working hard to prove their worthiness. Furthermore, since BAR's new contender showed itself a considerably improved car in 2000 pre-season testing, even Jordan have been rumoured to be interested in the French giant.
Returning as an engine manufacturer was always going to be a difficult option for Renault. Their history means they would have to gain a definite competitive advantage in order to return anywhere near the level they left, but falling short was never going to be any good. Their impressive research facilities - which considered a huge number of possibilities, including air cooled V6, hybrid V8 and V12 packages, in addition to a number of V10 options - have repeatedly hit dead ends. Every approach which looked promising was blocked by the FIA; fixing the cylinder count at 10, fixing the specific gravity of the construction material, and so on, has stymied numerous research avenues.
The benefits of being in Formula One - or rather, winning in F1 - are not lost on Renault. Their market exposure, and ultimately sales, picked up strongly as a direct result of winning with Benetton and Williams. Finding an appropriate avenue to bring back the winning images in F1, will also bring back the big sales.
Prost were expecting Renault to come to them, delivering the "all French" national team, and certainly that had appeal, particularly as it provided an opportunity to show they could achieve something Peugeot failed to do with the team. Arrows had hoped their much improved showing would swing things their way, and Jordan promised the same opportunity Williams offered the last time Renault brought an engine to the sport. However, there was another option...
Benetton have been looking at the diminishing returns on their Formula One investment with some consternation. Since Schumacher's departure, the teams' backward progress has led to advertising advantages disintegrating, and without a competitive engine deal, it seemed unlikely to reverse. Selling out to Renault provides both parties with a considerable return on their investments; Benetton keep their sponsorship of the car for two years, which suits them as it can only get more competitive with a works engine, and Renault have a new route to Formula One, based on an established relationship - better still, they get to make "new team" mistakes under the Benetton banner, rather than just their own.
Moral Dilemma:
To Bet, or not to Bet?
With the news that Eddie Irvine collected significant winnings from betting on the Australian Grand Prix - having placed £1000 on Schumacher to win, and another on Barrichello each way - there has been a fair bit of consternation expressed by Formula One fans: the ethicacy of drivers betting on the results of races they participate in has been brought up in no uncertain terms.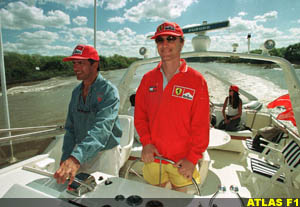 The issues here are not trivial. At the end of the day, Irvine's bet was all harmless fun from his viewpoint - he believed McLaren are fragile, so it was a good bet there would be a Ferrari on the top step of the podium. However, from the contrasting view of many concerned F1 fans who have written in, the bet represents a clear conflict of interests.
In terms of the Monopoly money drivers are paid to represent their teams, Irvine's bet was nothing. It would certainly not have even crossed his mind as he strove to win the race... that would be worth considerably more. It's not so simple, however: there is a grey area, and drivers betting on themselves can only highlight its existence.
What if Hakkinen was coming round to lap Irvine, with Schumacher a few seconds behind? Suppose it took the Finn twice as long to pass, allowing Schumacher to close up... then pass in the pitstops? There would have been some questions then, that's for sure!
Irvine is a naturally contrary character, and often speaks his piece where others would rather he kept out; however, there has never been any hint of cheating or using his position to influence the outcome of a race, except where his contract at Ferrari demanded he gave way to Schumacher - and nor is it ever likely to happen.
Drivers are often asked their opinions ahead of races, and in some senses it makes a refreshing change to have someone put his money where his mouth is; however, it would probably be a good idea for the GPDA and FIA to consider guidelines for drivers and team members betting on races, before someone, somewhere, justified or not, cries foul.
Picked from the Bunch
The new surface at Interlagos is expected to surprise teams and drivers this weekend. Having been resurfaced at a cost of some $3 million by the company which handle Silverstone and Sepang, the track is in mint condition, displaying only the bumps nature intended - the hills it is set on.
Renaults takeover of Benetton leaves Arrows set to return to their own unit in 2002: with their new sponsorship packages, they have the development capacity to get the unit up to speed for then. They are expected to continue using Supertec for 2001.
Arrows investment in infrastructure is showing, as they managed to repair Pedro de la Rosa's damaged monocoque in eight days: photographs of the damage were emailed back to base in order to plan the repairs in advance of the chassis' arrival.
Ilmor and Mercedes are confident they have identified and resolved the problem which led to both McLarens retiring in Melbourne: they believe welds near an air inlet damaged the filter, allowing fine dust into the workings.
Montoya has come on record saying he is not on loan to Ganassi - although his contract is up at the end of the year, he says he is not committed to going to Williams.
Renault believe that advertising on their car will bring in sufficient funds, that it will cost them less to run a full team than it did to operate as an engine constructor.