Race Lap Record: Jacques Villeneuve 1:18.397 (Williams, 1997)
Qualifying Lap Record: Nigel Mansell 1:17.703 (Williams, 1992)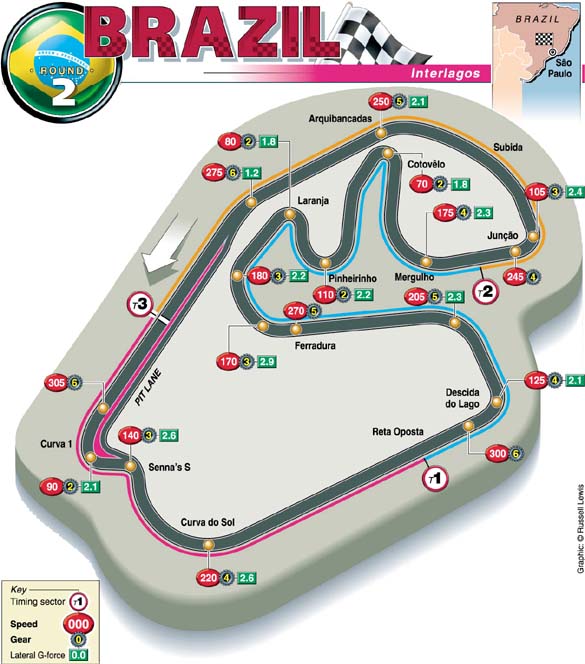 If you want to read the driving instruction while looking at the map, Click here to open the map in a separate window
A Lap of Interlagos, with Alexander Wurz
"I start a lap accelerating up to a maximum speed of over 300km/h on the way to the first corner which is quite a tricky downhill left-hand 2nd gear corner which I take at about 95km/h.
"The circuit drops down sharply which makes braking very difficult for this turn. Straight after this it leads into a right-hand corner, I am still in 2nd gear but then I accelerate up into 3rd gear, it is almost flat but very difficult. There is then a long left-hand corner that leads on to the back straight where I go over 300km/h before braking very hard into the next left-hand corner. This is a medium speed corner taken in 3rd gear at around 135km/h from here I accelerate along a short straight reaching 5th gear and a speed of about 280km/h before going into a very difficult fast right-hand 4th gear corner which has a double apex and is taken at about 180km/h.
"Next I have to brake into a very slow corner which is taken in 1st gear at under 80km/h, this is immediately followed by a slow left-hand corner, still taken in 1st gear at around 95km/h. A very short straight then leads into the slowest corner of the circuit again back into 1st gear and this time right down to 70 km/h.
"I take the next left-hand corner almost flat in qualifying at around 200km/h in 4th gear with just a slight lifting of the throttle before braking hard again for what is probably the most important corner in the lap the final corner leading on to the straight which is taken in 2nd gear at just over 100 km/h. I have to get a clean exit from this corner is very important to start the uphill climb to the finish line to end the lap."
Brazil - Trivia Notes
This will be the 28th Brazilian Grand Prix and the 18th at Interlagos. The country, of course, has a rich history in Grand Prix racing, with 20 drivers scoring in the World Championship since it began, 12 of whom scored World Championship points. Of those, four were winners: Carlos Pace (who won his home Grand Prix in 1975 and after whom the Interlagos circuit is now named), Emerson Fittipaldi, Nelson Piquet and Ayrton Senna. All except Pace, who died in an air crash in 1977, were multiple World Champions and all of them won their home Grand Prix twice at some stage in their careers. Fittipaldi, of course, was also the youngest World Champion of all time at 25.
McLaren have won more Brazilian Grands Prix than anyone else, with nine victories to Williams and Ferrari on five, although the latter have not won in Brazil since 1990. Benetton, of the current teams, are fourth on two wins, while Renault and Brabham were also two-time winners. Williams have had two 1-2 finishes in Brazil, while Ligier and McLaren have had one each, the latter in 1998.
Alain Prost is by far the most successful driver in Brazil with six wins, but he only started once from pole, although on that occasion he also set fastest lap. Carlos Reutemann is the second most successful driver in Brazil with three wins, two of them flag to flag. Fittipaldi, Hakkinen, Schumacher, Senna, Piquet and Mansell all won the Brazilian Grand Prix twice. Of these, Fittipaldi and Prost went on to become Constructors, and their cars also claimed their first rostrum places of their new careers in Brazil, the Fittipaldi finishing second in 1978 and a Prost third in 1997. Michelin had their first win in 1978 in Brazil - a statistic to watch out for next year perhaps.
Hakkinen's two wins have been particularly dominant, with pole and fastest lap thrown in as well, and the first one, in 1998, was also flag to flag. So was Jacques Laffite's win in 1979, while Damon Hill's win in 1996 also included pole position and fastest lap. Not so happy was his second place in 1994 when Schumacher beat him by more than a lap, the greatest winning margin in Brazil. Another driver with unhappy memories of Brazil was 1982 World Champion Keke Rosberg, who was twice disqualified from second place in Brazil, in 1982 and 1983.
The Grand Prix has been stopped three times, the first in 1974 after 32 of the 40 laps had been completed before rain stopped play. In 1981, the race ran to two hours because of rain and was stopped a lap short of the intended 63 laps. And in 1997, the race was stopped at the end of the first lap because of an accident and was then restarted.
Several of this year's drivers have very impressive records in the Brazilian Grand Prix. Michael Schumacher, for instance, has never qualified lower than fifth, and never finished lower than fifth nor retired in eight races. Mika Hakkinen has only retired once in his eight races, but has finished fourth three times, and outside the points twice, in his Lotus days.
Jean Alesi's gearbox-induced retirement last year brought to an end a string of nine finishes, only three of which were out of the points, while Eddie Irvine finished in the points for the first time in Brazil last year, although he had finished the previous three races. David Coulthard has qualified twice and finished twice in Brazil.
Three years ago, there were 18 classified finishers in the race, 11 two years ago, and only nine last year, so perhaps the trend is for fewer and fewer finishers?

Records of leading drivers in Australia

                      99   98   97   96   95   94   93   92
  Mika Hakkinen        1    1    4    4    4    R    -   10
  David Coulthard      R    2   10    R    2    -    -    -
  Michael Schumacher   2    3    5    3    1    1    3    3
  Rubens Barrichello   R    R    R    R    R    4    R    -
  H-H Frentzen         3    5    9    R    R    R    -    -
  Jarno Trulli         R    R   12    -    -    -    -    -
  Eddie Irvine         5    8   16    7    R    R    -    -
  Johnny Herbert       R   11    7    R    R    7    4    R

R=retired