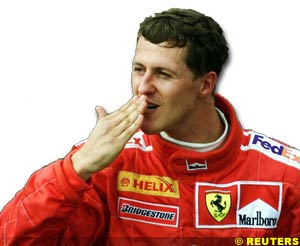 The 2000 F1 season did not take long to run into the type of controversy that characterised the sport at the end of last year. And all it needed for that was a trip to the Latin temperament of Brazil...

In essence, Ferrari dominated Sunday's race, mainly as a result of brilliant tactics the team promised in the build-up to the event, and more so because of McLaren's reliability. In the end, however, it was McLaren's disqualification that stole the limelight and it's interesting to note that, contrary to McLaren's behaviour after Malaysia last year, now that the shoe is on the other foot, the Italian team has not uttered a word about its rival's plight...

But Michael Schumacher and Ferrari were amazing at Interlagos on Sunday. They have taken an iron grip on the title at a decisively early stage. McLaren have only three failures and a disqualification from second to show for their much-heralded efforts, while Ferrari hold two wins and a second, with a single failure against it.

As for the rest, Benetton appears to have overcome the woes of the past year, Giancarlo Fisichella not only being the best of the rest qualifier, but ending up second after Coulthard's disqualification. Renault is now once again fully involved and its team have surprised many by taking charge of the so-called F1 second division.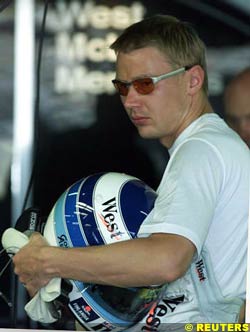 That second division has grown immensely - last year the domain of Jordan and Jaguar (nee Stewart) - today it is being contested by Benetton again, along with Arrows, Prost, Williams and BAR. From fifth to fifteenth on the grid there was but one-second difference, while the racing among them was both entertaining and fraught. Even Minardi can be considered second division this year - so it is apparent that there are no consistent F1 tail-end-Charlies any more.
That much was evident midway through Friday's first open practice session, when an Arrows led a Minardi for a while!
Free Practice
Status quo was soon returned up front with McLaren and Ferrari fighting for top spot. The local crowd was satisfied in the end, homeboy Rubens Barrichello heading the session from Hakkinen, Coulthard and Michael Schumacher experiencing a few gremlins in fourth.
There was also satisfaction among the drivers about the Sao Paulo circuit's new surface - an improvement, which would also manifest itself through lap times throughout the weekend.
There were a few surprises behind - Jacques Villeneuve, Jean Alesi and Fisichella surprising in the BAR-Honda, Prost Peugeot and Benetton respectively. Heinz Harald Frentzen, Mika Salo and Jos Verstappen rounded off the top ten.
By Friday afternoon, Hakkinen and Schumacher were below the '99 pole in a scrabble for the top spot between the McLaren and Ferrari men.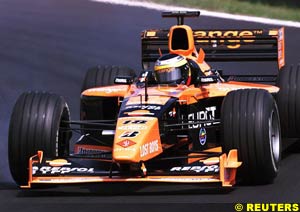 But fifth was another shock, as Pedro de la Rosa, who had missed the entire first session, shot up to fifth in the Arrows from Alesi's Prost and the second Arrows of Verstappen. Despite our constant assurances of Arrows' pace in pre-season reports, no one expected much from a team often regarded as also-rans...
Trulli's Jordan, Villeneuve and Fisichella closed the top ten.
Saturday's free practice was under darkening skies, with rain threatening throughout. Barrichello kept the home fires burning, fastest again in the first session, but his teammate had more trouble, forcing a precautionary engine change between sessions and missing a fair part of both.
The German was back in time for another showdown between the big four, with each taking a few seconds glory before another stole it. Mika ended quickest from Rubens, David and Michael and setting up a fine pole position shootout later that afternoon.
Behind the red and silver blur up front, Trulli kept Jordan's number three status intact, from Fisichella, Villeneuve, Verstappen, Ralf Schumacher making progress in the Williams BMW and Frentzen, who was awaiting news of his wife due to give birth back home.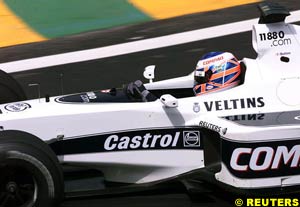 Qualifying
Qualifying never had the chance to deliver on the promise of the free sessions. But things were beginning to become bizarre in Brazil.
Hakkinen and Coulthard quickly set out to claim the top slots under threatening skies. Michael Schumacher was soon second, but quite amazingly aborted the next lap that would have certainly seen him on the front row. However, it was later revealed that he was just about to run out of fuel...
And then, rain fell on the ground. But the rain was not of fluids, but rather of billboards!
The first of those advertising hoardings fell from its moorings softly onto the side of the circuit. Out came the red flag, spoiling several drivers' flying laps. Barrichello and Fisichella were among those to suffer.
Just as the field was getting into another flying lap frenzy, another sign lost its mounting and brought out another red flag, spoiling another bunch of hopefuls for higher up the grid.
After another green light, some more drivers were chasing fast laps, including Barrichello who was looking good for pole...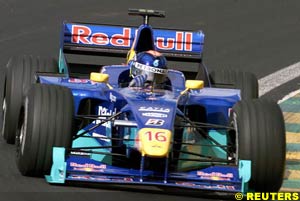 But this time the hoarding at a brake marker directly above the racing line fell down rather alarmingly onto the passing Jean Alesi's Prost. Out came the red flag again, with Hakkinen ahead of Coulthard who managed to get a quickie in between the hailing hoardings to pop back into second.
And while marshals gathered the Prost-beaten bits of Marlboro signage from the track, the real rain came to seal an all-McLaren front row. So qualifying ended as a rather disappointing wet practice...
While the billboards' antics alone was reason enough for alarm, a statement from the organisers was the biggest reason for concern. Race promoter, Tamas Rohonyi, said that sabotage was the cause of problems as Nylon ties used internationally in this application had been cut.
Rohonyi said this was an attempt to discredit the Grand Prix and the city of Sao Paulo, following a mayoral dispute. He assured security would be stepped up to ensure this bizarre situation was nipped in the bud. But is it necessary for F1 to be held to ransom for petty local politics? Many other countries are lining up for the honour of a Grand Prix in far more sensible environments...
In any case, Mika Hakkinen had planted his McLaren-Mercedes on pole for the 23rd time, from teammate Coulthard and the Ferraris of Schumacher and Barrichello.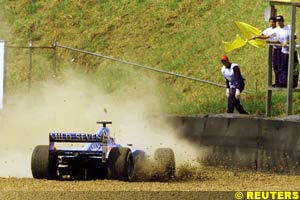 But while the top five all qualified within half a second of each other and a healthy margin ahead of the rest, the next eleven cars shared a second between them.
Behind the expected top four, Giancarlo Fisichella put the Benetton onto the third row, alongside Eddie Irvine, who finally put the Jaguar into the top ten when it counted the most on a GP weekend. Frentzen shared row four with another surprise, Ricardo Zonta's BAR Honda, while Jenson Button caused a mild sensation by not only qualifying in the top ten, but ahead of teammate Ralf Schumacher in ninth. The youngster lined up alongside veteran Villeneuve.
Outside the top ten, Ralf headed Trulli, Wurz, Verstappen, Alesi and de la Rosa, the Prost and Arrows not delivering their practice promise. Herbert languished in seventeenth in the other Jaguar, ahead of Gene in the Minardi, Heidfeld's Prost, Diniz' Sauber, Mazzacane's Minardi and Salo bringing up the back.
But Sauber was having a torrid time, among other problems being collapsing rear wings without a possible cure for the race. So Peter Sauber did the honourable thing and withdrew his team from the race.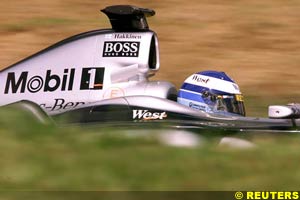 "It was a complicated qualifying," Mika Hakkinen confirmed. "I feel confident for tomorrow's race." "From the very first lap I did this weekend, the car has felt good," David Coulthard admitted, "I go into the race knowing that I can be quick every single lap."
Michael Schumacher said that his quickest time had been spoiled by one of the red flags, but he did have other dramas. "I went off the track and damaged the chassis over the kerb, so I had to take the spare car," he explained. Rubens Barrichello was but disappointed about the red flags, "especially the last one - I could have got a really good time. But I can be competitive - this is a track where you can overtake."
"Even though I made some mistakes on my flying lap we managed a good time," said a delighted Fisichella. " I have been really positively surprised by the Supertec engine."
Eddie Irvine was his usual forthright self: "It's close isn't it! I could be a tenth slower and looking a complete idiot. "Hopefully I can beat Fisichella. Maybe the Jordans can be quicker, but there's not much in it to be honest."
The Race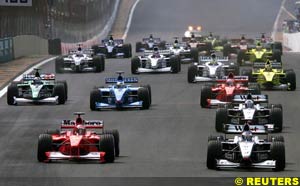 What we missed in qualifying, though, was borne out in warm-up, when Mika and Michael were separated by just five thousandths of a second, pointing to a thrilling afternoon. Behind the big four, Verstappen, Ralf and Villeneuve looked good.
There was some confusion on the grid, when Wurz stalled, holding up Herbert and Mazzacane, with Wurz taking to the pitlane. But the race started with some excitement as both Ferraris got away well, Schumacher forcing his way past Coulthard but unable to do much about a perhaps overly defensive Hakkinen. "Obviously he was not too keen to let me by," Michael commented later.
Hakkinen led Michael Schumacher, Coulthard, Barrichello and Fisichella around the first tour. But as they crossed the line for the first time, Schumacher powered past the champion's McLaren to lead into the second lap, with Barrichello doing exactly the same to Coulthard. "It was quite entertaining," said Schumacher, "I enjoyed that."
And Schumacher was flying, opening an immediate 1.9-second gap in the next lap as Barrichello hounded Hakkinen. Coulthard was dropping back, ahead of Irvine, Fisichella, Trulli and Frentzen.
Such was the leading Ferrari's pace, that Schumacher smashed the lap record by lap four. Behind, Jos Verstappen was quickly up to ninth in the Arrows, with Alesi up to eleventh after his qualifying nightmare. Two laps later, Trulli passed Fisichella for sixth.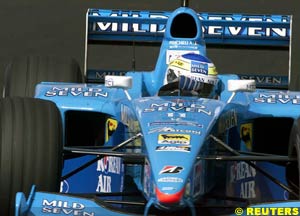 By the eighth lap Schumacher was a similar amount of seconds clear of Hakkinen and two seconds under the lap record and the rest of the field, but was Ferrari running some trick tactics?
After all, while they were well off McLaren's top speed a year ago, the red machines were almost 10km/h faster than the silver cars in 2000... Another joker in the pack was Jarno Trulli, who was harrying Irvine for fifth. And Verstappen and Alesi were also on a march through the pack, now up to seventh and ninth respectively, but Alesi was soon to retire after his Peugeot exploded.
Besides Schumacher opening the gap up to fifteen seconds on the 15th lap, things remained constant, but on that lap, Barrichello sneaked up on Hakkinen and pounced on the Finn into the first turn, with enough pace to move back and take his usual line. Ferrari really had its act together.
By lap 20, Ferrari's crew was ready for Michael, and poured ten seconds worth of fuel into his Ferrari, scuppering theories of a three-stop race for the Ferraris. The team had run a light fuel load to gain successfully significant track advantage in a fast first stint. So Barrichello led Hakkinen and Schumacher, who had rejoined ahead of Coulthard, but the Brazilian pitted a lap later.
Eddie Irvine, who had been passed by Trulli, lost the back of his tricky Jaguar again, thumping the tyre wall to retire on lap 21 and allowing Verstappen into a brilliant sixth.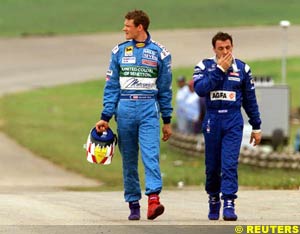 Hakkinen was now using his light fuel load to full effect and opened up his lead to Schumacher. But Ferrari's challenge was halved on lap 26 as Barrichello retired with a hydraulic failure. Four laps later it was even again, as a hugely disappointed Hakkinen rolled into his box to retire, waving at an appreciative crowd. "Nothing can describe how I feel," he said before quickly disappearing from the circuit. "I am not happy to leave Brazil without points."
So Michael Schumacher led a still-to-stop Coulthard, Verstappen now up to third, Fisichella, Frentzen, Trulli, who also had an early refuel, Ralf Schumacher, de la Rosa and Button on lap 32. But by the time most people had stopped, the picture was a little different, with Fisichella holding Trulli off for second, from Ralf, Button, and Frentzen.
Up front, Schumacher was piling on the pressure, setting a new lap record three-and-a-half seconds inside the previous one on lap 48 as he built up a cushion to protect his lead when he stopped again for fuel on lap 51.
Fisichella, who had in fact not yet stopped, came in on the same lap and also rejoined in third again. On track, Button passed Verstappen for seventh, behind Michael, David, Giancarlo, Jarno, Heinz-Harald and Ralf, but Trulli pitted a few laps later, to allow Frentzen to pass him.
Up front, however, all did not appear too kosher as Trulli sailed past Schumacher's Ferrari to unlap himself. The Ferrari was sounding odd on down-changes and circulating at inconsistent times as Coulthard closed the gap quickly. But Michael was soon back in rhythm albeit safely slower than the McLaren. "We had a little problem and it probably wasn't too necessary to drive that slowly," Schumacher admitted. "But we had a good lead so I just took it easy."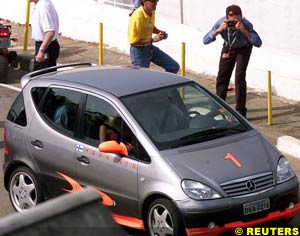 Michael Schumacher cruised home to win at 200.4 km/h in 1:31.35.4 seconds - 4.3 seconds clear of Coulthard. Fisichella was third on the road from Frentzen, Trulli and Ralf Schumacher. Just out of the points was Button, from Verstappen.
The drivers looked tired on the podium and in the interviews, where both Schumacher and Coulthard showed little restraint in answering some of those rather silly questions in a direct and forthright manner. "People told me in Australia that the guy who wins that race will be the champion and now I have been asked the same question here, what is it with you guys? Statistics can easily prove to be wrong," Schumacher said.
"If they were right, I could go home now and watch the rest of the season on television, but I am not going to do that," he added. "This is going to be a very close season, a really close fight and I want to enjoy it all the way. We will have an improved car for Imola and I hope we can get the same result as last year for the Tifosi."
Coulthard snapped back at a question about which team was now on top: "You have to wait until the end of the season. People are so impatient these days." But David, who had lost gears and his radio contact with his pit, was satisfied. "All in all it was a very difficult race, so to get six points is very good."
Fisichella clearly met his objectives, "Already yesterday, I saw a possibility of getting on the podium," said the Roman.
But down below, the dreaded Jo Bauer and his team were at work to give the already strange Brazilian GP a sting in the tail.
Interlagos' tough nature had worn away enough of the various cars' under-body "planks" to ensure that only Fisichella's Benetton (which had run the heaviest fuel load of all) was legal!
After some consultation with the individual teams, it was decided that all would be pardoned thanks to the extreme conditions on the day. But there was one car that had further problems - David Coulthard's McLaren was found to have an illegal front wing and disqualified. "In my opinion the car did not comply with article 3.7 of the 2000 FIA Formula One technical regulations and I am referring the matter to the stewards for their consideration," said Bauer.
This allowed Fisichella into second, from Frentzen, Trulli, Ralf and Jenson Button provisionally in the record books as the youngest-ever GP points scorer. Provisional, as McLaren has appealed and the case comes up next week.
McLaren allowed the car to be measured extensively, rather than impounding it in Paris until the appeal there.
Interestingly, McLaren's case has had very little attention in the press and from other teams since Sunday - unlike their rivals' plight after a similar situation in Malaysia last year. Clearly the world reacts far more to anything that Ferrari does - despite what McLaren management likes to think of its own status...
Provisional Race Results
pending McLaren's appeal

CLASSIFIED

Pos  Driver         Team                  Time       
 1.  M.Schumacher   Ferrari               1h31:35.271
 2.  Fisichella     Benetton Supertec     +    39.898
 3.  Frentzen       Jordan Mugen-Honda    +    42.268
 4.  Trulli         Jordan Mugen-Honda    +  1:12.780
 5.  R.Schumacher   Williams BMW          +    1 Lap 
 6.  Button         Williams BMW          +    1 Lap 
 7.  Verstappen     Arrows Supertec       +    1 Lap 
 8.  de la Rosa     Arrows Supertec       +    1 Lap 
 9.  Zonta          BAR Honda             +    2 Laps
10.  Mazzacane      Minardi Fondmetal     +    2 Laps

Fastest Lap: M.Schumacher, 1:14.755 (207.509 km/h), lap 48

NOT CLASSIFIED / RETIREMENTS                                
                                                            
     Herbert        Jaguar Ford         51    Gearbox       
     Gene           Minardi Fondmetal   31    Engine        
     Hakkinen       McLaren Mercedes    30    Engine        
     Barrichello    Ferrari             27    Hydraulic leak
     Irvine         Jaguar Ford         20    Crash         
     Villeneuve     BAR Honda           16    Gearbox       
     Alesi          Prost Peugeot       11    Engine        
     Heidfeld       Prost Peugeot        9    Engine        
     Wurz           Benetton Supertec    6    Engine        
     Coulthard      McLaren Mercedes     -    Disqualified  
     Salo           Sauber Petronas      -    DNS (withdrew)
     Diniz          Sauber Petronas      -    DNS (withdrew)


WORLD CHAMPIONSHIP STANDING, ROUND 2 *            

Drivers:                     Constructors:            
 1.  M.Schumacher  20        1.  Ferrari            26
 2.  Fisichella     8        2.  Benetton-Playlife   8
 3.  Barrichello    6        3.  Williams-BMW        7
 =   R.Schumacher   6        =   Jordan              7
 5.  Frentzen       4        5.  BAR-Honda           4
 6.  Villeneuve     3                                 
 =   Trulli         3                                 
 8   Button         1                                 
 =   Zonta          1                                 


Fastest Race Laps

Pos  Driver         Team               Lap  Time             
 1.  M. Schumacher  Ferrari             48  1:14.755         
 2.  Frentzen       Jordan-Mugen Honda  71  1:15.192  + 0.437
 3.  Hakkinen       McLaren-Mercedes    28  1:15.456  + 0.701
 4.  Barrichello    Ferrari             19  1:15.632  + 0.877
 5.  Coulthard      McLaren-Mercedes    68  1:15.633  + 0.878
 6.  Fisichella     Benetton-Playlife   68  1:16.002  + 1.247
 7.  Trulli         Jordan-Mugen Honda  50  1:16.375  + 1.620
 8.  Button         Williams-BMW        41  1:16.379  + 1.624
 9.  R. Schumacher  Williams-BMW        67  1:16.398  + 1.643
10.  Zonta          BAR-Honda           61  1:16.658  + 1.903
11.  de la Rosa     Arrows-Supertec     62  1:16.967  + 2.212
12.  Verstappen     Arrows-Supertec     31  1:16.975  + 2.220
13.  Gene           Minardi-Fondmetal        31  1:17.174  + 2.419
14.  Mazzacane      Minardi-Fondmetal        65  1:17.380  + 2.625
15.  Herbert        Jaguar-Cosworth     50  1:17.696  + 2.941
16.  Irvine         Jaguar-Cosworth     20  1:17.792  + 3.037
17.  Villeneuve     BAR-Honda           16  1:18.379  + 3.624
18.  Alesi          Prost-Peugeot       11  1:18.381  + 3.626
19.  Heidfeld       Prost-Peugeot        8  1:19.765  + 5.010
20.  Wurz           Benetton-Playlife    5  1:21.821  + 7.066


Pit Stop Times

Pos  Driver        Team                Time   Lap
 1.  Trulli        Jordan-Mugen Honda  33.3   56 
 2.  Fisichella    Benetton-Playlife   34.1   51 
 3.  M.Schumacher  Ferrari             34.6   51 
 4.  Frentzen      Jordan-Mugen Honda  35.6   41 
 5.  Coulthard     McLaren-Mercedes    35.8   43 
 6.  Trulli        Jordan-Mugen Honda  36.4   28 
 7.  Button        Williams-BMW        36.5   44 
 8.  M.Schumacher  Ferrari             36.6   20 
 9.  R.Schumacher  Williams-BMW        37.1   45 
10.  Barrichello   Ferrari             37.1   22 
11.  Herbert       Jaguar              38.2   44 
12.  Verstappen    Arrows-Supertec     38.9   35 
13.  Mazzacane     Minardi-Fondmetal   40.4   38 
14.  de la Rosa    Arrows-Supertec     41.2   37 
15.  Zonta         BAR-Honda           58.0   27 


Sector Times and Speeds
Sector 1 (S/F Line - T1)
Sector 2 (T1 - T2)
Sector 3 (T2 - S/F Line)
Pos
Driver
Time
Speed
Pos
Driver
Time
Speed
Pos
Driver
Time
Speed
1
M.Schumacher
18.962
302.24
1
M.Schumacher
38.060
251.52
1
Hakkinen
17.634
298.24
2
Hakkinen
19.101
303.20
2
Frentzen
38.351
247.52
2
Coulthard
17.648
302.24
3
Frentzen
19.147
302.24
3
Hakkinen
38.566
247.52
3
Barrichello
17.681
306.24
4
Coulthard
19.152
305.28
4
Barrichello
38.695
244.64
4
de la Rosa
17.692
309.28
5
Barrichello
19.165
306.24
5
Button
38.777
247.52
5
Frentzen
17.694
301.28
6
Trulli
19.250
304.16
6
Coulthard
38.794
252.48
6
Zonta
17.705
301.28
7
Button
19.282
299.20
7
Fisichella
38.868
247.52
7
Trulli
17.725
306.24
8
Fisichella
19.287
302.24
8
R.Schumacher
38.981
247.52
8
M.Schumacher
17.733
300.32
9
Zonta
19.320
304.16
9
Trulli
39.176
243.52
9
Fisichella
17.735
303.20
10
R.Schumacher
19.346
296.32
10
Gene
39.176
242.56
10
Verstappen
17.774
308.16
11
de la Rosa
19.462
305.28
11
Mazzacane
39.301
237.60
11
Button
17.951
297.28
12
Irvine
19.482
302.24
12
Verstappen
39.310
243.52
12
Herbert
17.972
303.20
13
Gene
19.574
296.32
13
Zonta
39.376
247.52
13
Irvine
18.036
300.32
14
Verstappen
19.577
303.20
14
de la Rosa
39.525
243.52
14
R.Schumacher
18.041
294.24
15
Herbert
19.656
301.28
15
Herbert
39.787
237.60
15
Alesi
18.088
305.28
16
Villeneuve
19.717
296.32
16
Irvine
40.023
239.68
16
Mazzacane
18.090
293.28
17
Alesi
19.777
302.24
17
Villeneuve
40.273
234.72
17
Gene
18.217
290.24
18
Mazzacane
19.810
294.24
18
Alesi
40.278
233.60
18
Villeneuve
18.268
294.24
19
Heidfeld
20.272
295.36
19
Heidfeld
40.995
234.72
19
Heidfeld
18.310
295.36
20
Wurz
20.779
288.32
20
Wurz
41.566
230.24
20
Wurz
19.275
271.36

The Brazilian Grand Prix, Lap by Lap (provided by RaceFax)
Before the start: Alexander Wurz is initially unable to get off the pre– grid, delaying Jean Alesi and Johnny Herbert. Finally getting underway, he follows the field around and will have to start from pit road. Zonta's BAR is smoking heavily on the pre– grid, but the problem goes away during the formation lap.
Start: Hakkinen makes a good start, but behind him, M Schumacher makes a better one. Coulthard, second on the grid, gets too much wheelspin, losing his position to Schumacher on the run to the first corner. Barrichello, behind Coulthard, has a slow getaway, which leaves Coulthard third. At the first corner, Hakkinen slams the door on Schumacher to retain the lead.
Irvine makes a good start to take Fisichella for fifth. Frentzen remains seventh, but eighth– place starter Zonta gets caught between two cars and has to back off. Button has a bad start from ninth, and will finish the lap in 13th. Trulli, starting 12th, passes R Schumacher and Villeneuve by hugging the pit wall.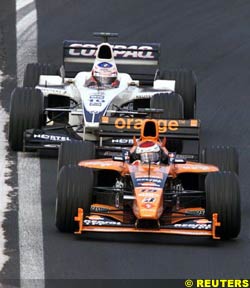 Lap 1: Schumacher is all over Hakkinen, but at the end of the lap, Hakkinen leads Schumacher, Coulthard and Barrichello across the line. Both Ferrari drivers have moved out of line, however, toward the pit wall, and into the braking area Schumacher takes the lead, while Barrichello pulls off an identical pass of Coulthard. Irvine remains fifth, despite an obviously ill– handling Jaguar, and is followed at a distance by Fisichella, Frentzen, Zonta, Trulli and, completing the top 10, Villeneuve. Verstappen is up from 14th to 11th.
Lap 2: Schumacher, running a light fuel load in anticipation of two stops, pulls away from Hakkinen's heavier McLaren. Behind them, Coulthard re– passes Barrichello, but on the curving front straight, Barrichello reclaims third place, taking Coulthard on the outside, and well before start/finish. Trulli takes Zonta for eighth. Farther back, Alesi takes 13th from Button.
Lap 3: Schumacher's lead has nearly doubled, to 3.4 seconds. Verstappen is on a roll, taking Villeneuve for 10th as Alesi takes R Schumacher for 12th.
Lap 4: Schumacher is driving as though in qualifying, trying to build up the cushion he'll need to make one stop more than Hakkinen. At the end of the lap, he has 4.040 seconds in hand, while Hakkinen leads Barrichello by a second. Coulthard, already suffering transmission problems, trails Barrichello by 2.8 seconds, but is unthreatened by Irvine, who is three seconds behind. Fisichella is sixth, two seconds behind Irvine. Trulli is on a two– stop strategy, in hopes of making up for a poor grid position from Saturday's lottery, and duly takes teammate Frentzen for seventh. Verstappen takes Zonta for ninth.
Lap 5: Schumacher leads by 5.1 seconds, as Barrichello begins to pressure Hakkinen. Coulthard continues to fall away.
Lap 6: Hakkinen is six seconds behind Schumacher, with Barrichello sniffing his exhaust. Coulthard is 16.527 seconds behind Schumacher's leading Ferrari.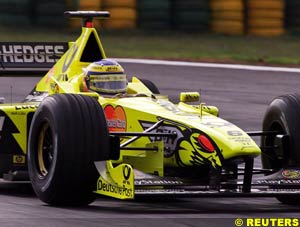 Lap 7: Schumacher leads by 7.8 seconds, as Barrichello continues to pressure Hakkinen. Coulthard has improved to 14.383 seconds behind Schumacher, having adapted to the loss of first through third gears. Trulli overtakes Fisichella for sixth at the beginning of the lap, diving down the inside with one front tire smoking into the first corner. Wurz retires, his Supertec engine comprehensively blown.
Lap 8: Schumacher has added two seconds to his lead.
Lap 9: Alesi takes Zonta for 10th as both Williams pass Villeneuve. Heidfeld falls out with a blown Peugeot engine.
Lap 10: Schumacher adds a mere seven tenths to his lead. Barrichello is increasingly restive in third. Trulli is closing on Irvine.
Lap 11: Verstappen takes Fisichella for seventh. Alesi passes Frentzen for ninth. Alesi's run ends abruptly.
Lap 13: Schumacher sets the fastest race lap at 1:15.687, stretching his lead to 13.6 seconds.
Lap 14: Schumacher improves to 1:15.378. Ending the lap, Barrichello has pulled out of Hakkinen's slipstream, completing the pass inside under braking as they begin...
Lap 15: Schumacher sets another fastest race lap –– 1:15.337 –– which leaves him 15 seconds ahead of Barrichello, who in one lap has put 1.361 seconds on Hakkinen. De la Rosa passes a dispirited Herbert for 14th.
Lap 16: Barrichello sets a personal fast lap at 1:15.801. Trulli takes fifth from Irvine, outbraking him into the first corner. Villeneuve retires.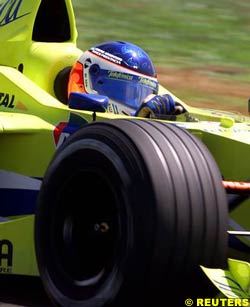 Lap 20: Schumacher pits, getting a bit sideways under braking for the beginning of the speed zone. He rejoins in third, behind Barrichello and Hakkinen. Irvine finally loses his battle with the Jaguar, spinning off into a tire barrier.
Lap 22: Barrichello pits, leaving Hakkinen in the lead, 7.042 seconds up on Schumacher. Barrichello rejoins behind Coulthard.
Lap 28: Barrichello retires with engine failure, coasting into the garage where the car catches fire as he steps out. The mechanics douse the car with foam. Trulli stops, eight laps before half distance, showing that his two– stop initial fuel load wasn't all that light. Zonta pits, and also has a brief fire, but gets back underway once it's put out.
Lap 30: Hakkinen comes slowly down pit road and turns into his garage to retire with incipient engine failure. Schumacher again leads, with Coulthard eight seconds behind. Verstappen is third, Fisichella fourth, Frentzen fifth and Trulli sixth. Out of the points positions, R Schumacher runs seventh, ahead of De la Rosa and Button.
Laps 30 - 38: Initially, Schumacher has 8.5 seconds on Coulthard. Over several laps, Coulthard chips away at the margin, taking advantage of a lighter fuel load. DC sets a personal best of 1:15.832, against Schumacher's best of 15.337, set with roughly the same fuel load. Schumacher is fighting a set of tires which are out of balance.
Lap 35: Verstappen pits, going a lap down.
Lap 38: With most of the first stops (and the only one, for most drivers) completed, the order is Schumacher, Coulthard, Fisichella, Frentzen, Trulli, R Schumacher, Button and, a lap down, Herbert, Verstappen, De la Rosa, Mazzacane and Zonta. the rest having retired.
Lap 41: Frentzen stops on lap 41, five past half distance.
Lap 43: Coulthard pits, retaining second place.
Lap 44: Button and Herbert pit. Button rejoins behind Verstappen.
Lap 45: R Schumacher pits from fifth, and unlike Button, gets out ahead of Verstappen. While Schumacher escapes, Button is unable to get around the slower Arrows.
Lap 51: Schumacher makes his second stop. Fisichella makes his first, 15 laps past half distance, which puts his performance relative to the Jordans in a very different light. He retains third place after the stop.
Lap 56: Button finally gets the better of Verstappen for seventh. Trulli makes his second stop, dropping from fourth to fifth.
Laps 58– 60: Schumacher is slowing visibly. He allows Coulthard to close significantly, then increases his pace. It will remain unclear whether he had a problem or was just being conservative with a very large lead.
The Finish: There are no changes to the finish. Schumacher wins by 4.3 seconds from Coulthard, with Fisichella 36 seconds behind in third, and well clear of the Jordan duo, Frentzen leading Trulli. The final points position goes to Ralf Schumacher.
Post– Race: The cars of all the points finishers except Fisichella are found to have seriously worn under– chassis planks, the Jabroc panels which are required, and intended to increase ride heights to reduce downforce. Ferrari, McLaren, Jordan and Williams all successfully argue that the incredibly bumpy circuit is responsible for the illegal wear. Scrutineers also have found that the front wing endplates on Coulthard's McLaren have rotated, and thus are illegal in height at the rear, by two millimeters (less than 1/8– inch). The car is disqualified from second place, and McLaren files a formal appeal of the decision. The amended results –– Michael Schumacher, Fisichella, Frentzen, Trulli, R Schumacher and Button –– are therefore provisional, pending an appeal hearing before the FIA judges on April 3rd, 2000.

The Results - Team by Team (provided by Reuters)
FERRARI: Michael Schumacher won his second consecutive race and his third in Brazil with a good start strategy that put him past the two McLarens early on. Local hero Rubens Barrichello dropped out in the 27th lap with hydraulic problems, dashing Brazilians' high hopes of seeing him on the top of the podium for the first time.
MCLAREN: David Coulthard lost his second place finish after his car was disqualified six hours later for a low front wing. Defending world champion Mika Hakkinen dropped out in the 29th lap with engine problems while leading after Schumacher's pit stop. McLaren is pointless in the first two races of the season.
JORDAN: After both cars failed to finish in Melbourne, Jordan was back in the points in Brazil with a third-place finish by Heinz-Harald Frentzen and a fourth-place finish by Jarno Trulli. "There had been a lot of concern about our reliability and today proved that we did indeed make a big step at Silverstone in testing last week," said owner Eddie Jordan.
JAGUAR: Eddie Irvine spun out in the 21st lap, pushing his car harder than he should have been and losing the back end after a good sixth position in the grid. Veteran Johnny Herbert went out in the 50th with a gearbox problem. "Despite the two retirements, we have definitely made progress since Melbourne," said team principal Paul Stewart.
WILLIAMS: Ralf Schumacher was in the points for the second consecutive race, picking up fifth, while 20-year-old Jenson Button scored his first point in the Formula One with a sixth place thanks to Coulthard's disqualification.
BENETTON: With the return of Flavio Briatore to the helm this week after a two-year absence, Benetton scored a second place finish with Giancarlo Fisichella's one-stop strategy. Alexander Wurz had the opposite fortune, stalling in the warm-up lap, starting in the pitlane and dropping out after six laps.
SAUBER: Sauber retired from the race after Saturday's qualifying session registered rear wing problems in both Mika Salo and Pedro Diniz's cars. Salo suffered a scary crash in practice Saturday when the wing flew off for no apparent reason.
ARROWS: Jos Verstappen and Pedro de la Rosa finished in seventh and eighth in a race that proved tough for both of them. Verstappen admitted that physical exhaustion kept him from holding third place, while De la Rosa came in four laps late for his pit stop due to a radio problem. Team principal Tom Walkinshaw said fitness training is on the cards before Imola.
MINARDI: Newcomer Gaston Mazzacane was at the back for most of the race but managed to be the last finisher in 10th place, while Marc Gene dropped out with engine failure on lap 31. "We feel satisfied with the car's competitiveness and we are disappointed to realize that our potential in qualifying will not allow us to reach better positions," said owner Gabriele Rumi.
BAR: Young local driver Ricardo Zonta finished his first Brazilian Grand Prix in 9th place after his serious accident here in practice last year. Former world champion Jacques Villeneuve did not finish, dropping out in the 16th lap with gearbox problems.