Award-winning writer Karl Ludvigsen comments on Ford's decision to race under the name Jaguar, especially in light of their embarrassing performance

Ford has made a big mistake. When Ford shifted its Formula One campaign to the Jaguar banner the pros and cons were immediately obvious. It seemed a sensible (albeit naive and knee-jerk) reaction to the fact that both BMW and Mercedes-Benz - major marketplace rivals for Jaguar - were committed to Formula One. With Jaguar now part of Ford's Premier Automotive Group, headed by ex-BMW man Wolfgang Reitzle, Grand Prix racing could be expected to grant some lustre to this wood-panelled Connolly-leathered British luxury marque.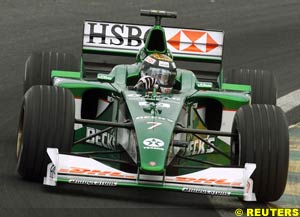 The negative side was also obvious quite early. Grand Prix racing doesn't fit the Jaguar tradition, founded as it is on sports-racing successes. Even worse, it was and is obvious that Jaguar can't afford Formula One. A fully-fledged F1 campaign would cost the company something between $1,000 and $2,000 per car produced. That's well beyond affordability for a distinctly minor car maker like Jaguar. The assumption had to be that Ford would open its purse strings and back the efforts of both the Jaguar team, nee Stewart, and Cosworth Racing - both now owned by Ford.
Unfortunately there's much more to it than that. These days, a top-line Formula One team needs to call in favours week in and week out from the big suppliers of this world, people like Bosch, Siemens, Magneti Marelli, Denso, Visteon and Dephi. Believe me, it's a big advantage at those moments if you are a major present or potential customer of those companies. They can be persuaded to jump higher and farther for firms that wield some economic clout.
Picture yourself as one of those suppliers. Whose pleas for help would get your attention first: Ford's or Jaguar's? Yes, Jaguar is owned by Ford, but that's not the same as being Ford. From a purchasing standpoint Ford is many orders of magnitude more powerful than Jaguar, and suppliers know it. Jaguar will be well down their priority list - and far lower than BMW and DaimlerChrysler.
I have been moved to these thoughts by the embarrassing Jaguar performance in the first two Grand Prix races of 2000. Here is a team that urgently needs material and technical help. It needs a bigger budget, more testing - a great deal more testing - and access to a higher level of technology. I doubt deeply that it will ever get any of these things while it is operating as 'Jaguar'.
It will also be dawning on Ford that for another reason it has made a major strategic error in shifting its F1 emphasis to Jaguar. Some of the Blue Oval brand's major global rivals are coming into Formula One with massive programs. Honda is already back officially with the supply of engines to BAR. Renault has declared its focus on the Grand Prix future with its acquisition of the Benetton team, to be 'Renault' from 2002. And Toyota is coming with a fully-fledged all-Toyota racing car.
The profiles of these major volume brands - Honda, Toyota and Renault - will be substantially enhanced by their involvement in Formula One. F1 will grant them greater respect and the warm acceptance of car enthusiasts. Around the world - and especially in Europe, hotbed of GP enthusiasm - the Ford marque desperately needs just such enhancement. And it won't get it.
To add to the irony of this situation, what did we see in the background of many of the shots from Sao Paulo but the bold red bow-tie emblem of Chevrolet! That's GM's brand in South America, where it will soon be teamed up with Fiat. What odds against a higher motor-sports profile for Opel and Fiat in the future?