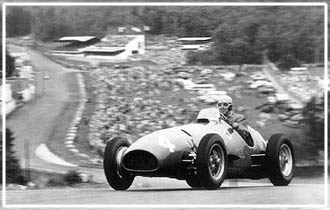 1952 Spa in typical pose. Looking down from the crest at Radillon, Alberto Ascari in the Ferrari 500 exits the most famous corner in motor racing, Eau Rouge. This was the beginning of an incredible run for Ascari. In the two years of the F2 era of the WC, Ascari would win 11 of the 15 races, 9 of them consecutively. This was the first of those wins.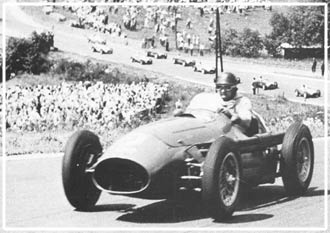 1953 The other great Argentine. Jose Froilan Gonzalez in the Maserati A6GCM climbs away from Eau Rouge with the tail of the field still filing through in the background. Gonzalez spent a lot of his career in the shadow of his more illustrious countryman Fangio (who didn't?), but Gonzalez still scored a pair of victories at Silverstone, seven seconds, six thirds, three pole positions, six fastest laps and was second in the 1954 world championship. A broken throttle would not add to those statistics at Spa this day.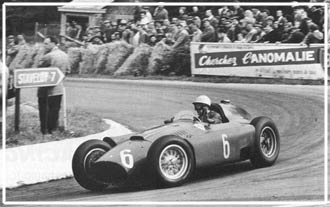 1956 The sign at La Source points back towards Stavelot, complete a '7' for the kilometrage, giving some idea of the vast size of the original Spa-Francorchamps circuit. Here Paul Frere, better known to modern F1 fans as a journalist, but still with a trophy for the 1960 Le Mans on his shelves, punts the Lancia built Ferrari 801. He finished second to teammate Peter Collins.

1960 On one tragic day in the Belgian sunshine, Formula One lost two of its warriors. Chris Bristow (Cooper T51 Climax) fatally crashed on the long sweeping Burnenville Corner. Later, on the long Masta Straight, Alan Stacey's works Lotus 18 Climax struck a bird, fatally injuring the driver.
Sponsor hoardings, circa 1962. Jim Clark (Lotus 25 Climax) on his way to victory at Spa-Francorchamps flashes past a pair of billboards, much closer to the track than they would be today. Note the art style of the period, and that tobacco advertising of Formula One is far from new.
Awaiting the call for battle. The Cooper T60 Climax sits in the Rob Walker Team pits, waiting for Swedish racer Jo Bonnier to climb aboard. On a wet and overcast day, Bonnier would finish fifth, a lap down on Jim Clark's winning Lotus.
A dramatic wet weather shot of the great American talent Dan Gurney and one of his always attractive Eagles. Dan in this Eagle T1G Climax was running seventh on a wet and miserable Spa-Francorchamps afternoon, but failed to complete enough laps to be classified as a finisher.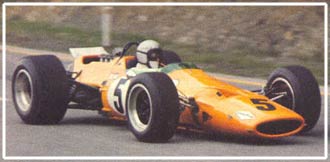 1968 The first of 129 (and counting). It took two seasons of experimentation and persistance with strange engine combinations to get his cars competitive. At first, they tried a detuned Indianapolis Ford engine, then a Serenissima V8 sports car motor, before the BRM H16 was tried. Finally, with the legendary Ford Cosworth DFV on board, Bruce McLaren drove his M7A to the New Zealander's fourth and last Grand Prix victory, and more significantly the first for McLaren's team. The first of many.
Clay Regazzoni's Ferrari 312B2 crashes into retirement late in the race while well positioned at the Belgian Grand Prix's new home of Nivelles. The race would alternate between Nivelles and Zolder for a few years before Nivelles faded from the scene after only two races.
Today, the name Larrousse is associated with the Lola built, Lamborghini or Cosworth powered cars of the late 80s and early 90s that showed some promise before fading away. Before he formed his own team in 1987, Gerard Larrousse had been a racer, and a reasonably accomplished one, with a pair of Le Mans victories in the 70s in Matras. Here, Larrousse sits waiting aboard his privately entered Brabham BT42 Cosworth at Nivelles. Tyre failure would see Larrousse DNF after 53 laps.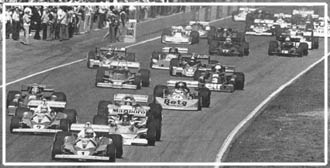 1976 The field roars away from the Zolder grid, led by Niki Lauda's Ferrari 312T2. Immediately behind is Lauda's title rival James Hunt (McLaren M23 Cosworth) and Lauda's teammate Clay Regazzoni. In the third rank on the left is Patrick Depailler (Tyrrell P34 Cosworth), and the fast starting Ligier JS5 Matra of Jacques Laffite ahead of the March 761 of Vittorio Brambilla. Lauda would lead home a Ferrari 1-2 this day, well clear of Laffite and Jody Scheckter (Tyrrell P34 Cosworth).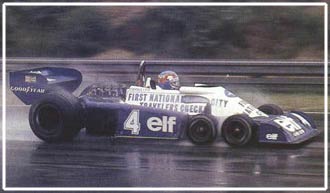 1977 A portrait of the audacious Tyrrell P34 Cosworth, showing its twin front wheel set up. Patrick Depailler would splash his way to eighth and and a lap down. Teammate Ronnie Peterson would fare better, finishing third behind the Lotus of Gunnar Nilsson and Niki Lauda's Ferrari.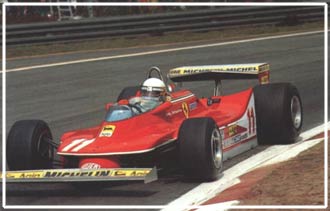 1979 South African Jody Scheckter had emerged as a title threat in 1974, finishing a close third in the championship in a Tyrrell. It would take another five years, and two team moves, firstly to Wolf in 1977, and then joining Scuderia Ferrari in 1979. Ferrari had the package that year and Scheckter would lead his brilliant but erratic teammate Gilles Villeneuve for a 1-2 in the championship. Here at Zolder, Scheckter chalked up another win on the way to the title.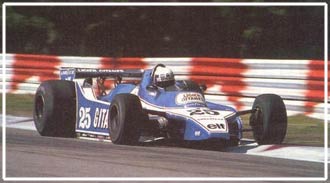 1980 Recent times have not been kind to the team Guy Ligier started. It wasn't always so bad though. Here Didier Pironi rides the Zolder kerbs in his ground effects Ligier JS11/15 Cosworth on his way to victory. The Ligiers were good in 1980, but while Ferrari lost their way and Lotus staggered, Williams built the best mouse trap and led Ligier home to the 1980 title. Ligier have never been that close again.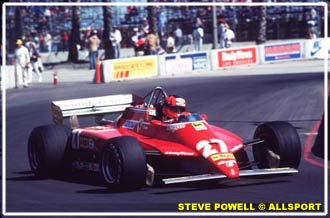 1982 The enigmatic Canadian, Gilles Villeneuve. He was revered by his fans, and a god to the Tifosi. He was the last of the Scuderia's pilotes that Enzo Ferrari bonded to in any way. While some days no more than a journeyman, on his day no star shone brighter. On another flying lap, a few tenths were required to shift teammate Pironi from pole position. Villeneuve came across the March 821 of Jochen Mass, clipped the rear of the car and was launched into the air somersaulting end for end, before crashing back to earth and rolling through the crash fencing. He died as he had lived, in the public eye, pushing his Ferrari beyond the limits imposed by engineers and the laws of physics.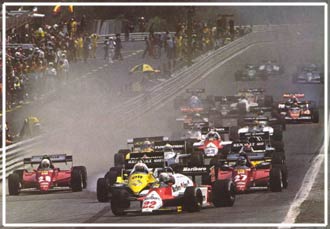 1983 Formula One returns to Spa. Andrea de Cesaris (Alfa Romeo 183T) has exploded away from the second row to lead into La Source. Behind is pole sitter Alain Prost in the Renault RE40, flanked by the two Ferrari 126C2s of Patrick Tambay (on the inside) and Rene Arnoux with the field snarling and snapping at their heels. Prost would go on to win and take the championship lead from Brabham's Nelson Piquet. Tambay would finish second while de Cesaris and Arnoux would have engine failures.
Delayed until September after track break up problems earlier in the year, Ayrton Senna bounces his Lotus 97T Renault across the kerbs of the Bus Stop on his way to the first of five victories at the great Belgian drivers' circuit.
The Professor. Alain Prost crafted a typically calculating win. While the Williams hares took off into the distance, Prost conserved his McLaren MP4/3 TAG-Porsche. His rivals spun off or retired and he was able to control those behind until they too retired.
Ayrton Senna in the wet at the Bus Stop. Senna (McLaren MP4/5 Honda) led home teammate Alain Prost to record a 1-2 victory in treacherous conditions ahead of Nigel Mansell's Ferrari 640.
Benetton boss Flavio Briatore, embraces his ecstatic young charge. At that most famous of modern drivers' circuits, Michael Schumacher wins his first Grand Prix. Just 12 months earlier, an anxious Michael Schumacher grenaded the clutch in his Jordan 191 Cosworth at the start. This day Schumacher (Benetton B192 Cosworth) out drove the all conquering Williams FW14B of the just crowned 1992 World Champion Nigel Mansell and teammate Riccardo Patrese. A day worth noting.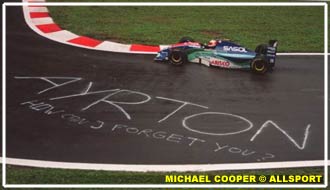 1994 Rubens Barrichello (Jordan 194 Hart) drives past the name of his mentor painted on the Spa-Francorchamps circuit, reminding us all of happenings of a few months earlier. Practice for the Belgian race would belong to the young Brazilian. In wet conditions, Rubinho scored a surprise pole position, a first both for him and the Jordan team. During the race, Barrichello spun off, but we had been reminded of his excellent drive at Donington the previous year. There be talent here.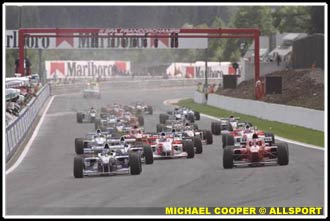 1996 Jacques Villeneuve (Williams FW18 Renault) made the best of the start to lead, with Michael Schumacher (Ferrari F310) quickly relegating Damon Hill (Williams FW18 Renault) to third place. David Coulthard (McLaren MP4/12 Mercedes) launched well, in front of Gerhard Berger (Benetton B196 Renault) with McLaren teammate Mika Hakkinen ranging up on the outside. Some pace car luck and poor pit work by Williams saw Schumacher claim the win, ahead of Villeneuve and Hakkinen.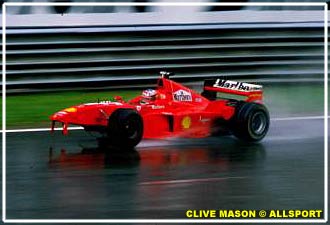 1998 Michael Schumacher limps back to the pits with the front right corner of his Ferrari F300 missing, after having struck the McLaren MP4/13 of David Coulthard. When Schumacher returned to his pits, he had to be restrained from attacking Coulthard. With the field already reduced after a huge start line accident exiting La Source at the first attempt to start the race, Damon Hill was able to lead teammate Ralf Schumacher home in dreadful conditions ahead of the closing Sauber of Jean Alesi, to give Jordan their first Grand Prix victory.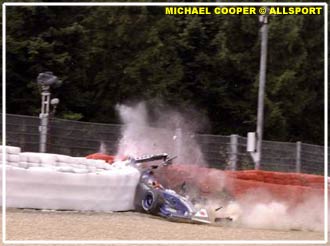 1999 Jacques Villeneuve fared considerably better than his father in Belgium. Jacques walked away from this horrifyingly high speed impact on the exit of Eau Rouge. Villeneuve had lost the back of the BAR 01 Supertec and rolled after digging deep into the crash barrier. Villeneuve's enthusiasm for the circuit remained unabated. Unusually for 1999, Villeneuve would finish this race, a lap down in fifteenth.