For David Coulthard, winning the French Grand Prix may end up to be the easy part of the 2000 season: perhaps for the last time he had entered a race as the underdog, his de facto leadership of the McLaren team more a hope than a fact.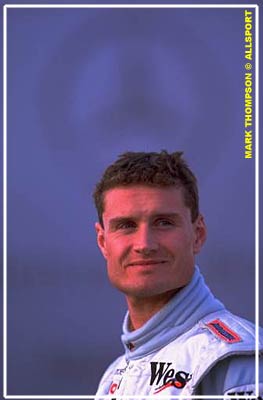 From here on, however, he will carry the burden of expectation that has crushed many British sporting heroes before him and no doubt will bury a few more in the future.
These past few weeks have not been a happy time for followers of British sport. With England falling in the first round of the Euro 2000 football tournament, and a rare victory against South Africa in a Rugby Union test, serving more to highlight its poor past performances than a guarantee that it is the start of something better. Tim Henman made his annual attempt to raise British spirits at Wimbledon. The handsome hard-trier once again failed valiantly, but the failure was sadly predictable. Nice guys without that killer instinct and a touch of brute force only make up the numbers on those hallowed courts.
Britain has the wonderful knack of inventing a myriad of different pastimes - exporting them to the world, and then looking on as others perfect the skills necessary to beat the hapless inventors, sending us home early to 'regroup' and rethink just how we arrived at this sorry state of affairs in the first place.
Perhaps, then, it's fortunate that this country did not invent the sport of Grand Prix motor racing. That honour fell to the French, who seem to have developed a habit of winning major football trophies in recent times, but whose drivers are not likely to be vying for race victories any time soon.
The British public seem to have been largely indifferent to David Coulthard's claims to be taken seriously as a Grand Prix driver, pretty much since he took over the Williams drive back in '94, following the tragic death of Ayrton Senna. Damon Hill became the British hero as he struggled, with eventual success, to win his drivers' crown. Coulthard was only a bit player in this somewhat long drawn out saga.
Hill had somehow captured the nation's affections, and even a sixth place finish with the struggling Arrows team in the '97 British Grand Prix was enough to raise the day's biggest cheer. Coulthard's fourth place finish was the subject of some polite applause. Three times the Scot has finished third in the drivers' championship, the man always in the shadow of the main players.
All this changed in early May when Coulthard miraculously emerged largely unscathed from an airplane crash that killed his two pilots. He travelled to the following Spanish race buoyed by a wave of sympathy that somehow a genuine nice guy had survived a serious brush with death and lived to race another day. His gritty drive into second place gained him more kudos than some of his previous victories.
More importantly, the protective shield placed around him by his McLaren team seams to have given him that critical psychological boost that allowed him to raise his driving to another level. The David Coulthard that closed in on those two Ferraris in France knew he was going to win. That initial rebuff from Michael Schumacher - like Pete Sampras losing the first set in his Wimbledon final - fuelled more determination, not despondency.
Now, though, comes the hard part. Coulthard travels to Austria on a roll, eager to once again dominate his teammate and take the championship battle to Schumacher. More than ever the German double World Champion will be looking to metaphorically kill off the Scot's new found confidence and once again take an iron grip on the points' race for his third title.
And what of Mike Hakkinen? The Finn's off-colour performances have mystified the F1 paddock just as they have his always-supportive team. Now team boss Ron Dennis has prescribed a holiday for his fading star, opining that "Mika's only suffering a bit of psychological tiredness. It's no concern, it's just that sometimes you need a holiday. I've made a mistake of not backing off the drivers' test duties."
That may be true, but the change of fortunes between the two McLaren drivers has been dramatic. Over the '98 and '99 seasons Hakkinen out-qualified Coulthard by the huge margin of 26 - 6. This year the score is still 5 - 4 in Hakkinen's favour, but Coulthard has started in front of the Finn in the last four races. Even more tellingly, Coulthard has won three races to Hakkinen's one this year, and in all three races Hakkinen has trailed him home with a healthy car, albeit in a delayed one at Monaco.
All this of course will mean nothing if Coulthard cannot keep up his challenge. Eddie Irvine's title charge last year never really fired up the British public because it never looked to be really achievable. Perhaps also because Irvine was the ally of - and not the challenger to - the dominating figure that is Michael Schumacher.
From a British prospective, all their drivers are judged against the German champion. His brilliance in the cockpit has been the one constant over the past decade, which even the often-vanquished Damon Hill has acknowledged belongs to Schumacher. But titles exist to be won, not handed out, and Michael Schumacher is fully aware that David Coulthard in his McLaren-Mercedes represents a new threat to securing his third crown.
With his Ferrari both fast and reliable, and Hakkinen, his nemesis of the past two years, looking so out of sorts, Schumacher must have felt that this year there would be no last minute hiccup in securing that so valued third title. Now, a seemingly perennial 'nearly man' in David Coulthard stands in his way. Schumacher will have recognized the danger, evaluated the threat, and planned his approach as he prepares for the Austrian Grand Prix.
Both on and off the track David Coulthard will be put to the test in this race and the others to follow, as he attempts to wrestle the title initiative from Schumacher's grasp. Jacques Villeneuve and Mika Hakkinen before him have shown it can be done. Is David Coulthard good enough to follow in their footsteps?