For several reasons I want to draw attention to the performances of three drivers in particular at the A1-Ring in Austria. The first is Eddie Irvine. Eddie was notable for his absence with an abdominal complaint. This was regrettable because in this topsy-turvy race he might well have scored points for Jaguar.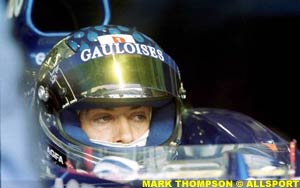 The second driver of note is Jacques Villeneuve. His fourth-place finish again demonstrated that his championship-winning skills are intact and served to up the ante for those teams that might aspire to his services in 2001. I've been tipping Jordan-Honda for that honour, but the Silverstone-based team's performances so far this year haven't been calculated to win the favour of Villeneuve. In fact an up-and-coming BAR - now with chassis input from Honda as well - is looking set fair to keep the talented Canadian.
The third driver whose Austrian performance deserves special comment is Jean Alesi. Porsche racing manager Rico Steinemann once said of his team driver Udo Schuetz that when he switched on the car's ignition he switched off his brain. Is there any better explanation for the kamikaze dive by Alesi that took both Prosts out of the race? His rationalisation that he thought his pit would tell Heidfeld to move over was pathetic.
Surely this must be the final Grand Prix for Alesi, who in Austria used up the last scrap of his credibility as a top-line driver. Has Alain Prost any option but to show him the door immediately? Especially after he has been so loudly rubbishing his team? Now is the time for Prost to show that he has what it takes to run a Formula One team by giving Alesi the gate forthwith.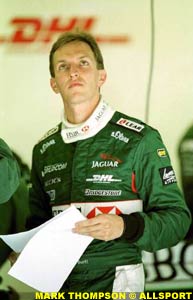 Who could and/or would step into a Prost-Peugeot for the rest of the year? Olivier Panis is the obvious candidate if the two Frenchmen could forgive and forget and if the Prost team's mooted new owners have the wherewithal and the know-how to lift this struggling outfit sufficiently for 2001 to be worth Panis's consideration. Would the re-engagement of Panis by Prost meet with the approval of McLaren, especially if this were the key to providing the Mercedes-Benz engines that the Prost team has hoped for so long to obtain? Stranger things have happened.
Now, the other notable point about these three drivers, Irvine, Villeneuve and Alesi: they are the only drivers now active in Formula 1 racing who did not come up through karting! I was moved to consider this by the amazing story of Luciano Burti, who found himself in Irvine's coveralls and shoes as well as his spare car in Austria and brought them all home safe in 11th place.
The amiable and obviously able Burti entered motor sports through karting but did so as a veritable Methuselah at the age of 16. When Mika Salo started kart racing he was only six. Button was eight when he began karting and Trulli and Barichello were nine when they took up the sport. So if you're reading this and your age is already in double-digit territory you are almost certainly too old to think of aspiring to race Grand Prix cars!
Thrown into the Jaguar-Cosworth on Saturday, Burti did a creditable job, treating the race - as he said - as just another test session. He is as talented as you might expect of a graduate of the Stewart Formula 3 farm system. He first drove a Stewart GP car in 1998 and began testing for that team in July 1999. He has a nifty website, www.lucianoburti.com, although surprisingly even by Sunday the site hadn't twigged that he was racing in Austria.
Burti's presence in the race brought the total of Brazilian drivers to four, equalling the population of German drivers. Britain, usually present with four, was demoted to three by Irvine's absence. No other country has more than two Formula One drivers these days. Indianapolis in September will have to brace itself for another invasion of foreigners - minus, I think, a certain French-Sicilian.