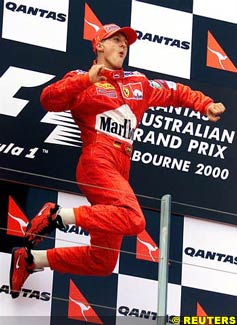 Michael Schumacher started off the hunt for his third world championship perfectly on Sunday, when he led Ferrari teammate Rubens Barrichello and brother Ralf in the BMW-Williams home to win an Australian Grand Prix for the Italian team in Melbourne.

But the season could not have started any worse for all Ferrari's expected rivals, as McLaren-Mercedes, Jordan Mugen-Honda, Jaguar and an impressive Arrows Supertec all suffered early double retirements.

That left the way open for an unexpected BMW debut podium with Ralf Schumacher and BAR's long awaited first points for both Jacques Villeneuve and Ricardo Zonta on Honda's official return, despite it being humbled by Jordan's performance with its customer Mugen-Honda mills until its demise.

Giancarlo Fisichella's Benetton Supertec was fifth, initially from Mika Salo who drove a strong race to sixth in the Sauber, in an entertaining five-car dice with BAR's Villeneuve and Ricardo Zonta and the Benettons of Fisichella and Alex Wurz. But Salo was excluded from the final results, allowing Zonta into the points for a BAR double whammy, from Wurz.

Despite McLaren apparently dominating proceedings from qualifying, all was not as it seemed on paper. Ferrari seem to have the measure of the silver arrows, and despite its initial grasp on qualifying and the early race, McLaren-Mercedes experienced four engine failures over the weekend. The final pair of Mercedes blow-ups saw the team dropping out of first and second places to allow the ever present Michael Schumacher to sweep by to lead an emphatic Ferrari 1-2 victory and a 16-point constructors' and a 10-point drivers' championship lead.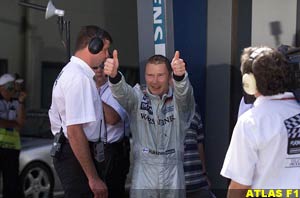 But even in early practice at Melbourne, McLaren's almost expected lack of domination was evident for the first time in three years. Yes, it was on pole and second and it was quick, but McLaren is no longer way ahead.
Other than that, the biggest surprise was the practice pace of BMW-Williams and BAR Honda, both far better than their winter testing had suggested. Arrows too was impressive, but like most of the grid, much according to what the off-season had suggested. Minardi looked lively and Jaguar somewhat lacklustre as F1 prepared for 2000's first qualifying session.
Before the Race
The Big Macs were back on form early in qualifying, the old 1-2 in charge early on as Michael Schumacher appeared to struggle with the second sector. "We didn't get the best out of the tyres, but I'm not worried," Schumacher admitted later. "Honestly, it doesn't matter if you are first or if you are third."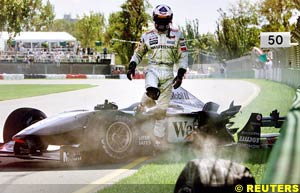 Jenson Button showed character in an F1 baptism of fire and Johnny Herbert suffered a failure mid session as among others, Barrichello and Heidfeld took to the grass.
As the time wore down, the track temperature edged over the 50°C mark, Michael Schumacher found the grass too on his third session. Had Ferrari lost its way after such a good practice till then? Michael stayed third behind the McLarens and ahead of the Jordans of Frentzen and Trulli, Irvine's Jaguar and Barrichello.
Rubens soon popped up to fourth as Gene fell off, while Villeneuve found his way up to eighth in the BAR Honda. Hakkinen then improved his pole advantage to three-tenths, an impressive performance from the double world champion, despite his missing much of Saturday's set-up time. "It's always very difficult to go directly into qualifying after not running in the morning," confirmed the Finnish superstar.
Zonta fell off as Michael Schumacher appeared on his critical lap with a minute of the session to spare.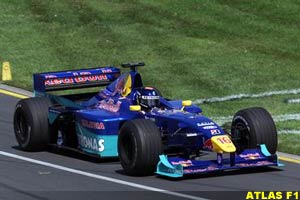 Lady luck laughed last, just as the German went significantly quickest in sector one, Coulthard lost the rear of his McLaren - spinning hard backward into the inside wall and bringing out the red flag to ensure an almost surprising silver front row of the grid. "I was trying to make up some time and I lost the back end," the Scot admitted.
So Mika Hakkinen and David Coulthard were in familiar formation, albeit a perhaps lucky one, ahead of the Ferraris, Jordans, Irvine, Villeneuve, Giancarlo Fisichella in the Benetton and Mika Salo's Sauber. The cars in the top ten, with the exception perhaps of the good-looking Villeneuve, were as to be expected.
The second ten, though, showed a change in F1 hierarchy, with Ralf Schumacher about where BMW-Williams would be happy, in eleventh, from the much-improved Arrows - de la Rosa ahead of Verstappen, after the Dutchman suffered a suspension failure late in the session.
Then came Alexander Wurz' Benetton and Nick Heidfeld's Prost Peugeot - in a position which would have none the less pleased the struggling equipe. Zonta was the best of the early crashers and breakdowns in the BAR, from Alesi's Prost, Gene's much-improved Minardi and the Sauber of Diniz.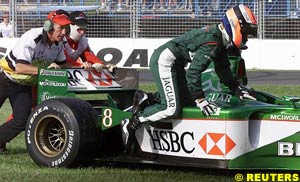 Herbert and Button were misrepresented by their respective troubles in twentieth and 21st, while young Gaston Mezzacane started his debut GP from the back.
McLaren was in front again, but perhaps a little lucky in Coulthard's misfortune to be there. "I am surprised to be on pole after this morning's troubles," Hakkinen said. "It's actually a shock!"
Ferrari was on the pace, although it lost its way some and had a little bad luck, while Jordan and Jaguar maintained their relative status. Mika Hakkinen concluded, "There is a lot of talk about how good Ferrari and McLaren are, when we get into the race we will see what the truth is..."
But most importantly for F1 there were seven cars within a second of each other on the grid. "If you look at last year," said Michael Schumacher, "it's a big improvement. So I'm confident for tomorrow."
Sunday morning saw Barrichello confirming Ferrari's dabbling with fuel loads and strategies a long way ahead of an aggressive Jenson Button who ended second in the warm up, before the grid assembled in perfect conditions on a very hot track.
The Race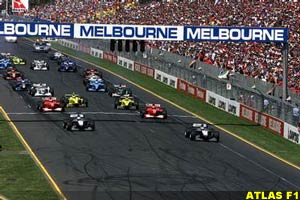 Jean Alesi waited in the pitlane as the rest formed up on the grid and 2000's F1 season started problem free as the McLarens stormed away from a red, yellow and white. Hakkinen led Coulthard, Michael Schumacher, Frentzen, Barrichello, Trulli and Villeneuve as the pack settled into the race. Herbert's race ended very early, nerfed by a car he was trying to pass around the outside in an attempt to gain early ground, while Jenson Button set immediately to confound his vocal critics with a storming first lap up to fifteenth.
Up front, the silver arrows chased fastest laps under the watchful gaze of Schumacher in the bright Ferrari, the trio confirming their advantage as they rapidly opened up a significant gap to Frentzen. He was under pressure from a frustrated Barrichello, who clearly had the pace but not the means to pass the equally bright yellow Jordan ahead.
Trulli followed, some way ahead of Villeneuve, Salo's Sauber, the Arrows duo, Irvine's Jaguar and Ralf Schumacher giving a good account of BMW's so-called "old generation" V10. Williams teammate Button was giving his critics a further hiding with a storming F1 debut drive.
There was drama when de la Rosa climbed into the wall to retire the Arrows: "There was nothing I could do the car just went straight," the Spaniard commented later.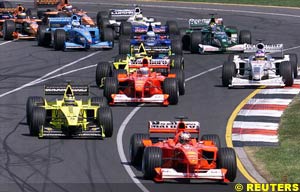 But the following Irvine lost his Jaguar when the rear snapped out on his lifting off the throttle in avoidance of the pieces of Arrows, to spin and stall into retirement. "It's the same handling problem that we've been having all weekend," said Irvine. "The car just spun as I lifted off."
The other Arrows was also in trouble, Verstappen running into suspension trouble as the safety car came to play to allow marshals to remove de la Rosa's Arrows wreck.
With the field gathered up behind the pace car, the top three quickly opened up the gap again as soon as it was gone, but Coulthard slowed suddenly and pitted on lap eleven to allow the McLaren crew to try and solve an apparent pneumatic problem. He rejoined, only to have his Mercedes let go in a big oily and smoky bang. Pneumatic?
So Hakkinen led Michael Schumacher, some way ahead of Frentzen, Barrichello, Trulli, Villeneuve and Salo, but it wasn't long before Hakkinen was struck by McLaren's "pneumatic" problem to retire from the lead on lap 18.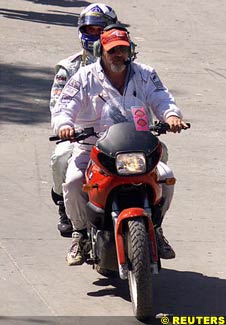 The Ferrari flags waved dramatically as the German drove by in the lead of a rapidly diminishing field as pit stops beckoned. "I'm disappointed to leave Australia without any points," admitted Hakkinen, "But I was happy with the car until we had our problem." Michael Schumacher's job was made easier by the demise of the McLaren. "It would have been interesting if they had not retired because I was looking forward to seeing how we raced against them in the final laps," the German said later.
Schumacher pitted early, allowing Frentzen into the lead from Barrichello, rejoining ahead of Trulli. Barrichello was next in, taking on a small load of fuel, but battling to get going. His job too was made easier when Trulli exited in a fiery, smoky Mugen-Honda explosion.
Amazingly, Michael Schumacher now led Frentzen and Jenson Button, who was running a late stop after a splendid drive through the field.
Frentzen finally pitted on the same lap as Button, but the Jordan stop was a disaster as the fuel rig failed to mate with the car, blowing the German's chances of rejoining ahead of his Ferrari rival Barrichello.
So Ferrari was in a commanding 1-2, with Barrichello charging to make up enough time to pit again and rejoin in second. He caught and passed his teammate to lead until his second stop. "I let Rubens pass," admitted Schumacher later, "as he had to make a second stop and he was fighting for second place."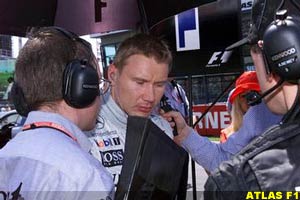 But Barrichello's pace wasn't even necessary as poor Frentzen succumbed to transmission trouble, waving to the appreciative crowd as he toured round to the pits to retire. "After the pitstop I started to have gearbox problems and it just got worse," said the German. "It was a real shame because we could have had a good result."
So Ralf Schumacher was now third, defying even BMW and Williams' best expectations - not only in track position but in pure pace. He led Villeneuve, Fisichella and Jenson Button, but the youngster's brilliant debut came to a smoky end when the BMW mill expired. "It would have been nice to get a point," Jenson said. "I wanted to do my best for the team and myself - I think I achieved that and showed a few people what I could do."
That left Giancarlo Fisichella chasing Villeneuve in a 5-car battle, ahead of Zonta's BAR, Salo, just out of the points in the Sauber and Wurz' second Benetton. The entertaining battle kept the crowd on its toes, although its biggest action was Salo passing Zonta to claim the final point.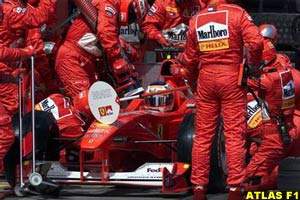 Michael Schumacher drove home to his first Australian GP win - his 36th victory - and a vital Ferrari 1-2 from Rubens Barrichello. The Schumachers' cup flowed over, with a somewhat surprised Ralf joining his big brother on the podium in third.
But fourth placed Jacques Villeneuve more than likely brought the most happiness to his team by finally scoring BAR's first points and giving Honda much to smile about in its official return. For its great expectations a year ago, BAR endured a frustrating year's wait for this.
Giancarlo Fisichella rewarded Benetton with a couple of points, while Mika Salo made it three Ferrari engines in the top six for Sauber, but he was later excluded for a bodywork infringement to allow Zonta his first F1 point. Debutantes Gaston Mazzacane and Nick Heidfeld brought up the rear for Minardi and Prost respectively.
"This was the fifth time we have tried to win in Australia," Schumacher commented after, somewhat neglecting to remember that Ferrari had already won the event last year, only with Eddie Irvine. "I am delighted," Schumacher added. "I knew I could fight for the championship right from the start with this car - even though we did not qualify so well yesterday. I thought Mika could celebrate a pole and I would celebrate a win - that's how it's worked out. Now I am looking forward to the rest of the season. We have a very competitive and reliable car and we know what to do to develop it."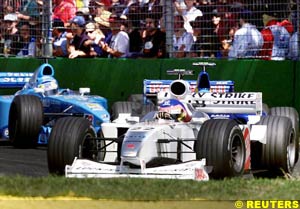 "I was stuck behind Frentzen," admitted Rubens Barrichello. "It is difficult to overtake here, so the team switched me from a one-stop strategy to two stops to get me ahead. It was a brilliant idea and it worked, even if Frentzen retired."
"It's really amazing!" exclaimed Ralf Schumacher, "BMW did a great job, I thought we'd be in the points if we finished, but I never imagined we'd be 3rd. This was a great day for us."
Australia has pointed out several fundamentals to expect for F1 in 2000:
Ferrari and McLaren remain the class of the field - of that, there is no doubt. They are significantly closer for the first time since they started sharing the F1 spoi1s between them again two years back. Exactly who is number one, we still cannot tell. And hopefully won't for a long time. But Ferrari delivered two cars to the finish line on Sunday, continuing its stunning reliability record and scooping maximum points.
McLaren's visit to Melbourne, on the other hand, was a disaster. Besides showing its pace, it achieved little else with two retirements before half distance and a maximum championship deficit. Most of those others who considered themselves as pretenders to the throne too, find themselves in exactly the same position - Jordan, Jaguar and the surprising Arrows.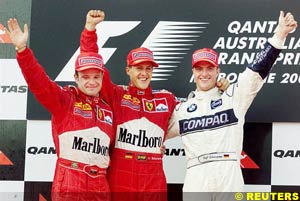 Those who have quietly chipped away on making their packages work, scored in Australia - especially returnees BMW and Honda in Williams and BAR respectively. They wanted to finish, more than anything - and did, handsomely. The points they have scooped now could become vital later in the year when these efforts start bearing the fruits they promise and they start competing for track position up front.
If the rest of the favourites continue with this form, there could just be a few surprises in store come September and October...
To finish first, one has first to finish. Ferrari has started off doing both totally. None of the rest has. Quite frankly, all Ferrari need do is carry on exactly as it has in Melbourne, to claim that illustrious first drivers' title in 21 years. And the rest have some work to do if they want to stop it...
Final Race Results

CLASSIFIED

Pos  Driver         Team                  Time                     
 1.  M.Schumacher   Ferrari               1h34:01.987              
 2.  Barrichello    Ferrari               +    11.400              
 3.  R.Schumacher   Williams BMW          +    20.000              
 4.  Villeneuve     BAR Honda             +    44.400              
 5.  Fisichella     Benetton Supertec     +    45.100              
 6.  Zonta          BAR Honda             +    46.400              
 7.  Wurz           Benetton Supertec     +    46.900              
 8.  Gene           Minardi Fondmetal     +    1 Lap               
 9.  Heidfeld       Prost Peugeot         +    2 Laps              

Fastest Lap: Rubens Barrichello, lap 41, 1:31.481 (209,685 km/h)

NOT CLASSIFIED / RETIREMENTS                                        
                                                                    
     Button         Williams BMW        46    Engine                
     Diniz          Sauber Petronas     41    Transmission          
     Mazzacane      Minardi Fondmetal   40    Gearbox               
     Frentzen       Jordan Mugen-Honda  39    Hydraulic leak        
     Trulli         Jordan Mugen-Honda  35    Exhaust/engine failure
     Alesi          Prost Peugeot       27    Hydraulic leak        
     Hakkinen       McLaren Mercedes    18    Engine/ valve pressure
     Verstappen     Arrows Supertec     16    withdrawn by team     
     Coulthard      McLaren Mercedes    11    Engine/ valve pressure
     de la Rosa     Arrows Supertec      6    Accident              
     Irvine         Jaguar Ford          6    Accident              
     Herbert        Jaguar Ford          1    Clutch                
     Salo           Sauber Petronas      -    Disqualified          


Fastest Race Laps

Pos  Driver        Team                Lap   Time              
 1.  Barrichello   Ferrari              41   1:31.481          
 2.  M.Schumacher  Ferrari              26   1:31.752  + 0.271 
 3.  Frentzen      Jordan-Mugen Honda   34   1:32.110  + 0.629 
 4.  Hakkinen      McLaren-Mercedes     18   1:32.433  + 0.952 
 5.  R.Schumacher  Williams-BMW         50   1:32.525  + 1.044 
 6.  Diniz         Sauber-Petronas      38   1:32.977  + 1.496 
 7.  Villeneuve    BAR-Honda            35   1:33.185  + 1.704 
 8.  Trulli        Jordan-Mugen Honda   28   1:33.223  + 1.742 
 9.  Gene          Minardi-Fondmetal    54   1:33.231  + 1.750 
10.  Button        Williams-BMW         36   1:33.351  + 1.870 
11.  Zonta         BAR-Honda            34   1:33.435  + 1.954 
12.  Fisichella    Benetton-Playlife    34   1:33.449  + 1.968 
13.  Wurz          Benetton-Playlife    33   1:33.459  + 1.978 
14.  Salo          Sauber-Petronas      51   1:33.471  + 1.990 
15.  Coulthard     McLaren-Mercedes      7   1:33.653  + 2.172 
16.  Heidfeld      Prost-Peugeot        53   1:34.111  + 2.630 
17.  Verstappen    Arrows-Supertec      16   1:34.834  + 3.353 
18.  Alesi         Prost-Peugeot        18   1:35.088  + 3.607 
19.  Mazzacane     Minardi-Fondmetal    33   1:35.241  + 3.760 
20.  de la Rosa    Arrows-Supertec       6   1:35.663  + 4.182 
21.  Irvine        Jaguar-Cosworth       6   1:35.789  + 4.308 


Pit Stop Times

Pos  Driver        Team                  Time   Lap 
 1.  Barichello    Ferrari               25.90  46  
 2.  Diniz         Sauber-Petronas       27.50  41  
 3.  Zonta         BAR-Honda             28.20  35  
 4.  Fisichella    Benetton-Playlife     28.40  36  
 5.  Alesi         Prost-Peugeot         28.50  21  
 =   Barichello    Ferrari               28.50  33  
 7.  Salo          Sauber-Petronas       28.90  30  
 8.  Button        Williams-BMW          29.20  37  
 9.  Villeneuve    BAR-Honda             29.50  37  
10.  Wurz          Benetton-Playlife     30.00  35  
11.  Diniz         Sauber-Petronas       30.20  19  
 =   Gene          Minardi-Fondmetal     30.20  30  
13.  Mazzacane     Minardi-Fondmetal     30.30   9  
 =   M.Schumacher  Ferrari               30.30  30  
15.  R.Schumacher  Williams-BMW          32.00  38  
16.  Mazzacane     Minardi-Fondmetal     32.70  36  
17.  Diniz         Sauber-Petronas       35.70  40  
18.  Mazzacane     Minardi-Fondmetal     36.00  40  
19.  Frentzen      Jordan-Mugen Honda    41.40  36  
20.  Coulthard     McLaren-Mercedes    1:06.30  11  
21.  Heidfeld      Prost-Peugeot       1:51.70  23  
22.  Gene          Minardi-Fondmetal   2:35.20   1  
23.  Verstappen    Arrows-Supertec     4:23.60   7  


The Australian Grand Prix, Lap by Lap (provided by RaceFax)
There are problems with Alesi's Prost. He is unable to get out of the garage in time, and is forced to start from the pits. Ralf Schumacher will take the start in the spare Williams-BMW.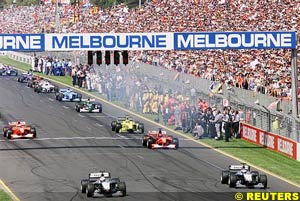 Start: Hakkinen and Coulthard leave in unison, but both Ferraris are slow off the mark. M Schumacher moves across the track to the right to seize the inside line into the first corner, with Frentzen challenging him on the outside (left).
Trulli makes a good start from behind Barrichello in the right lane, and moves to the middle of the track in an attempt to get past. For his trouble, Trulli is squeezed between Barrichello on his right and Frentzen on his left, and eventually has to slow to avoid contact.
Into the first corner, Hakkinen leads easily from Coulthard, with a significant gap to M Schumacher, Frentzen, who has sliced across Barrichello's bow, then Barrichello and Trulli, with Villeneuve alongside Trulli, on his left. At the corner, Villeneuve is forced onto the outside curb by Trulli, and has to accept seventh. Jenson Button makes the best start, from 21st, and is 15th.
Lap 1: At the end of the curving second straight, the mid-field runners approach Turn Three in rows of two, three and even four cars, but everyone gets sorted out. Across the following left-hander, Wurz slips wide, hitting Herbert's Jaguar and bits of carbon fly. Herbert retires a couple of corners later, with what is reported as a spent clutch, but appears to be another engine failure.
Lap 2: Hakkinen begins the lap leading from Coulthard and M Schumacher, with one-second intervals. Already there is a substantial gap to Frentzen, Barrichello and Trulli, and another gap to Villeneuve, in seventh and heading a queue containing Salo, Irvine, Verstappen, Fisichella, De la Rosa, R. Schumacher, Zonta and Button, still 15th. Over the lap, Irvine begins to slow and is passed by Verstappen. De la Rosa takes Fisichella for 11th.
Lap 3: De la Rosa takes Irvine, who is clearly in trouble. Wurz takes 15th from Button.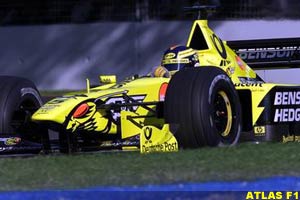 Lap 4: Hakkinen leads Coulthard by 1.4s, with a second between Coulthard and Schumacher. Frentzen has fallen five seconds behind Schumacher, and is closely followed by Barrichello and Trulli, with a growing gap to Villeneuve. Alesi spins, dropping from 18th to 20th.
Lap 7: De la Rosa's fine run comes to an abrupt end when the Arrows' left front suspension collapses coming off a corner. He is lucky it didn't happen a couple of yards earlier. He slides to a stop in the dirt, the victim of Arrows' second suspension failure of the weekend (one at each end). Irvine then coasts to a halt, his engine gone. With debris on the track, the Safety Car is inserted and the field closes up. Verstappen, whose Arrows had a rear suspension failure in practice, pits with more suspension problems.
Lap 11: Restart to begin the lap. Almost immediately, Coulthard slows and trickles around to the pits. A laptop is plugged into the car for diagnosis, and after a long delay he is sent out to retire before completing another lap. Hakkinen and M. Schumacher pull out an immediate lead over Frentzen, Barrichello and Trulli again.
Lap 12: M. Schumacher sets fastest race lap at 1:32.964, but then sees the gap to Hakkinen grow to 3.8 seconds over the next couple of laps.
Lap 16: Hakkinen leads by 3.4 seconds, with 8.1 seconds separating M. Schumacher and Frentzen. Barrichello has a bit of breathing room between himself and Trulli, but makes no attempt on Frentzen's third place, apparently content to wait for the pit stop. Villeneuve still heads the Salo, Fisichella, R. Schumacher, Zonta, Wurz, Button queue, but is nearly five seconds behind Trulli.
Lap 19: Hakkinen slows in preparation for early retirement, the second Mercedes-Ilmor producing a fine cloud of oil smoke.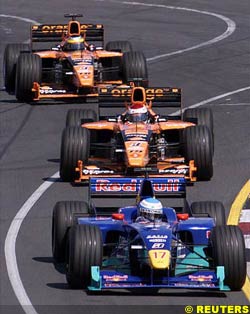 Lap 20: M. Schumacher leads Frentzen by 16.5 seconds, with Barrichello four tenths back, and Trulli another 1.4 seconds behind. Villeneuve is seven seconds behind Trulli, with Salo, Fisichella, R. Schumacher, Zonta, Wurz and Button all within five seconds of each other. Alesi has moved up to 12th, ahead of Heidfeld, Mazzacane, Diniz and Gene, 16th and last. Verstappen has wisely retired.
Lap 27: Alesi retires.
Lap 30: M. Schumacher begins the pit stops a lap past half-distance, taking on enough fuel to make the finish. He regains the track in third, behind Frentzen and Barrichello, and just ahead of Trulli. After pushing Villeneuve for a couple of laps to no effect, Salo pits, as does Gene.
Lap 31: Frentzen leads Barrichello by 0.7s, with M. Schumacher 8.1 seconds adrift, and a second ahead of Trulli. Villeneuve is fifth, 11 seconds behind Trulli.
Lap 33: Barrichello pits, and takes a short fuel load in hopes of getting around Frentzen on the exchange. He will have to stop again, and squanders some of the potential advantage when his Ferrari engine fails to run cleanly as the clutch is let in.
Lap 34: Frentzen still leads M. Schumacher, by 12.5 seconds. Trulli lies third, 2.2 seconds behind his Jordan teammate, and Villeneuve remains fourth, but is now nine seconds behind.
Lap 35: Zonta pits from seventh, and Wurz comes in from eighth.
Lap 36: Trulli never makes it to the pits, his Mugen-Honda letting go. Frentzen comes onto pit road, surrendering the lead to M. Schumacher. The stop is long. The fuel hose resists being inserted in the car, and the rear jack man drops the car before the tires are changed. Fisichella pits from fifth.
Lap 37: Villeneuve finally pits, from an inherited second, and Button also comes in for fuel and tires.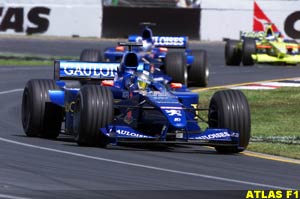 Lap 38: M. Schumacher leads his brother by 11.3 seconds. Barrichello is third, 6.6 seconds back, with Frentzen having fallen 10 seconds behind Barrichello and running slowly. Villeneuve is fifth, another 10 seconds back, and leads Fisichella comfortably. Button is seventh, Salo eighth, Zonta ninth and Wurz 10th. R. Schumacher is the last to make his first pit stop.
Lap 39: Frentzen pulls off, the victim of transmission failure, reportedly due to a hydraulic leak. Only 14 cars are still running.
Lap 42: M. Schumacher leads Barrichello by 4.8 seconds, but is running slowly. The Ferrari duo have 35 seconds on third-placed R. Schumacher, and while it isn't immediately apparent, he is conserving his equipment, knowing that Barrichello will have to pit again. Barrichello has set fastest race lap on lap 41, at 1:31.481, which will stand to the end of the race.
Lap 44: Past start/finish, M. Schumacher lets Barrichello go through, in order to gain as much times as possible on R. Schumacher prior to making a second stop.
Lap 46: Barrichello pits for a splash of fuel, but does not require tires. He rejoins still in second.
Lap 47: Button retires from sixth with an engine problem. M. Schumacher leads Barrichello by 25 seconds. R. Schumacher is third (-10 seconds), and Villeneuve heads an increasingly restless group composed of Fisichella, Zonta, Salo and Wurz. Gene and Heidfeld complete the list of drivers still running, one and two laps down respectively.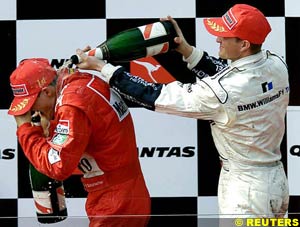 Lap 50: All the ducking and weaving in the midfield group finally produces a pass, with Salo taking Zonta for sixth. Salo might just as well not have bothered. In post-race scrutineering, it will be discovered that the back of his front wing intrudes 10 mm (3/4 inch) into the no man's land between the barge boards and the inside of the front tires, causing his exclusion from the results.
Finish: Over the remaining laps, only the gaps change, and not by much. Michael Schumacher leads Rubens Barrichello home for a Ferrari one-two, and a commanding early lead in the manufacturers' championship, which is made all the sweeter by the fact that main rivals Hakkinen, Coulthard and McLaren have had a pointless Sunday afternoon.
Villeneuve holds on to fourth, not least because Fisichella has had to give up the chase, driving defensively to protect fifth place from Salo. Zonta comes across in seventh, which becomes sixth on Salo's exclusion. BAR-Honda thus have two cars in the points, a far cry from 12 months ago, when Villeneuve retires after the rear wing fell off his car, and Zonta also retired. Nine cars are running at the finish, one more than last year.