Award-winning writer Karl Ludvigsen comments on the surprise podium finish of Ralf Schumacher and the 'Bavarian Motor Works'

It's not easy to put into perspective what BMW achieved in Australia, but it's worth having a go. When I spoke last Wednesday in Detroit to Prof. Wolfgang Ziebart, BMW board member with engineering responsibility, he was really looking forward to the weekend. He was realistic about it and said that BMW had one objective for the first half of the 2000 season: to finish.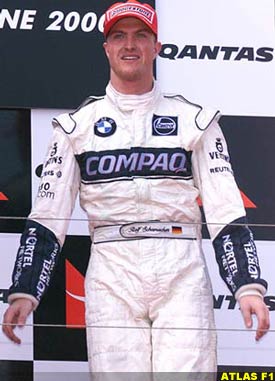 I replied with a brief recitation of Ludvigsen's Law of Motor Sports. This is that there are three things you can do: look good, go fast, and finish. In any combination these can constitute a valid motor sports participation, but if you aren't doing any of the three you need to have a serious look at your program! So Ziebart's goal was a valid one: the BMW-Williams looks good; in combination with finishing, that makes two out of three. But finishing with one car on the podium? That was beyond their wildest dreams in Munich.
This V-10 engine is the first power unit that BMW has brought to the starting line in any Grand Prix that was designed and built from scratch as a racing engine. The turbocharged four, which it raced in the early 1980s so successfully with Brabham and others, was an opportunistic extrapolation of a production-based engine that it had originally raced in modified production cars. In the early 1990s, Paul Rosche of BMW built two different 3.5-liter V-12 GP engines, but these were never raced.
Now BMW built its V-10 in-house. How many major auto makers have done so well with an own-built engine since World War II? Not many. Alfa's great Type 158/159 was a carry-over from a pre-war program. The Lancia D50 deserves a lot of credit, but in its original form it never finished a championship GP. The Mercedes-Benz racers of 1954-55 were outstandingly successful but were evolved in many respects from the company's pre-war experience.
After that there's quite a gap. First with its turbos and later with its V-10s, Renault looms as an excellent in-house developer of racing engines. Peugeot would like to do as well, but have never quite cracked it. Honda, of course, first built its own engines and even cars in the 1960s - deserving much credit for that - and it's back with in-house engines again. Let's see how well it does.
And now we have BMW: "Bavarian Motor Works." Take note of the fact that the cars are called BMW-Williams, not Williams-BMW. As a friend of mine at BMW told me, "We have bought a white car." By that he meant that BMW had total control of the branding and appearance of the car, total control of all sponsors. This was a bold approach. Sometime car makers like to hide behind commercial sponsors. But by doing it this way BMW has signalled to all and sundry inside and outside the company that it has high expectations.
Those expectations were more than realised in the season's first race. Retiring one car is not a problem; its engineers will learn a lot from what went wrong. But finishing on the podium? Full marks are deserved to both Williams - the car must be very good - and Ralf Schumacher. Those who reckoned that this would be a low-key season for BMW-Williams are already wrong. Casual though they may be about many things, fun-loving by reputation, the Bavarians are clearly serious about Formula One.